Who wants a Sunday dish with vegetables, a good piece of meat and low fat??
Okay, this one is my gift for you! Today, let's have white beans veal stew!!
Actually, I cook this dish whatever the season, but it's really good when the weather is getting cold! I just love it!! It's so tasty, you can prepare in advance (it's even better when re-heated) and you can change the recipe according to the vegetables you have at hand!
Amazing news or what?? 😉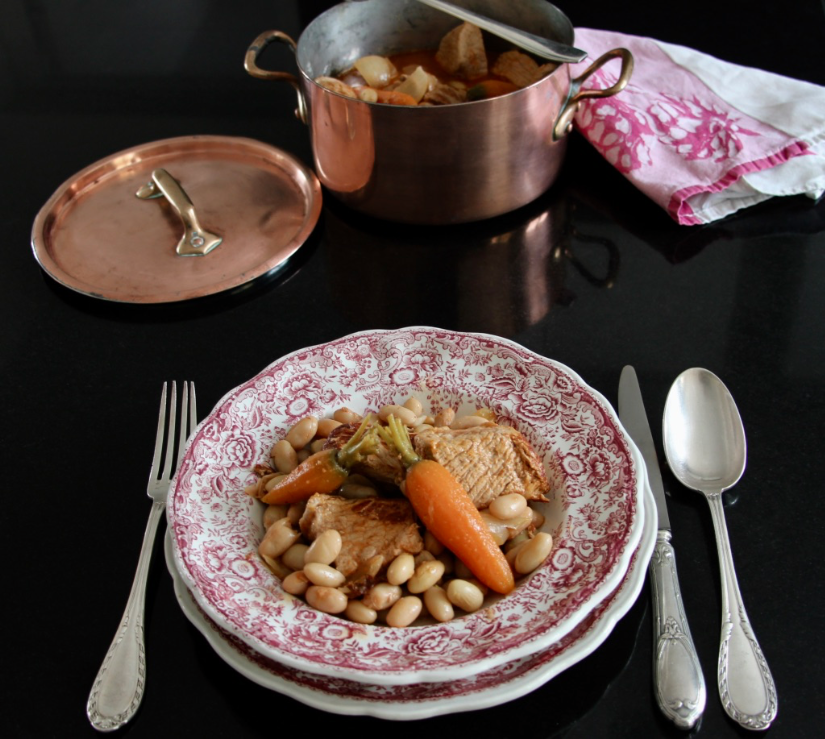 Make a large quantity and you will already have one meal ready  for your wondermum or wonderdad week!!
Once again it is a quite simple recipe that I share with you guys. Just choose quality meat and vegetables. Take a good stew pan such as a Staub cast iron one, or a copper pan to have a tasty and tender meat. And that's almost it!
This white beans veal stew is a perfect choice for a dinner with friends: you leave it at very low heat while you enjoy a few drinks and start eating whenever you are ready!
And now, let's make veal stew!!
The recipe, Chef!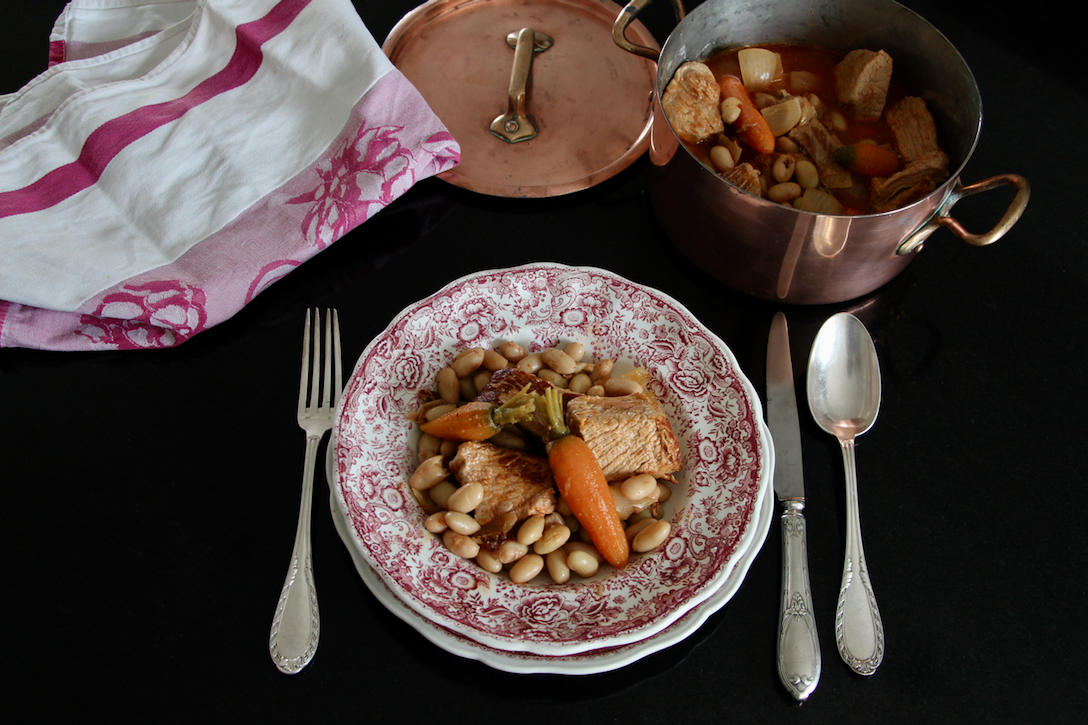 Print Recipe
Ingredients
250 g fresh white beans
1,2 kg veal cut in big cubes
1 onion
4 carotts
4 garlic cloves
4 tomatoes or 1 tin can of tomato pulp
4 tablespoons olive oil
1 chicken stock cube
Thyme
Rosemary
Salt
Pepper
Paprika
Espelette pepper
Ground ginger
Red mild pepper
Instructions
1
Cook the white beans and carotts for 40 minutes in a large unsalted volume of water with thyme and rosemary (wrapped in a gauze to prevent having all the leaves mixed with the beans).
3
Heat the oil in the cocotte. Roast the veal cut in cubes until golden on each side.
4
Set aside on a plate. Fry the onion in the cocotte.
5
Add the grated garlic, then the tomato pulp. Cook at medium heat for 2-3 minutes.
6
Add the veal cubes and the juice that you may have in the plate.
7
Lower the heat and cook 20 minutes.
8
Prepare 1 liter of broth with the chicken stock cube. Pour in your cocotte.
9
Add the drained white beans and carotts, the spices and seasonings.
10
Do not add salt at this point (the broth is salted), do not add pepper either.
11
Let cook slowly for 1 hour with cover.
12
Mix gently during cooking.
13
When cooking is over, adjust the seasoning with spices, salt and pepper.