Hello my friends!
I'm back today with a recipe that brings sunshine and flavors on the table! Let's go to North Africa and enjoy a veal tajine with pumpkin!
Let's see the recipe, Chef!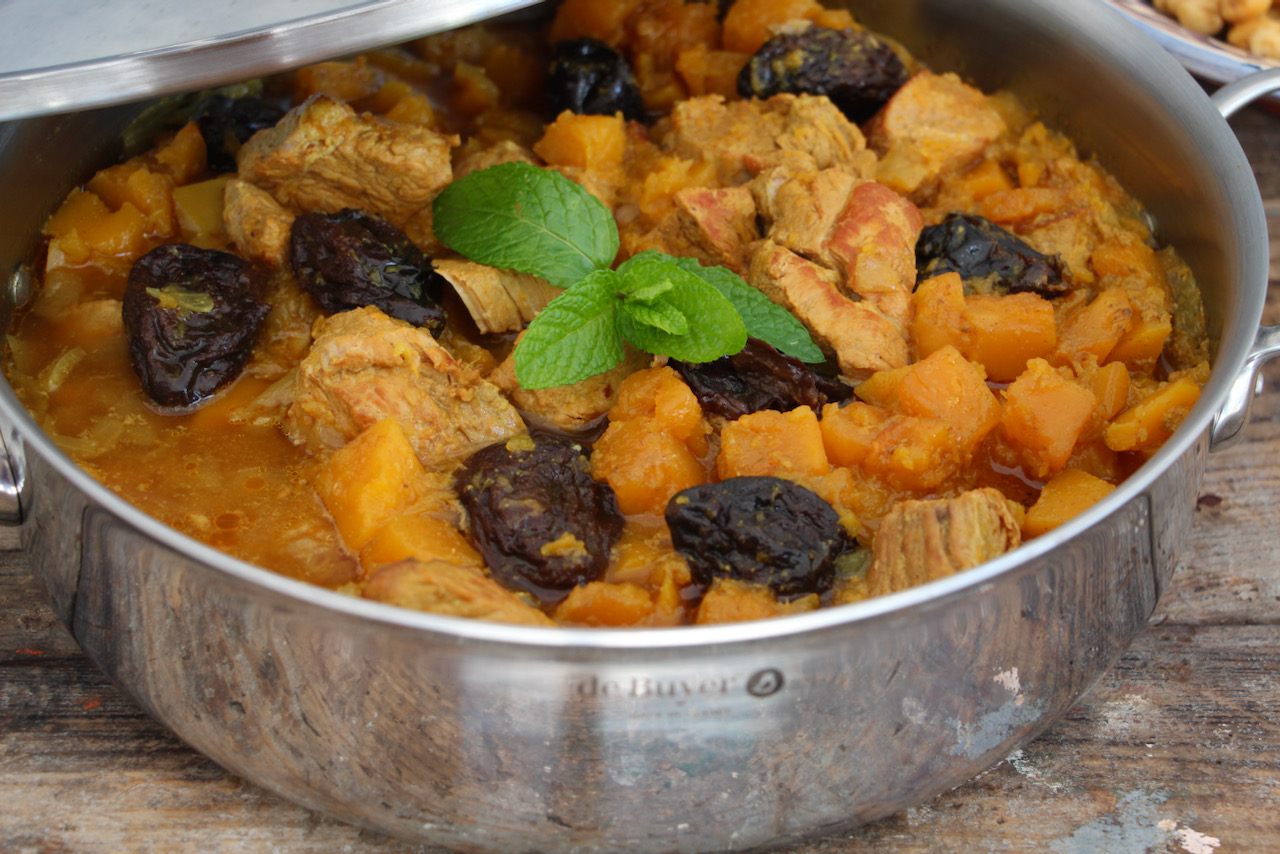 Print Recipe
Ingredients
1,2 kg veal cut in cubes

3 tbsp olive oile

100 g dried prunes

1 onion

3 garlic cloves

1/2 butternut

100 g cooked chick peas

1 tbsp honey

Salt to taste

Pepper

Curcuma

Raz el hanout

Ground ginger

Ground coriander

Ground cumin
Instructions
1
Peel and cut the butternut. Chop the onion. Peel the garlic cloves. Set aside.
2
Heat the oil in a sauté pan. Roast the veal cubes with salt until golden on each side.
3
Set aside on a plate. Stir fry the onion in the cocotte.
4
Add the garlic cloves cut in halves. Cook for 2 minutes.
5
Add 1 tbsp raz el hanout and a bit of water. Mix gently.
6
Add the veal cubes and the juice that you may have in the plate. Add curcuma, ginger and coriander to taste. Add salt and pepper.
7
Finally cover with water and add 1 tbsp honey.
9
Let cook slowly for 30 minutes with lid.
10
Add the butternut cubes and the prunes.
11
Let cook slowly again for 1 hour and a half with lid.
12
Mix gently during cooking and adjust seasoning.
13
Heat a bit of olive oil in a small frying pan.
14
Add the chick peas and 1/2 tsp ground cumin. Cook at medium heat for 3-4 minutes.
15
Check seasoning again before serving.
16
If your sauce is too liquid, cook 10 minutes without lid.
17
Serve your tajine with the chick peas.