Hello my lovelies!!
Summer isn't over yet and we are still going to enjoy the benefits of seasonal fruits and vegetables. My backyard is very generous now and I'm lucky to have plenty of delicious cherry tomatoes.
How does a salmon and cherry tomato tartare sound?
Want it? Let's do this!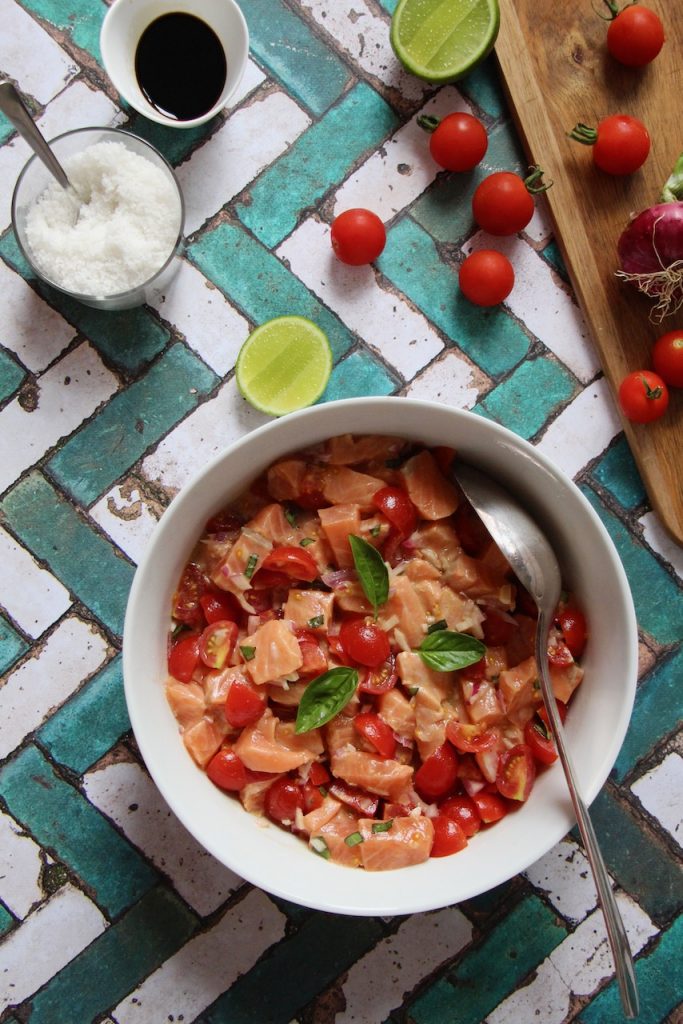 I chose to combine today salmon and cherry tomatoes in this tartare to get a well balanced mix of flavors when eating.
You can choose other fishes like trout for instance or maquerel. On the other hand I wouldn't go for tuna or cod or any white flesh fish, because their taste is too subtle and might be crushed by the rest of the ingredients.
My secret ingredient to make this salmon and cherry tomato tartare even better: soy sauce that will enhance the whole preparation.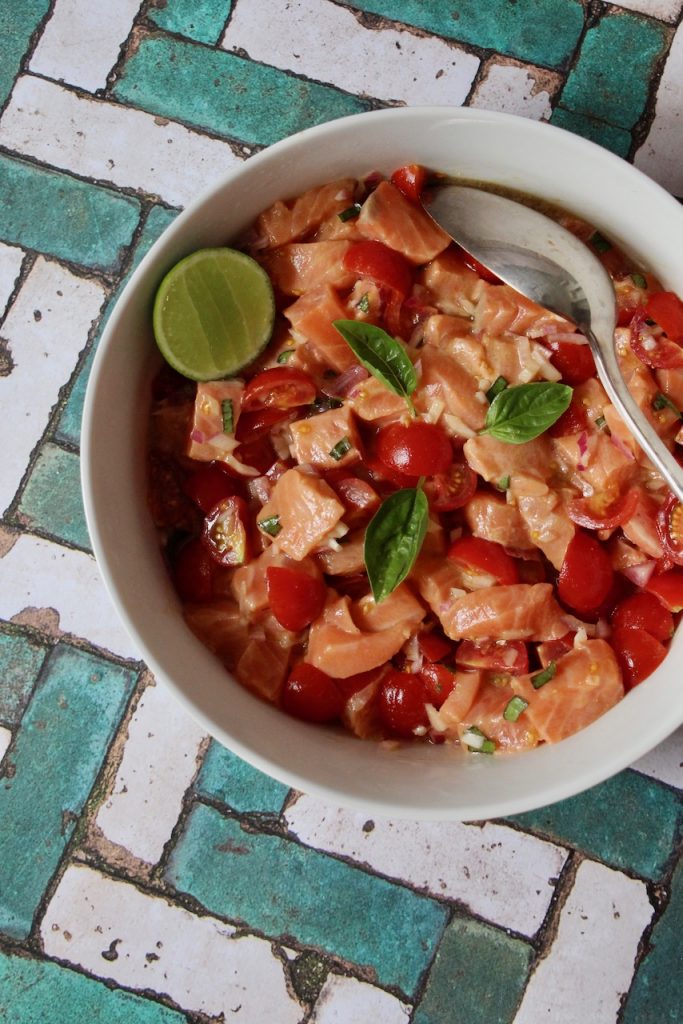 Most of the times I serve my tartares as appetizers or starters. This salmon and cherry tomato tartare is actually perfect as a main dish. Serve it with a mixed salad (cucumber, avocado, lettuce, pine pinions,…) and why not pita bread or pretzel breads, it will be delicious. Perfect for the lovely dinners before autumn starts!!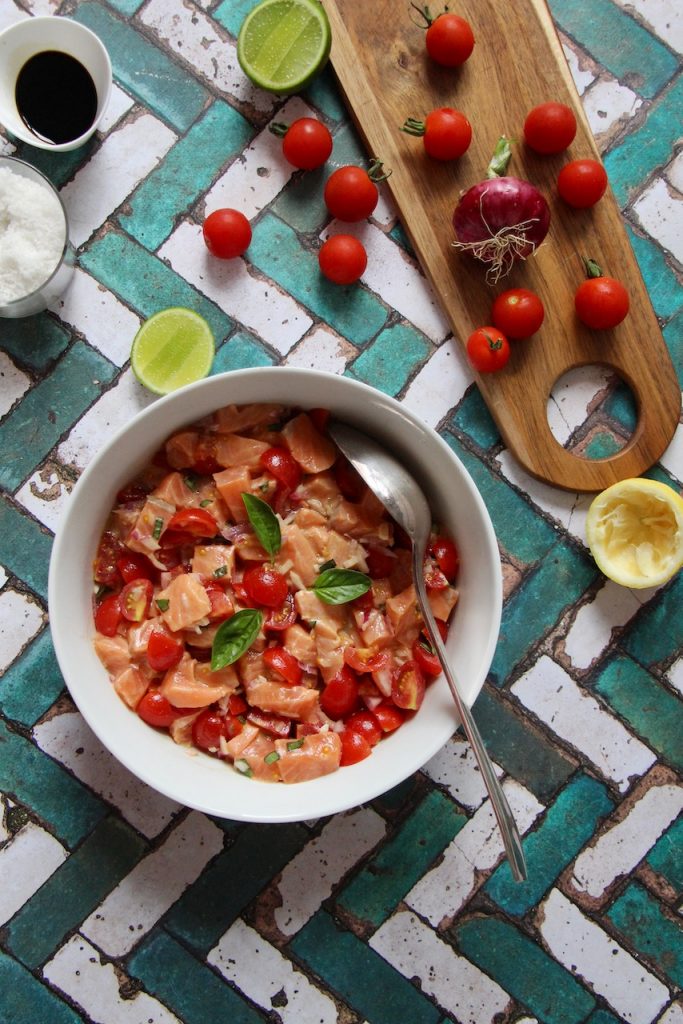 As always, freshness of the ingredients is an absolute requirement when you make salmon and cherry tomato tartare. Ask your fish monger if your salmon is okay for tartare. If you have a doubt, freeze your salmon fillets for 6 hours at least and defrost them afterwards. Having lemon juice in your preparation isn't enough to compensate a lack of freshness of your salmon.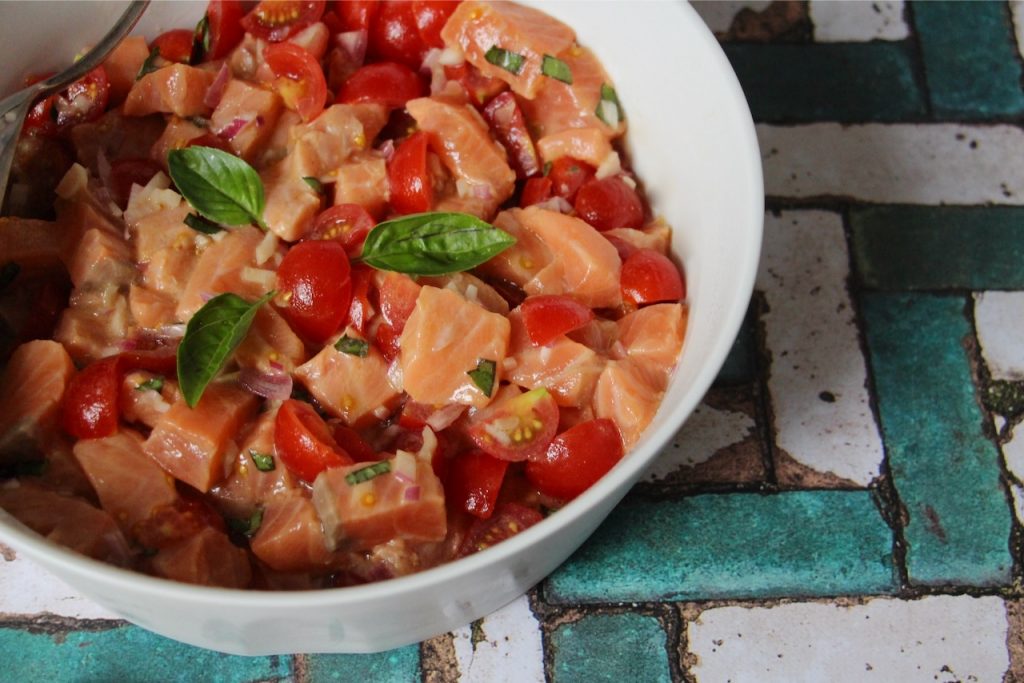 (Presentation : large bowl L'Économe by Starck by Degrenne)
The utensils:
A sharp knife,
A cutting board
And a lemon squeezer.
Nothing else…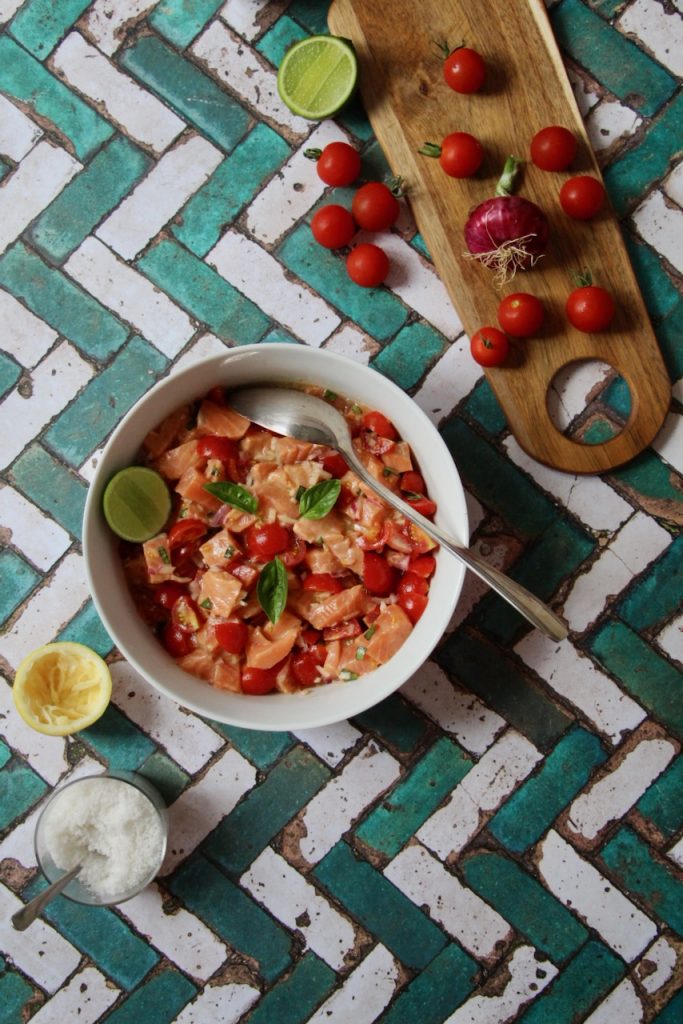 Shall we make salmon and cherry tomato tartare?
The recipe, Chef!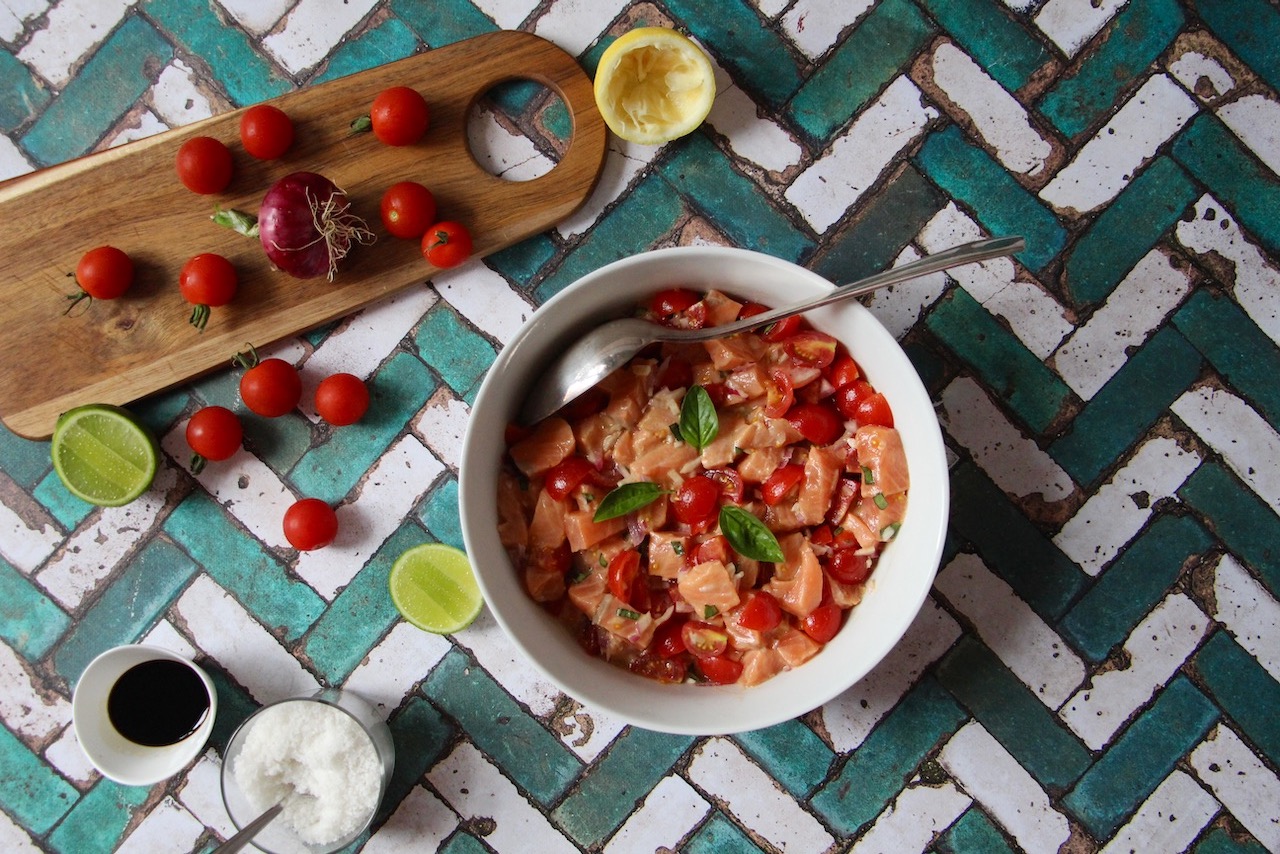 Print Recipe
Salmon and Cherry Tomato Tartare
Ingredients
600 g salmon

1 red onion

20 cherry tomatoes

1 tablespoon soy sauce

1/2 lemon

1/2 lime

4 tablespoons olive oil

12 basil leaves

Salt

Pepper

1/2 teaspoon ground ginger
Instructions
1
Cut the salmon in small pieces.
2
Chop the onion and cut the tomatoes in quarters.
3
Rince and dry the basil leaves.
4
Place the salmon, onion and tomatoes in a bowl, add the chopped basil.
5
Season with flower salt, pepper and ground ginger.
6
Pour the olive oil, the lemon juices and soy sauce. Taste and adjust seasoning if you want to.
7
Mix gently and set aside in your fridge until serving.