Hello my lovelies! How are you today?
So I'm about to tell you something unbelievable… A kind of food blogger coming out you might say… It's the very first time I make pastry with passion fruits. Just writing it makes it crazier!
But yes, it is my first dessert with those fruits… And it's a great start with my passion fruit tart with meringue!!
You're still there? You don't think less of me since being a food blogger who never used passion fruits could make look like a fraud? No? Okay, let's keep calm and go on… 😉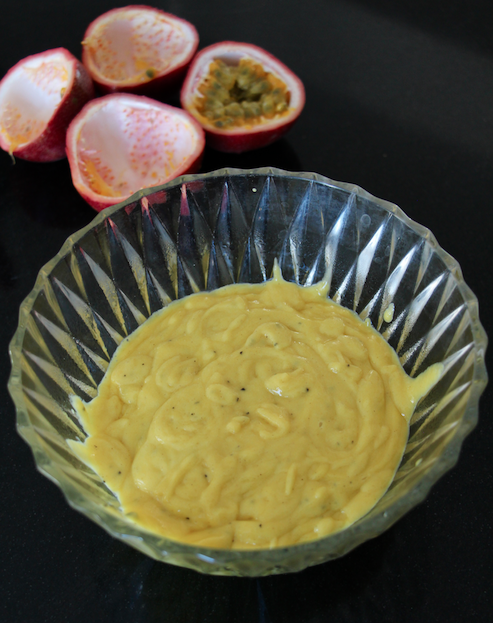 So it happened like that, as always. I was going to bake my usual lemon pie with meringue and I saw passion fruits when grocery shopping, they looked at me straight in the eyes… Couldn't resist… you know me, too weak…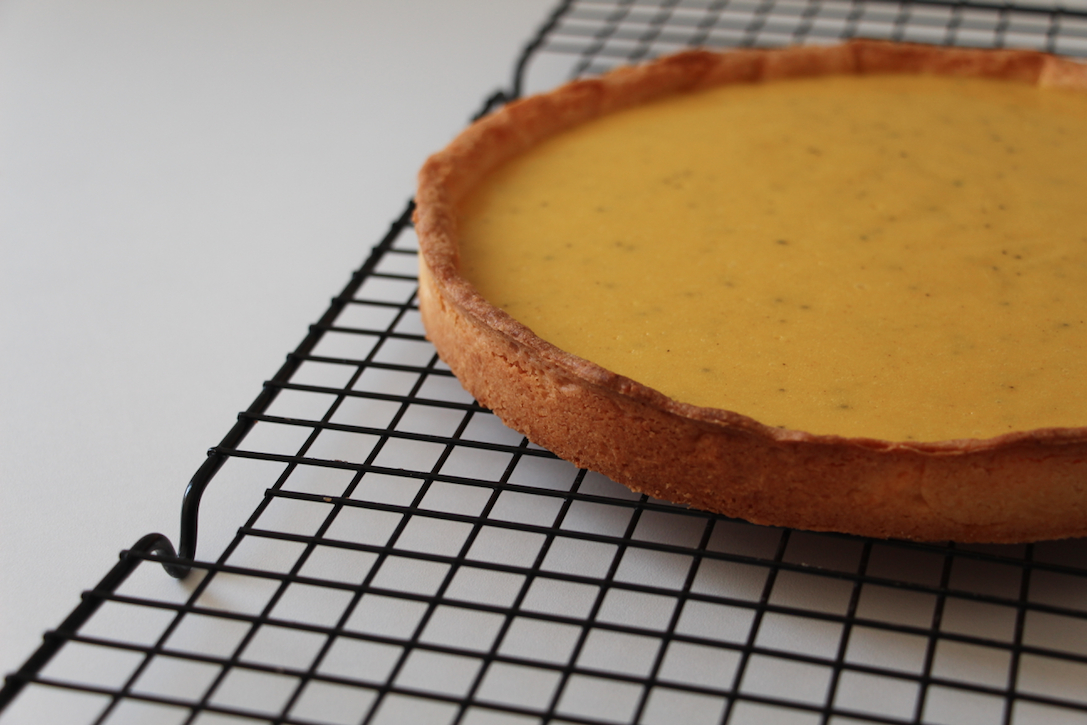 I adjusted my lemon pie recipe to passion fruits. New balance of the ingredient quantities (more precisely less sugar), creation of an almond shortbread pastry (new one on the blog 😉 that I recommend to make the day before) and that was it!
To make this recipe, I used 4 beautiful passion fruits, 3 and a half for the curd, the rest of it for decoration. I had roughly 160 g of fruit pulp. If your passion fruits are smaller, you will need one or two more. As always when baking, it's better to weigh precisely the ingredients.
You can make a traditional shortbread pastry of course, a hazelnut shortbread one or a shortcrust pastry. It's completely up to you!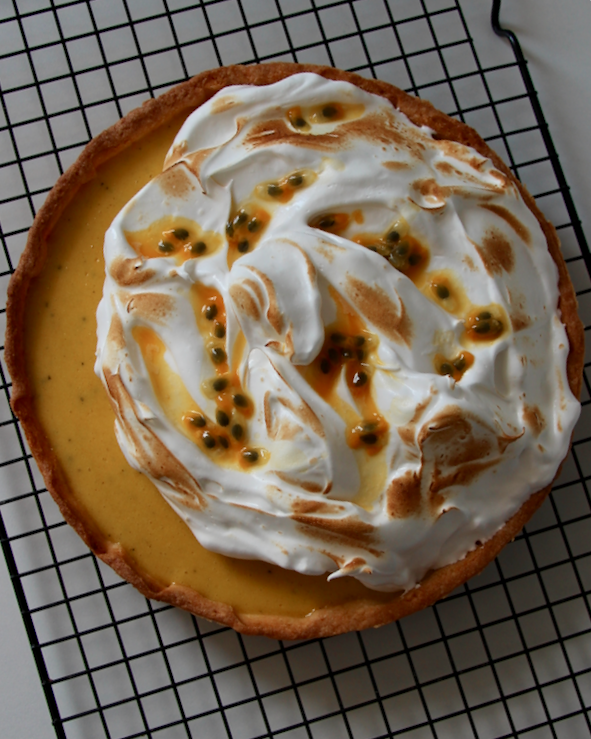 About that, I bought a Terraillon kitchen scale, with gram accuracy. I found it in my ususal supermarket for less than 30 euros (you can find cheaper ones on internet). It's a mandatory equipment to have in your kitchen if you like pastry.
The other utensils:
My Thermomix or a sauce pan (with thick bottom if you have) for the passion fruit curd
My kMix for the almond shortbread pastry (doable by hand) and the meringue
A 22 cm diameter pastry ring
And my kitchen blowtorch.
Are you ready?
Let's do this!
The recipe, Chef!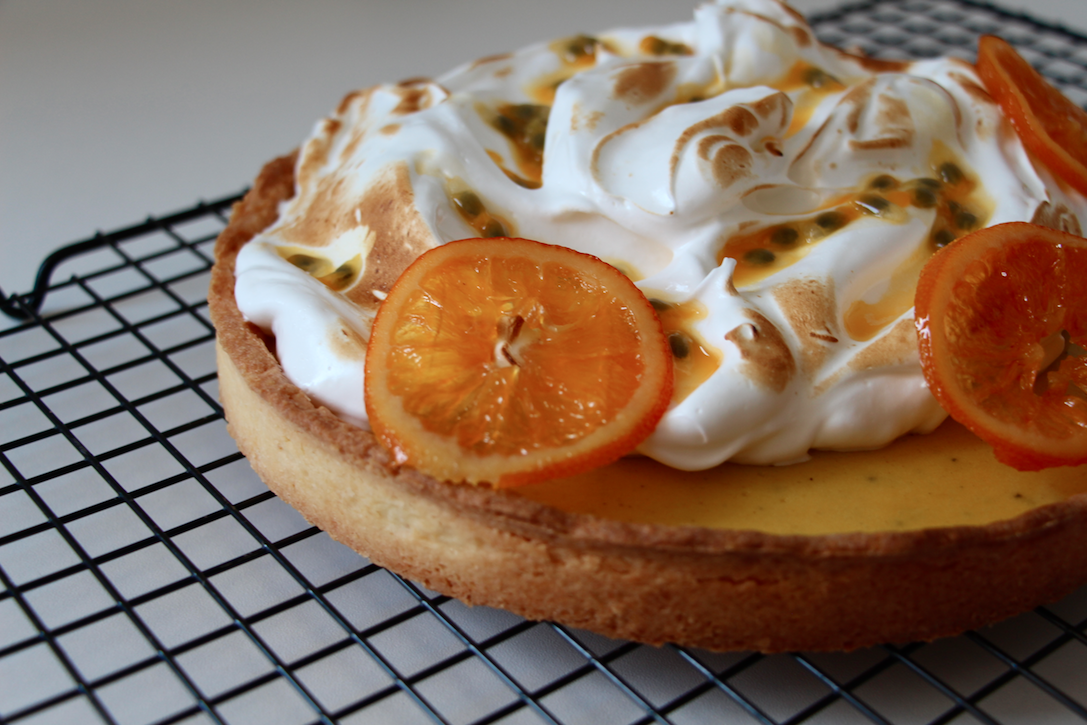 Print Recipe
Passion Fruit Tart with Meringue
Ingredients
1 almond shortbread pastry (see recipe on the blog)
4 passion fruits (160 g of fruit pulp besides the pulp for decoration)
45 g butter
2 eggs
70 g sugar
2 egg whites (75g)
150 g iced sugar
Instructions
1
Make an almond shortbread pastry, spread it, cover with baking paper and ceramic balls, other wise your pastry shell might rise during baking.
2
Bake for 20 minutes at 200°C.
3
Remove the balls (carefull they are super hot !!) and put your pastry back into the oven for anoter few minutes until you get a nice golden color.
4
Remove the pulp from 3 and 1/2 passion fruits.
5
In your sauce pan, put the pulp, the sugar and butter. Cook 3 minutes at medium heat (3 on a scale of 1 to 6) and whip gently.
6
Add the 2 eggs and cook at higher heat (4 on a scale of 1 to 6) and whip more vigorously for 2 minutes. Your passion fruit curd should get thicker.
7
Remove form the heat once your whisk makes furrows.
8
Pour the curd through a strainer to remove the solid parts.
9
Let your passion fruit curd cool down.
10
Once your pastry has cooled down, pour the passion fruit curd into the shell.
11
Whip the egg whites until foamy. Then add the iced sugar gradually and keep whiping until stiff peaks form.
12
Spread your meringue over the pie with a piping bag for a nice shape or with a spatula.
13
And torch the meringue until it gets golden brown.
14
Add finally the last half passion fruit pulp as decoration before serving.
Notes
Decoration idea: add slices of candied orange (recipe on the blog).