Hello my friends!
Let's make a girly dessert today. Don't you agree that my pink tartelette looks tempting?
Let's see the recipe, Chef!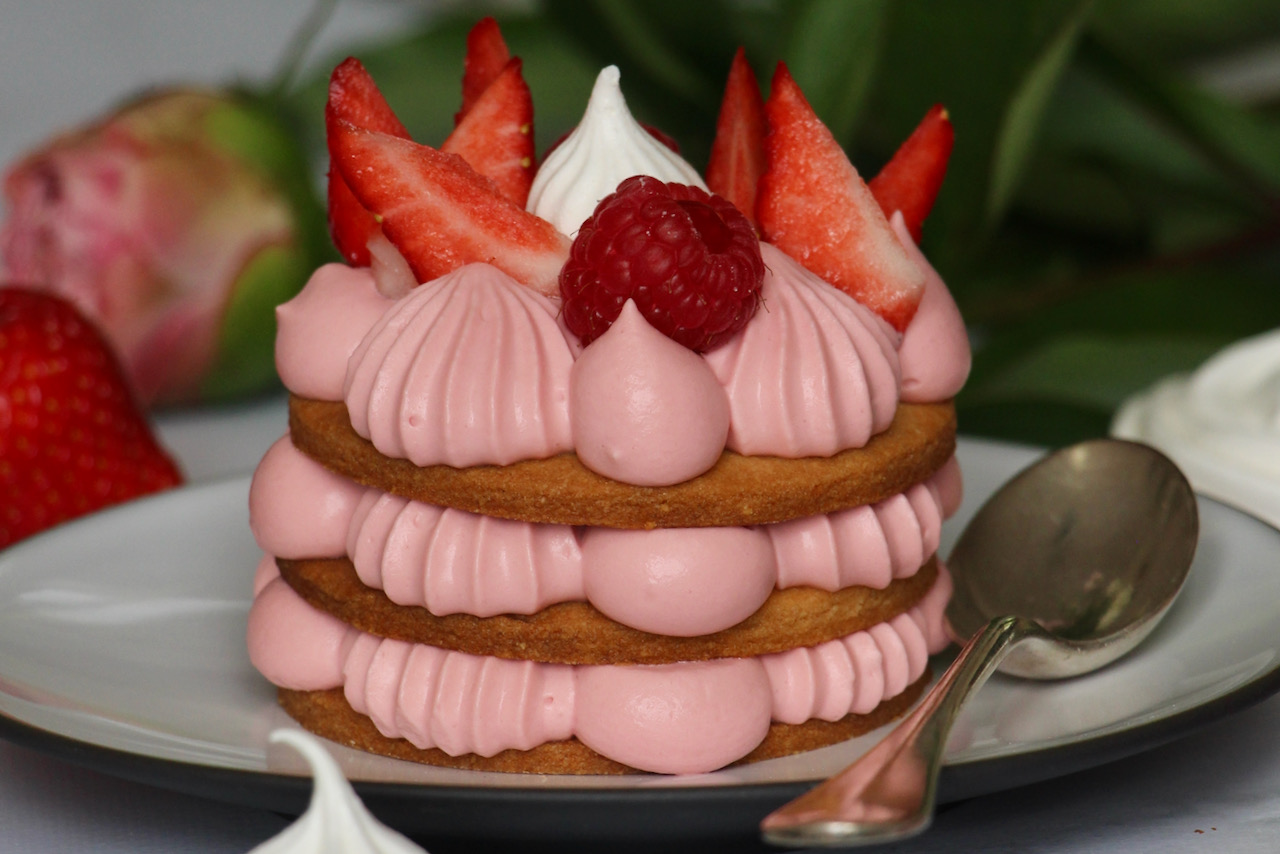 Print Recipe
Ingredients
230 g flour (for the pastry)

130 g butter at room temperature (for the pastry)

50 g ground hazelnut (for the pastry)

1 pinch of salt (for the pastry)

125 g iced sugar (for the pastry)

2 egg yolks (for the pastry)

100 g Ruby chocolate (for the ganache)

50 g + 150 g cream (for the ganache)

1 teaspoon of honey (5 g) (for the ganache)

Fruits

Meringues
Instructions
1
The day before, make the pastry.
2
Place the flour, salt, ground almonds and iced sugar. in a bowl and mix
3
Cube the butter, add to the bowl and mix until it resembles breadcrumbs.
4
Add the egg yolks until it comes together.
5
Wrap it in clingfilm and set aside in your fridge for the night.
6
The day before too, make the ganache.
7
Pour the 50 g of cream and the honey in a saucepan.
8
Heat until it boils. Stop heating immediately.
9
Add the ruby chocolate, leave 1 or 2 minutes.
10
When the chocolate is melted, mix.
11
Add the 150 g of cream, mix again until smooth and homogeneous.
12
Place a clingfilm directly on the mixture so that there's no air remaining.
13
Set aside in your fridge for the night (or at least 4 hours).
14
The next day, preheat your oven at 180 C / 355 F degrees and remove the pastry from the fridge.
15
Spread the pastry and make 18 to 24 discs with a pastry ring.
16
Place the discs on a baking mat and cook for 15 minutes.
17
At the end of cooking, set aside on a grid.
18
Place the bowl and whisk in your freezer for a few minutes.
19
When the bowl is cold, pour the cream inside and whisk for a few minutes. You should get a firm and compact ganache.
20
Proceed with the final mounting of your tartelettes.
21
Pipe a layer of ganache on one pastry disc. Cover with another pastry.
22
Pipe another layer of ganache and cover with a third pastry.
23
Pipe a final layer of ganache, add fruits and meringues for decoration.
24
Start again with the other pastries and place them in the fridge until serving.