Hello food lovers!
I will share today a super easy recipe that I love to make for a delicious dinner, quick to prepare and without too much calories.
Here is my avocado and mushroom toast.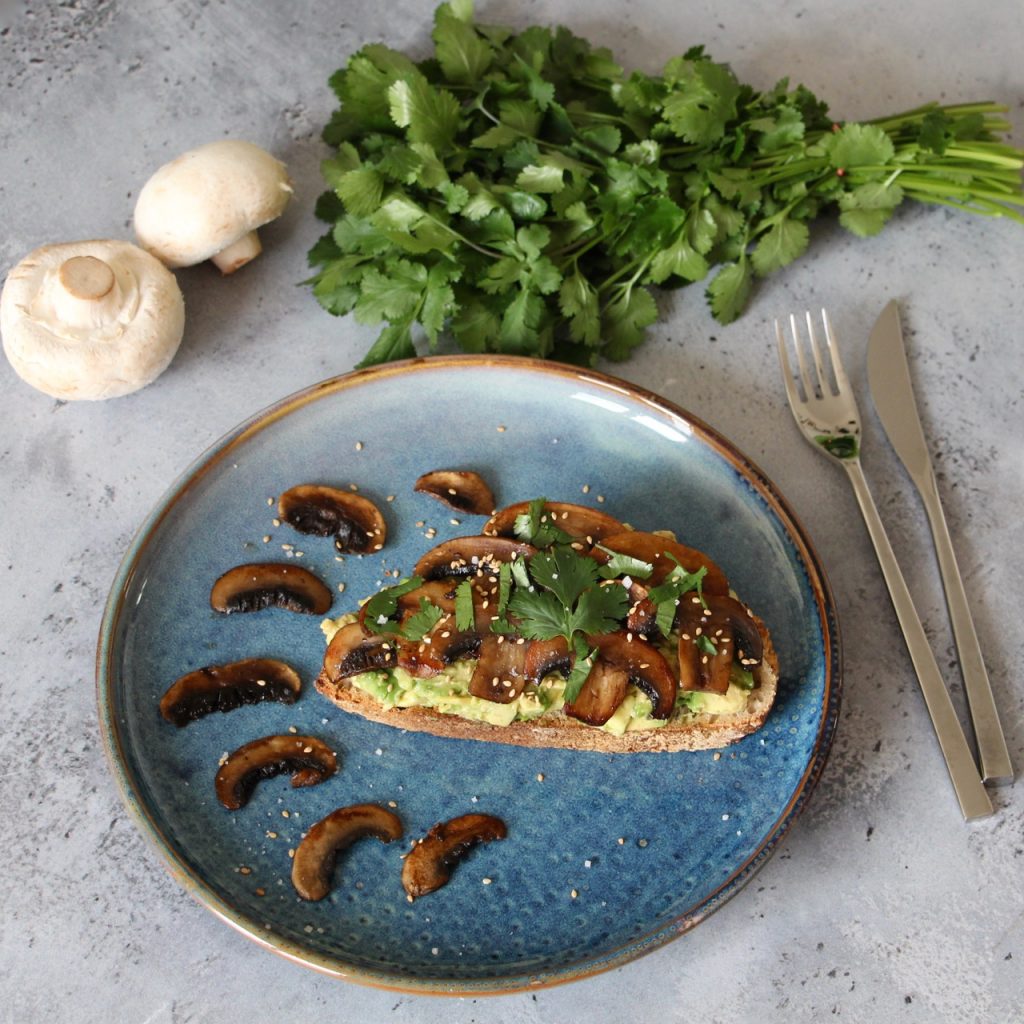 I'm a huge fan of avocado, I can eat it any ways and I must say that the combo with Paris mushroom is very nice. Besides, the mushrooms are cooked with balsamic vinegar which brings a delicious taste too!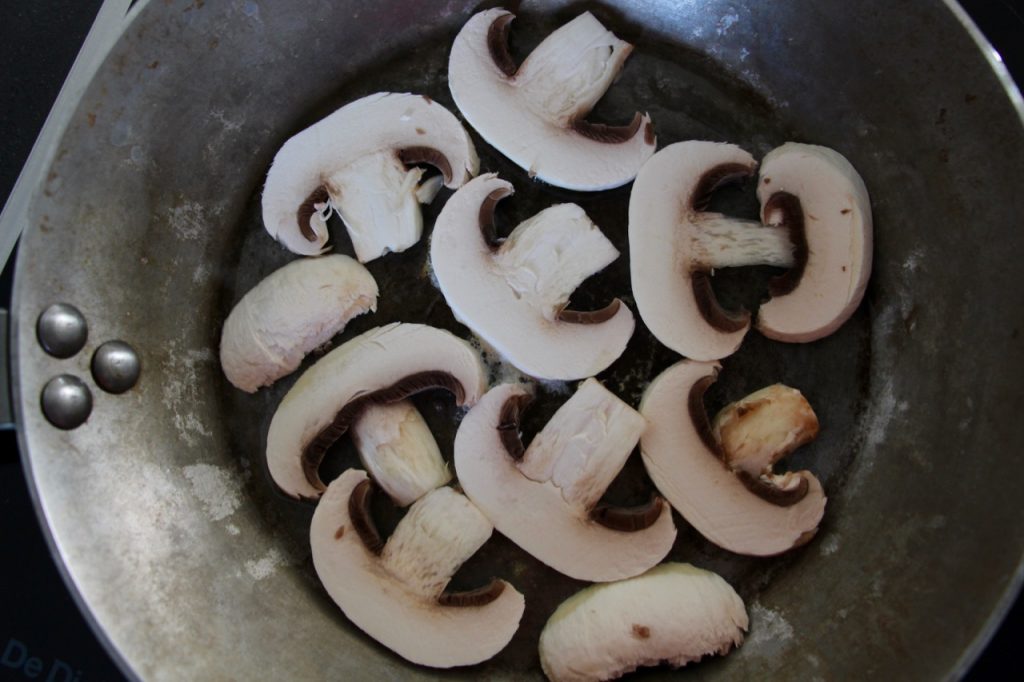 Let's learn more…
Avocado originates in Mexico. There are three main varieties. The most common one is the Hass avocado.
The word « avocado » comes from the Spanish aguacate, itself coming from the langage ahuacatl and meaning « testicule », as the shape of the avocado looks similar. We are going to bed more intelligent tonight!! 😉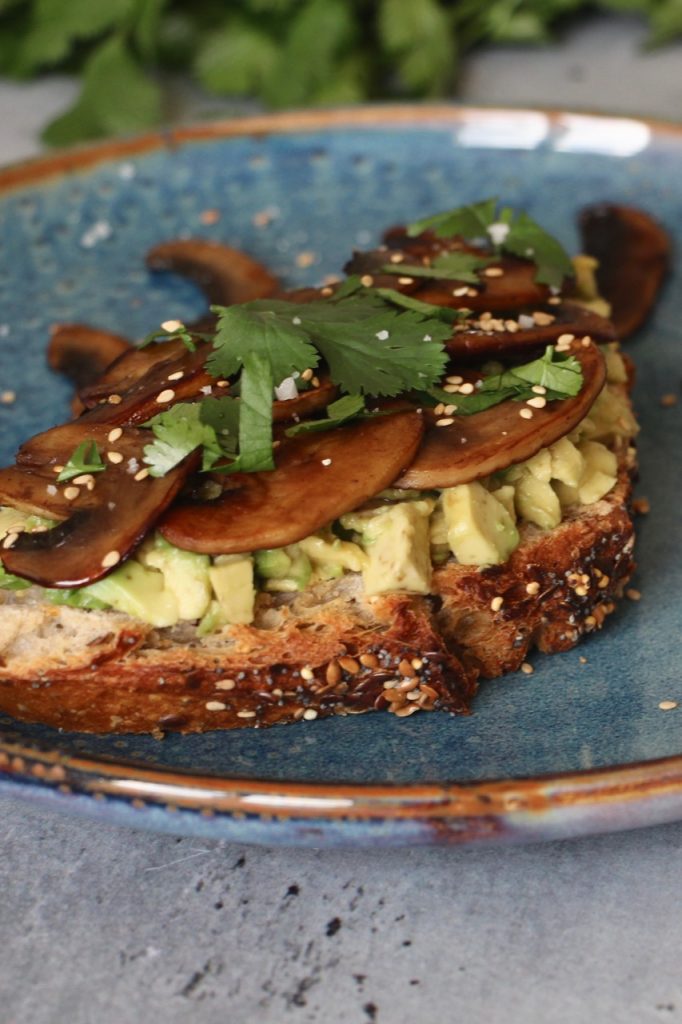 Mexico is by far the first country producing this fruit in the world (over 30 % of the worldwide production), and the first exporter and consumer.
Avocado has great nutritive qualities with a rather low calory level (en general 138 kcal for 100 g, but sometimes much more). It's perfect for those who have great needs such as teenagers, athletes, children.
Back to our recipe…
I recommend to take a cereal bread for a dinner, but I also make this recipe as appetizers on slices of baguette or on pretzel breads.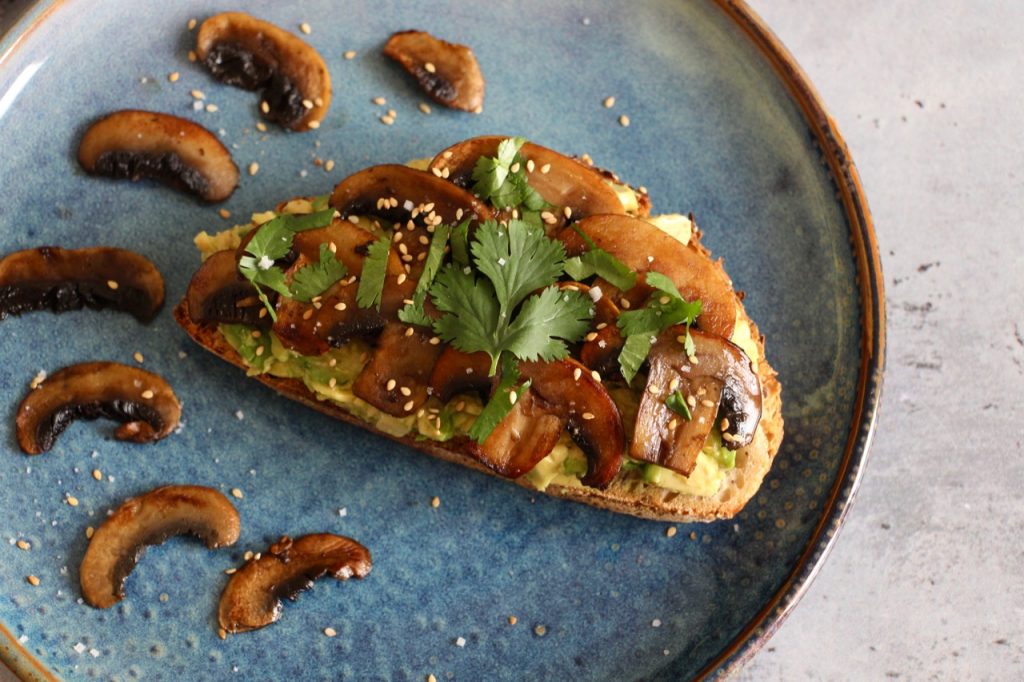 If you want a more complete meal, you can add a soft boiled egg or eggs sunny side up, it's as you like it… I also often add sesame seeds.
My kids just love it and it's ready in a few minutes. What's not to like?? 😉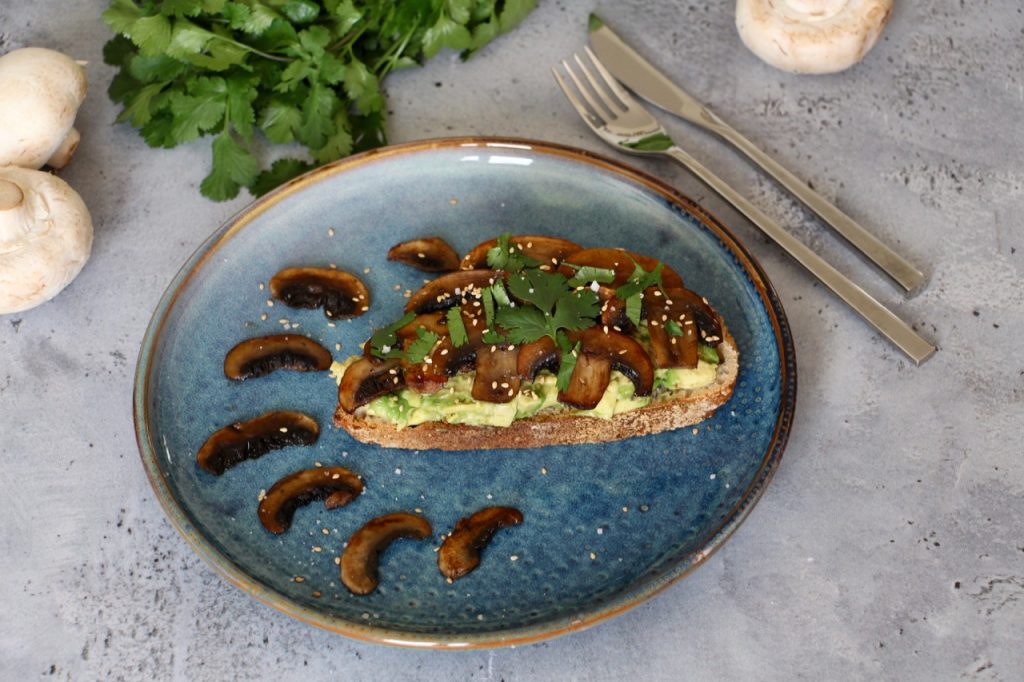 The utensils:
A frying pan for the mushrooms (I take my Minéral B De Buyer),
A cutting board
A fork and a sharp knife.
Nothing else!!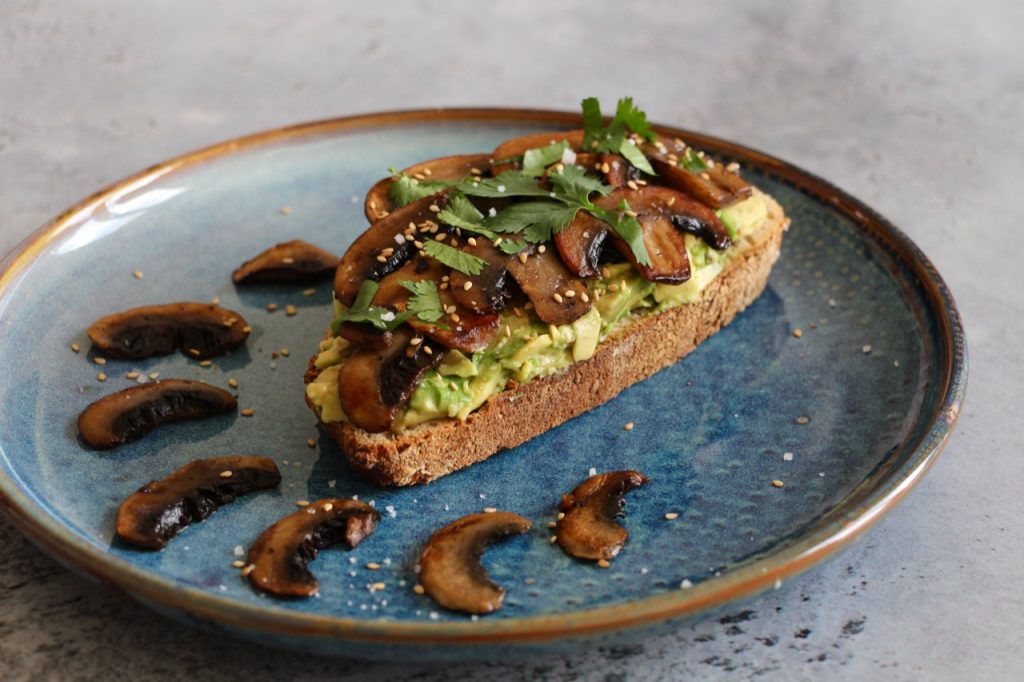 (Presentation : plate by Fleux)
Shall I say more? No? Let's do this!
The recipe, Chef!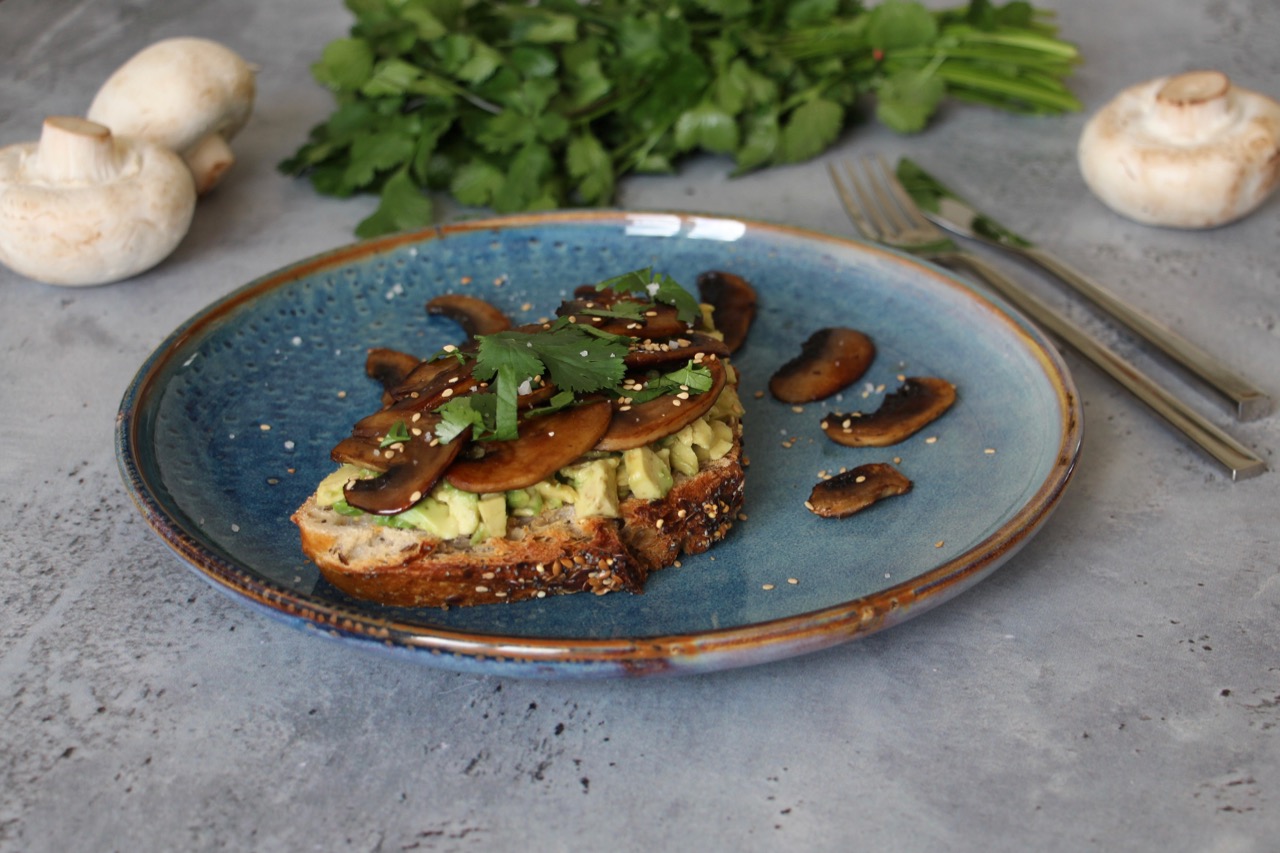 Print Recipe
Avocado and Mushroom Toast
Ingredients
1 nice slice of bread

1/2 avocado

2 fresh Paris mushrooms

5 g butter

1 tablespoon balsamic vinegar

A few leaves of coriander

1 pinch flower salt
Instructions
1
Peel and cut the mushrooms in slices.
2
Stir fry with the butter in your frying pan.
3
In the meantime, crush the avocado with a fork.
4
When the mushrooms are cooked, add the balsamic, cook 1 more minute.
5
Spread theavocado on the bread.
6
Add chopped coriander, the mushrooms and the flower salt.