Hello my lovelies!
It's Halloween again soon and I'm super exited because I love baking and cooking for this special occasion! This year, among other recipes, I wanted to introduce my pumpkin shaped pretzel rolls with smoked salmon. You're going to love them!
Shall we see the recipe, Chef?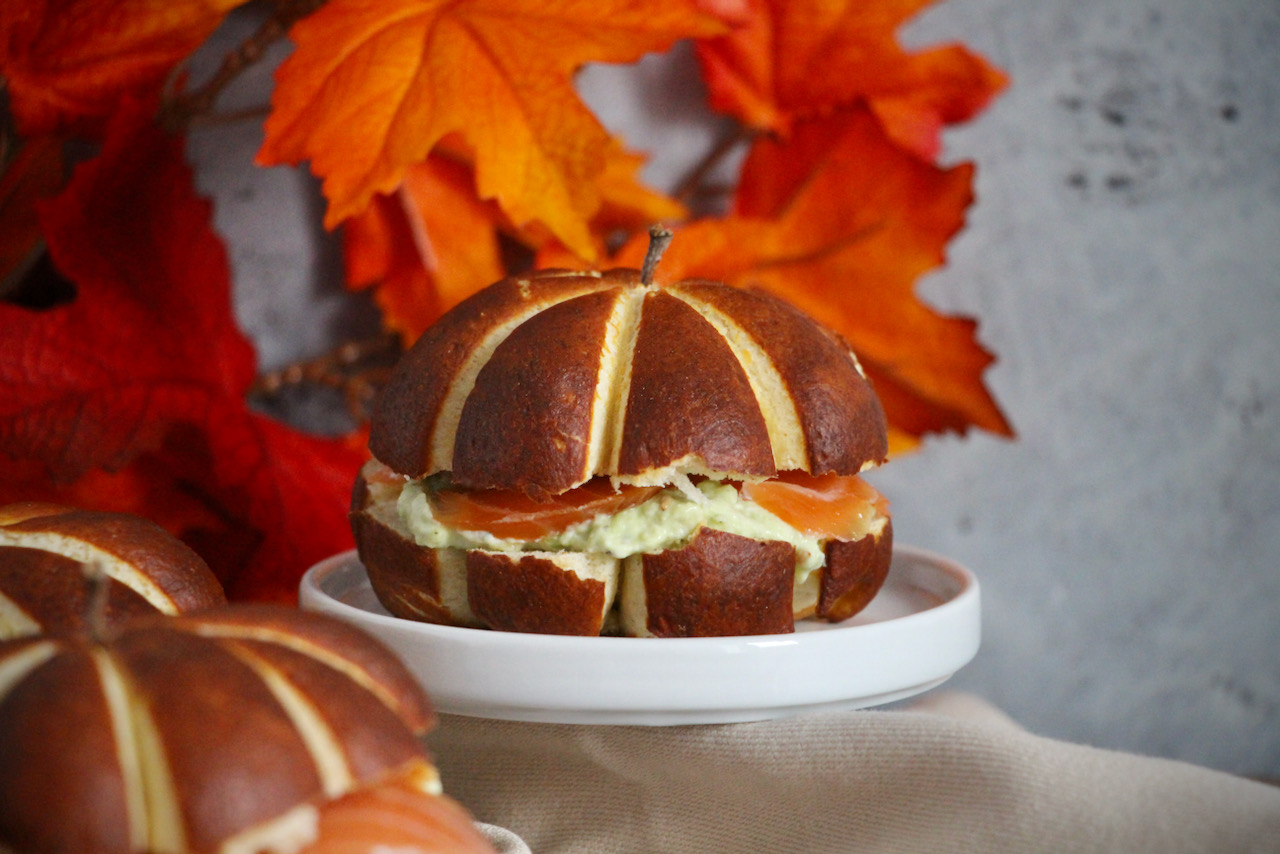 Print Recipe
Pumpkin shaped Pretzel Rolls with Smoked Salmon
Ingredients
Pretzel dough

500 g flour (50 g more depending on the consistency of your mixture)

200 g milk

90 g water

30 g soft butter

10 g salt

10 g dehydrated yeast

75 g baking soda

Filling

120 g cream cheese

1 avocado

1/2 tsp ground ginger

4 slices smoked salmon
Instructions
1
Warm up a little the milk and add the yeast. Mix until the yeast is fully dissolute.
3
In your food processor, pour the flour, the 10 grams of salt, the butter and the milk+yeast+water.
4
Knead at least 5 minutes until your dough won't stick to the bowl anymore.
5
Cover with a clean sheet and place the bowl in a warm environment for 2 hours. Your dough should grow significantly.
6
Degas the dough and split it in 8 pieces. Roll each one with your hands to get a ball shape.
7
Place a string on your work surface. Place a dough ball, smooth side-down, onto the center. Crisscross strings over the dough into a star formation. Firmly tie the string into a knot over the center of the roll.
8
Set aside for 15 minutes.
9
Preheat your oven at 220 C / 430 F degrees.
10
Boil 2 liters of water with the baking soda in a large pan (add the baking soda to the cold water otherwise it will overflow!). Put the rolls, one after the other in the water. They will come up to the surface almost immediately. Let them 10 seconds on one side, turn them upside down and take them out of the water after another 10 seconds.
11
Place them on a baking paper or a baking mat.
13
Remove the pumpkin pretzels from the oven and place them on a grid to cool down.
15
Cut each pumpkin pretzel in half.
16
Mash the avocado and combine it with the cream cheese and ground ginger.
17
Spread this avocado cream cheese on the lower part of the pretzel, add smoked salmon.
18
Place the other half on top and set aside in your fridge until serving.