Hello my lovelies!
Are you ready to be surprised? Are you ready to enjoy something really different and yet super delish?
Here is my savory wild garlic brioche!
Let's see the recipe, Chef!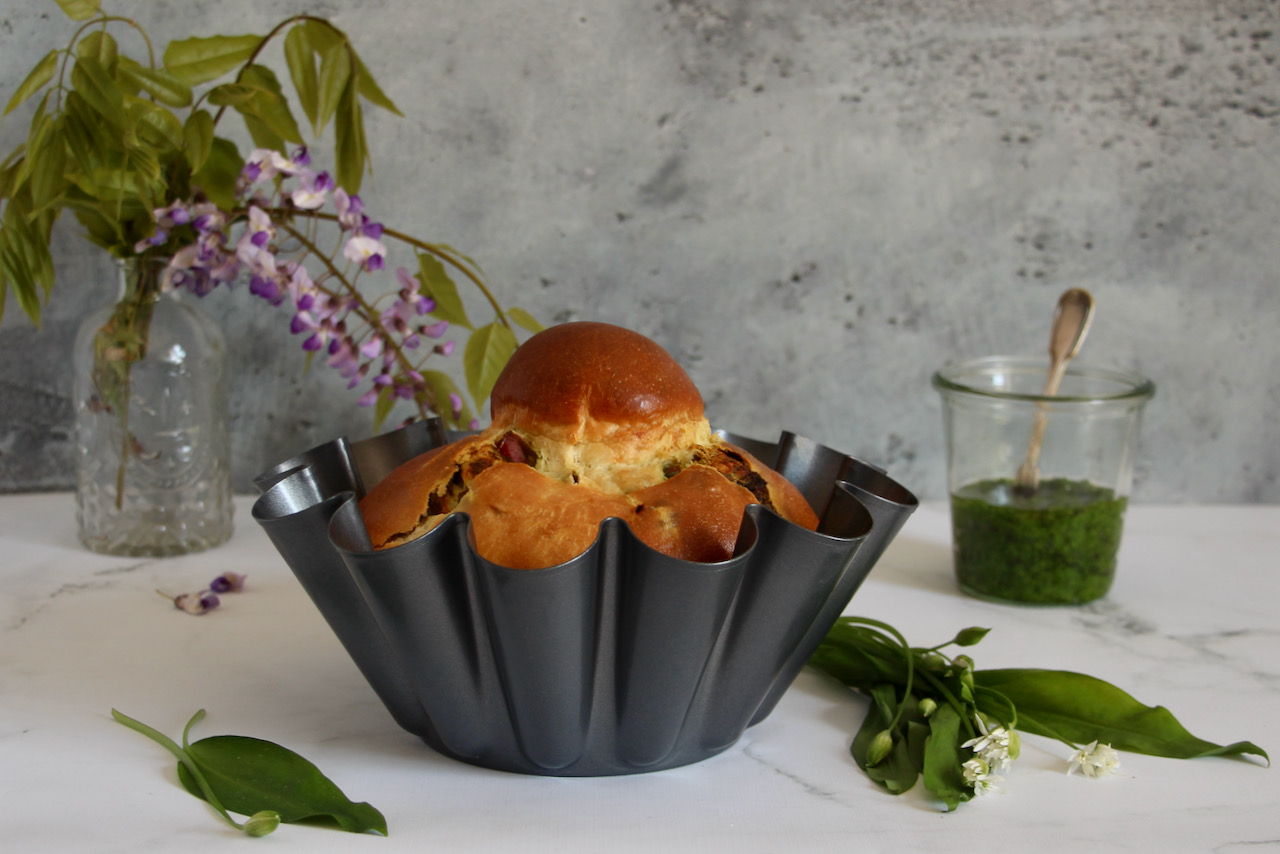 Print Recipe
Savory wild Garlic Brioche
Ingredients
120 g warm milk (for the dough)

5 g instant dry yeast (for the dough)

1 large egg (for the dough)

40 g butter melted (for the dough)

280 g all-purpose flour (for the dough)

1 teaspoon salt - 4 g (for the dough)

15 g sugar (for the dough)

50 g smoked pork (for the filling)

100 g wild garlic pesto (for the filling)

1 tbsp milk (for the brushing)

1 tbsp cream (for the glazing)

1 pinch salt (for the glazing)
Instructions
2
Pour the warm milk in your food processor bowl, add the yeast. Whisk.
3
Add the eggs, the melted butter, sugar and salt. Whisk.
4
Add the flour and knead with the hook. Start at low speed (2 on a scale from 1 to 6) then increase to 4.
5
Once you have an homogeneous dough, knead some more 3-4 minutes. You'll have a sticky dough, don't add flour at this point.
6
Cover with a clean and humid linen and let rise 1 hour.
7
Slice the smoked pork in littles cubes. Set aside.
8
Now that your dough has risen, take a tenth of the dough and make a small ball. Spread the dough and the small ball on your working plan.
9
Spread the pesto and sprinkle your pork cubes on both doughs.
10
Make a ball with the large dough, make sure to keep all the filling inside. Place it in your buttered mold.
11
Shape a small ball with teh small dough, press it gently on the bigger one.
13
Preheat your oven at 180 C / 355 F degrees.
14
Mix the milk, cream and salt and brush the brioche.
15
Bake for 45 minutes. Check with a knife and bake some more if necessary.