Hello my lovelies !
Today I will share another King's cake recipe. I already posted a few with puff pastry. Today it's an orange blossom brioche version with candied fruits …
Let's have my King's crown brioche!
The recipe, Chef !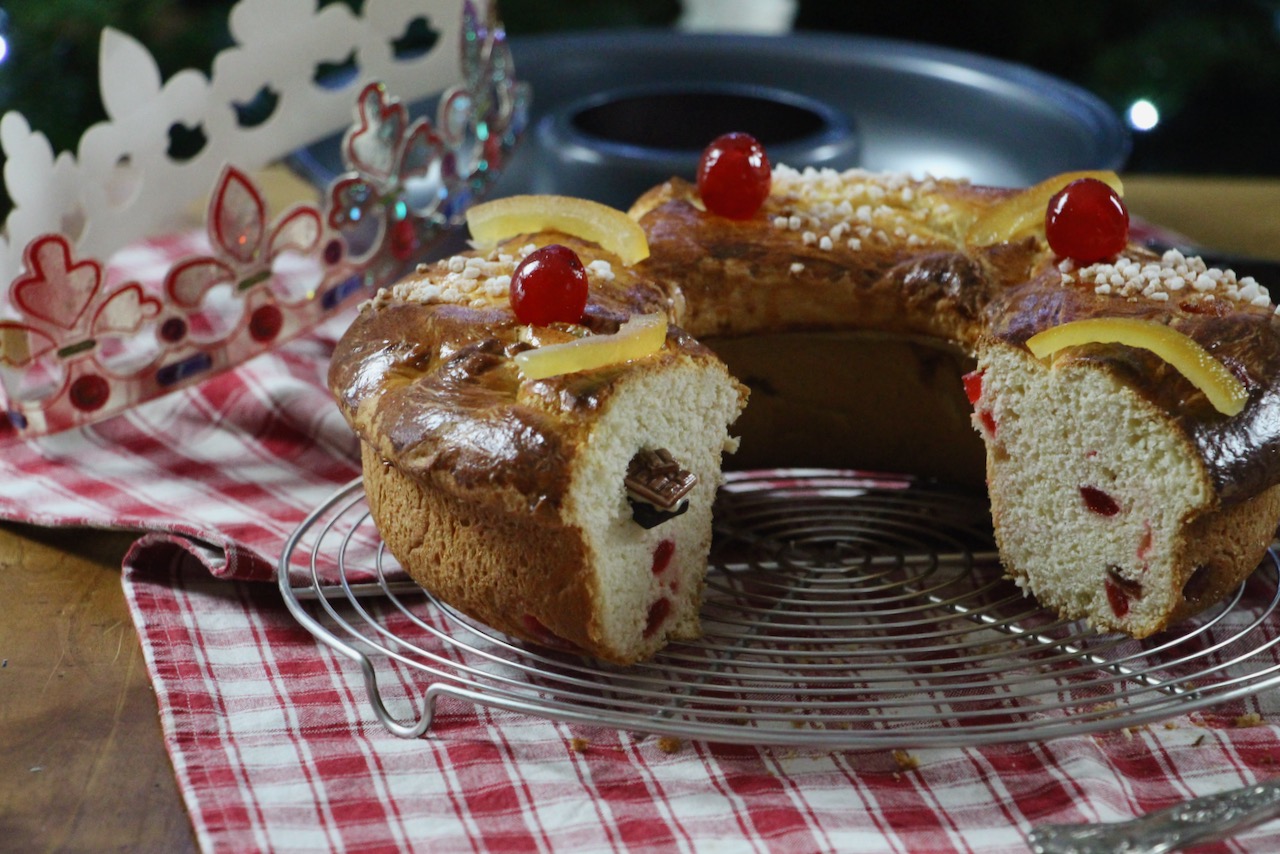 Print Recipe
Ingredients
500 g flour

120 g butter at room temperature

100 g sugar

10 g dry yeast

200 g milk

1 egg

3 tablespoons orange blossom extract

8 g salt or 2 teaspoons

100 g chopped candied fruits

A few candied fruits for decoration

2 tablespoons sugar pearls

1 egg yolk for the golden color
Instructions
1
Warm the milk in your microwave oven. Add the yeast and mix until full dissolution.
2
Add the sugar then the egg.
3
In your food processor bowl, put the flour and salt.
4
Start at medium speed and add slowly the milk+yeast+sugar+egg mixture.
5
Add the orange blossom extract.
6
After 2-3 minutes, your dough should be smooth. Add the butter cut in pieces.
7
Mix for at least 5 minutes until you get a sticky but smooth dough (help with a spatula if necessary).
8
Pour the chopped candied fruits and mix at low speed for one minute.
9
Cover your bowl with a clean linen in a warm place.
10
After 2 hours, your dough should have doubled. Press gently your hands on the dough so that to remove gas for the little holes. (it will prevent from having a strong yeast taste).
11
Shape a ball then make a hole in the center, shape as a crown and let grow again for one hour.
12
After one hour, preheat your oven at 180 degrees.
13
Brush the egg yolk on the brioche. Spread sugar pearls.
14
With a baker knife or scissors, make a deep cross on top of your dough.
16
After baking, place the remaining candied fruits for decoration. Place on a grid for cooling.