Hello my lovelies!
Today I'm about to share one of the most iconic French pastry recipe and I sincerely hope that you'll love it!!
Here are my vanilla eclairs, made with a delicious choux pastry!
Let's see the recipe, Chef!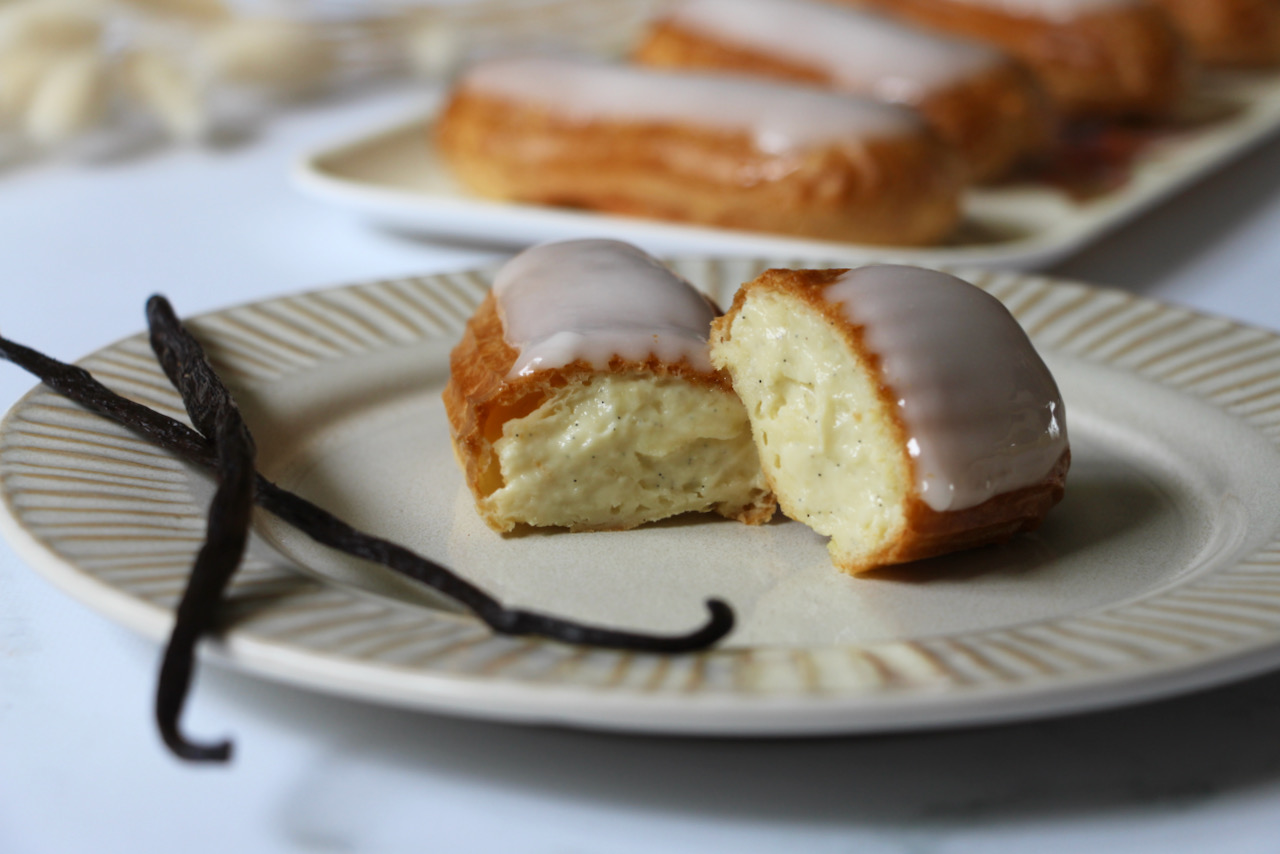 Print Recipe
Ingredients
Choux Pastry

140 g eggs (3 eggs medium size)

80 g milk

80 g water

80 g butter

80 g flour

4 g sugar

2 g salt

Vanilla custard

1/2 l milk

4 egg yolks

40 g sugar

45 g flour

1 vanilla pod

Decoration

White pastry fondant (or white chocolate)
Instructions
1
Melt the butter into a sauce pan with the milk and water then boil.
2
Lower the temperature to medium heat and add the flour, sugar and salt. Mix vigorously with a spatula until you get a homogeneous mixture.
3
Keep on mixing while your sauce pan is still heating slowly, in order to dry the pastry, for 2 minutes and make sure that the pastry won't stick to the bottom of your pan.
4
Take the pan away from the heat and add one egg and whisk until you get an homogeneous mixture.
5
Add the second egg and whisk. Then the third and whisk again. Your mixture must be smooth and homogeneous.
6
Then put the pastry into your pastry bag with a large star nozzle and pipe on a silicon baking mat or a baking paper.
7
Pre-heat your oven at 160 degrees and put your eclairs in it for 45 minutes. Do not open the oven door during that time !
8
After 45 minutes, make sure that your eclairs have a nice golden colour (if not, leave them for a few more minutes while still watching).
9
When you take them out of the oven, wait 2-3 minutes and place them on a grid until they cool down completely.
10
Pour the milk in a saucepan with the vanilla pod cut in half.
11
Boil and remove immediately from the heat. Set aside for 15 minutes.
12
During that time, whip the egg yolks with the sugar until it gets white.
13
Then add the flour and whip again.
14
Remove the vanilla pod from the milk. Pour half of the milk on your mixture and mix. Pour the other half, mix again.
15
Pour the whole mixture in your saucepan and boil for 2 minutes while whipping with energy (otherwise your cream will cook too much at some point). (I do that at medium heat)
16
When the cream has the right consistency, pour it in a plate and cover with a clingfilm to avoid having a thick crust.
17
Turn your eclairs upside down and make 3 little holes (one on the left, one in the middle and one on the right) with a sharp knife.
18
Pour the vanilla custard in your piping bag with a small round nozzle and fill in the eclairs through each hole.
19
Heat the fondant according to the instructions and spread on top of your eclairs.
20
Set aside in your fridge for at least one hour before serving.