Hello my dear food lovers!
This is my latest 2021 Christmas dessert recipe, and let me tell you this: it was worth the wait!!
Let me introduce my vanilla and praline entremet!
Shall we see the recipe, Chef?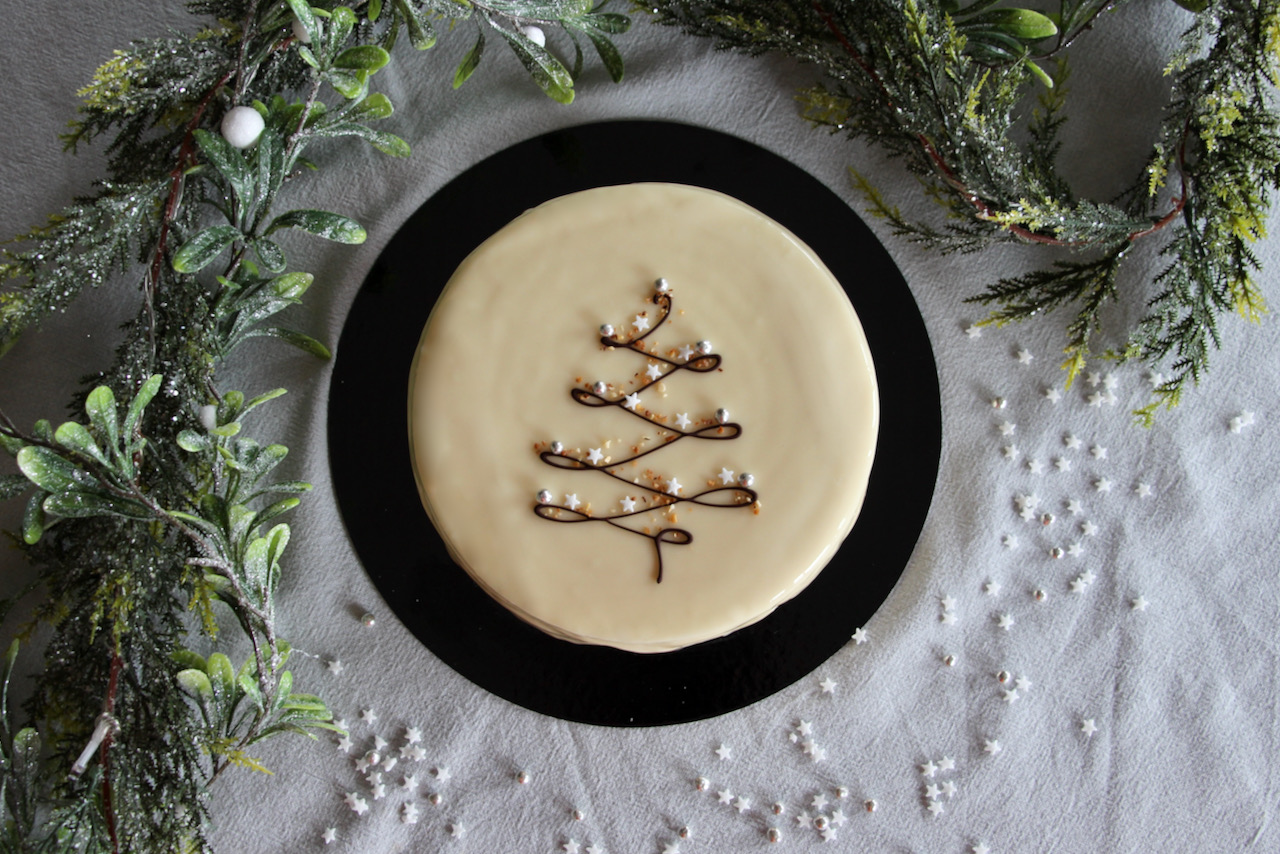 Print Recipe
Vanilla and Praline Entremet
Ingredients
Creamy Praliné

100 g almond praliné

100 g cold butter

70 g sugar

21 g water

60 g egg whites

Ganache

200 g white chocolate

100 g + 300 g cream

2 tsp honey (10 g)

2 vanilla pods

2 gelatine sheets (4 g)

Lace Cookies

32 g butter

32 g almond powder

65 g sugar

15 g flour

25 g orange juice

Almond financier

100 g egg whites

115 g icing sugar

70 g ground almonds

70 g salted butter

35 g flour

Mirror glaze

8 g gelatine

150 g sugar

150 g glucose syrup

100 g sweetened condensed milk

150 g white chocolate
Instructions
1
Make a boil with the sugar and water up to 120 C / 248 F degrees.
2
Remove from the stove and set aside.
3
Whisk the almond praliné and cold butter cut in cubes in your food processor.
4
Whisk the egg whites and, while still whisking, add the sugar syrup cooled down to 30 C / 86 F degrees.
5
Combine this meringue to the butter / praliné gently with a spatula until homogeneous.
6
Pour in your insert mold and wrap with cling film.
7
Set aside in your freezer for the night.
8
Cut the vanilla pods in two pieces in its length. Scrape the seeds.
9
Pour 100 g of cream in a saucepan. Add the honey, vanilla seeds and vanilla pods.
10
Heat to a boil. Stop heating immediately.
11
Leave to rest 10 to 15 minutes.
12
Remove the pods from the cream (try to extract as many seeds as possible).
13
Melt slowly the white chocolate.
14
When the chocolate is melted, heat again for a few seconds the cream.
15
Add it to the chocolate 1/3 after the other.
16
Add the 300 g of cream, mix.
17
Place a clingfilm directly on the mixture so that there's no air remaining.
18
Set aside in your fridge for at least 4 hours.
19
Heat the praliné in a sauce pan until liquid.
20
Remove from the stove and add the orange juice.
21
Add the rest of the ingredients, mix well.
22
Set aside in your fridge for 2 hours and a half / 3 hours.
23
Preheat your oven at 180 degrees.
24
Place 4-4 small tablespoons of batter on a baking paper, leave enough space.
25
Cook until you get a nice caramel color (approx 10 minutes with my oven).
26
Start again until you use all the batter.
27
Heat the praliné in a sauce pan until liquid.
28
Preheat your oven at 170 C / 340 F degrees.
29
Pour the sugar, almond, flour in a bowl.
30
Start whisking and add, little by little, the egg whites.
31
When homogeneous, add the praliné. Combine.
32
Pour the batter on a baking tray, in a round pastry ring.
33
Bake 16 minutes (your financier should be golden).
34
Let cool down a bit before unmolding on a cooling rack.
35
Place the bowl and whisk in your freezer for a few minutes.
36
When the bowl is cold, pour the ganache inside and whisk for a few minutes. You should get a firm and compact ganache.
37
Place your pastry ring on a cling film.
38
Pipe a generous layer of ganache.
39
Place the frozen praliné in the center. Cover with more ganache, mainly on the sides.
40
Place lace cookies on the whole surface.
41
Pipe the remaining ganache.
43
Press gently to remove air that could be stuck in the ganache.
44
Set aside in your freezer for at least 4 hours (one night is better).
45
Soak the gelatine in cold water.
46
Heat the sugar and glucose syrup until 102 C / 215 F degrees.
47
Remove from the stove, add the chocolate, drained gelatine and sweetened condensed milk.
48
Combine and mix with a hand mixer.
49
Place a cling film and let cool down to 36 C / 97 F degrees.
50
Remove the entremet from the freezer.
51
Pour the mirror glaze all over the entremet.
52
Flatten the surface with a spatula to avoid having a thick layer of glaze on top.
53
Finish the decoration as you like.