Hi guys!
So I will let you know about a challenge I accepted lately… But what is she talking about???
I haven't decided to run the marathon, or to beat any kind of world record!
A few days ago, I posted a pic of one of my pastries on a Facebook group page dedicated to mothers who cope with kids, lunches, work … One of the members wrote a nice comment and added that she could not bake any of my pastry recipes: she can not have sugar or butter. So she asked if she could challenge me: create a delicious dessert without sugar (or stevia) or butter.
Without even thinking (not smart you might say!), I said yes!
The opportunity to work my brain out on this matter came quickly since I had friends for dinner last Saturday. They didn't know it, but they would be my guinea pigs… And the verdict was made: recipe validated!!!
So, what did I bake this dessert with? Well, let's see … dark chocolate, hazelnuts, vegetable oil to replace the butter and raspberries, I just love the chocolate/raspberries combination.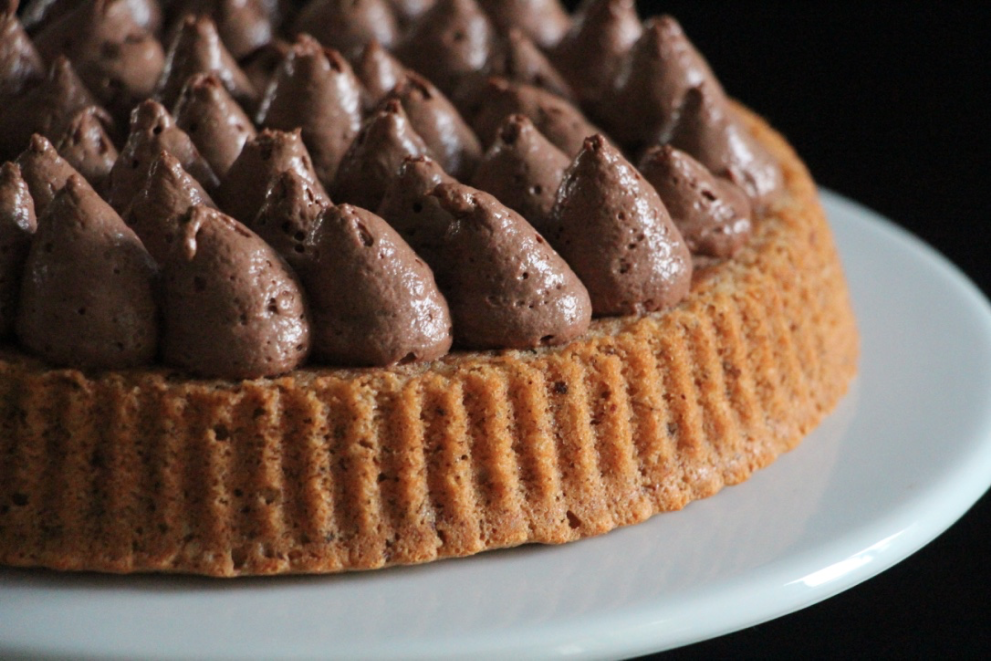 I bake a grilled hazelnuts Genoese, I found my inspiration in one of Philippe Conticini's recipe from his cookbook "Gâteaux et Gourmandises sans sucre", which means "Cakes and Sweets without sugar". I had to make a few adjustments since I could not use butter either…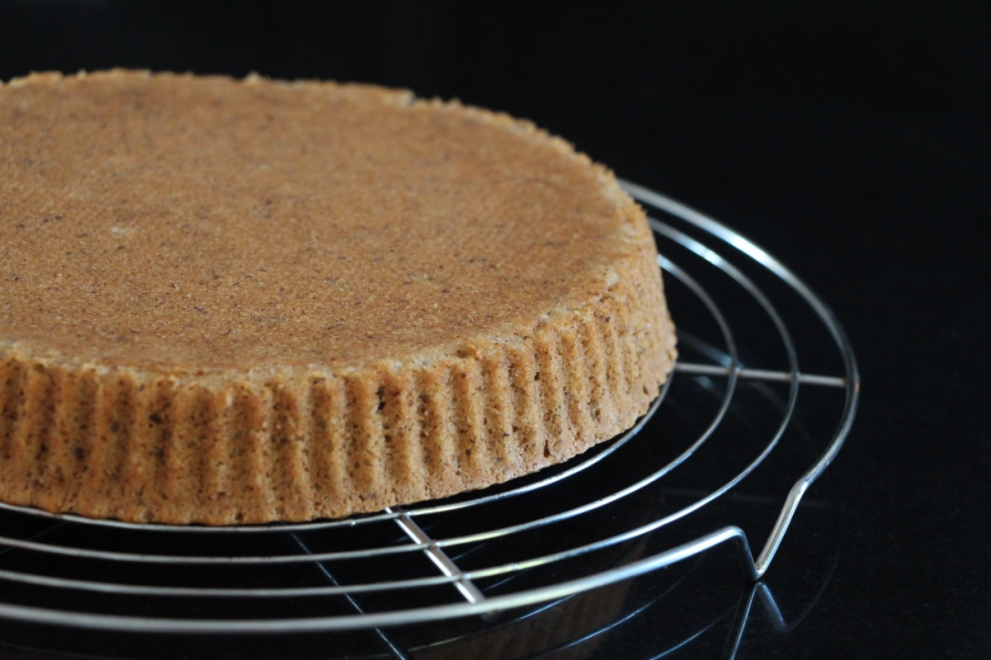 Then I added a chocolate mousse made with dark chocolate and eggs, nothing more. Finally, I decorated my cake with fresh raspberries.
In the end, the look can be seriously improved (especially the part when I add the raspberries…) but taste was great! It is really a good idea when you have friends for dinner or when you want to enjoy a slice of dessert without guilt!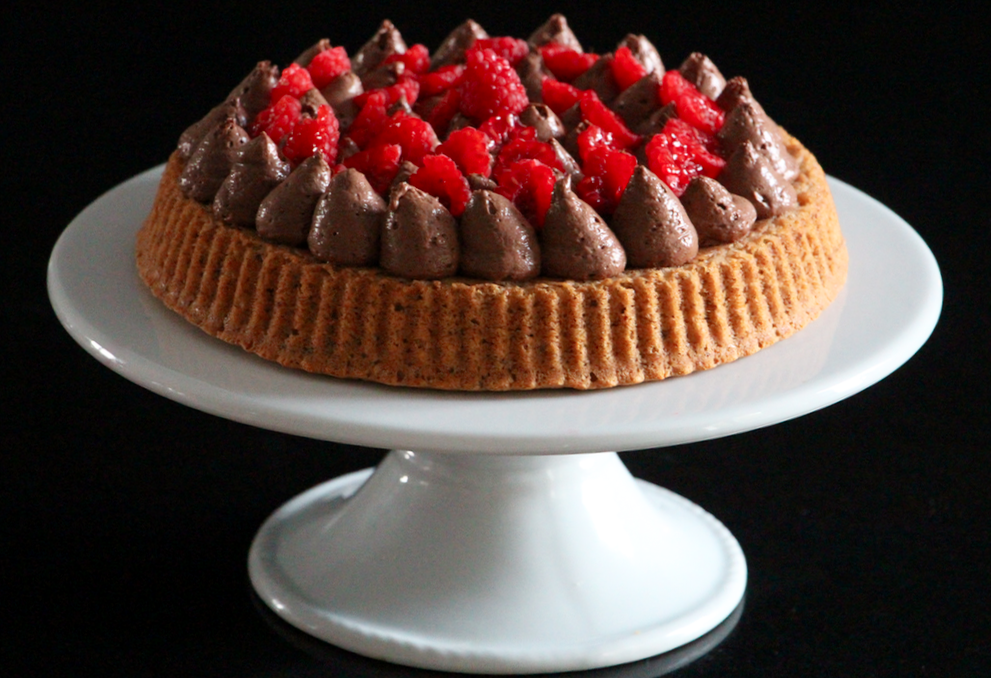 This dessert needs some time to be prepared, since the chocolate mousse has to remain in your fridge for at least 3 hours. I recommend to start baking in the morning for your evening dessert.
Ready to discover the secrets? The recipe, Chef !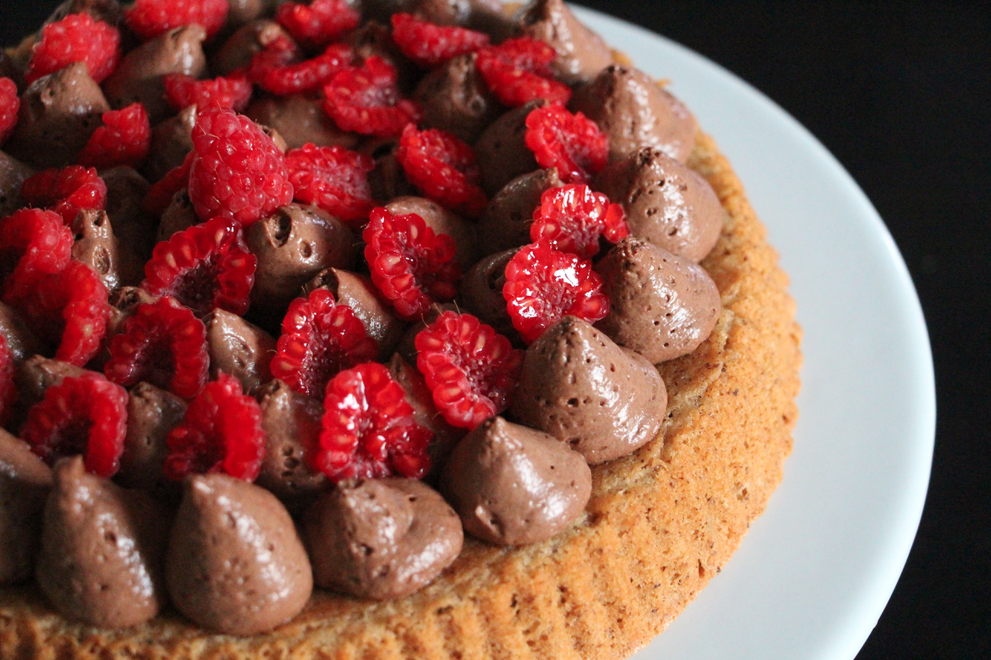 Print Recipe
Diet Cake with Hazelnuts, Chocolate and Raspberries
Ingredients
1 l organic apple juice (no sugar added)

130 g hazelnuts with skin

1 and 1/2 egg whites (40 g approx)

6 egg whites (150 g approx)

3 egg yolks (60 g approx)

1 vanilla pod

60 g flour

3 g baking powder (1/2 teaspoon)

30 g sunflower oil

100 g dark chocolate

3 eggs

A pinch of salt

250 g fresh raspberries
Instructions
1
Prepare your chocolate mousse first. Melt gently the chocolate.
2
Take the 3 eggs, put the 3 egg yolks in a bowl.
3
Whip the 3 egg whites with a pinch of salt until they get firm.
4
Add the melted chocolate to the egg yolks and mix.
5
Add a tablespoon of whipped egg whites and mix in order to have a rather soft mixture.
6
Add the first half of the rest of the egg whites with a spatula, then the second half.
7
Keep aside in your fridge for at least 3 hours.
8
Make a condensed apple juice: cook at high heat the apple juice for 25 minutes. Let it cool down at room temperature, you will get a syrup.
9
Spread the hazelnuts on an oven plate, cover with baking paper and put in your oven for 15 minutes at 140 degrees.
10
After 15 minutes, mix the hazelnuts in order to get a powder.
11
Mix in a large bowl the hazelnut powder, 150 g of condensed apple juice, 40 g egg whites, the egg yolks, the seeds from the vanilla pod, the flour and baking powder.
13
Whip the remaining egg whites (150 g) with the rest of condensed apple juice (approx 35 g) into a foamy mousse (not too firm).
14
Add gently the egg white mousse to the batter with a spatula.
15
Pour the batter into a 20-22 cm diameter mold (4 cm height at least), grease your mold before with oil.
16
Bake 20 minutes in the oven at 160 degrees.
17
Let cool down and, once it's lukewarm, unmold.
18
When your Genoese is cold, put the chocolate mousse on top with a piping bag and a round diameter 10 nozzle.
19
Decorate with raspberries.
Notes
You can also make this dessert in individual portions and let go your imagination for the decoration. If you do not like the chocolate/raspberry combo, you can choose not to add any fruit or replace raspberries with pears, it works well too.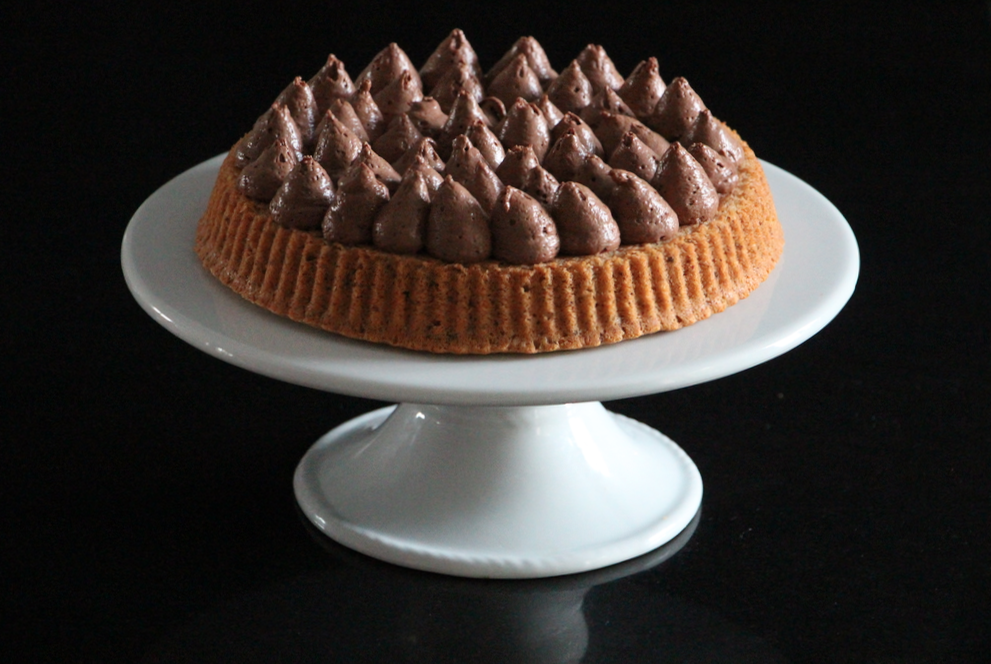 Enregistrer
Enregistrer
Enregistrer
Enregistrer
Enregistrer
Enregistrer
Enregistrer
Enregistrer
Enregistrer
Enregistrer
Enregistrer
Enregistrer