Hello food lovers!
Recently I was lucky enough to receive a little delivery from La Ferme de La Motte, a farm nearby my home that grows onions, shallots, potatoes and any kind of pumpkins.
In my basket, among other veggies, I had a regular pumkin and two baby ones. I didn't need more stimulation to start a new recipe: hence my roasted pumpkins with cod and chorizo !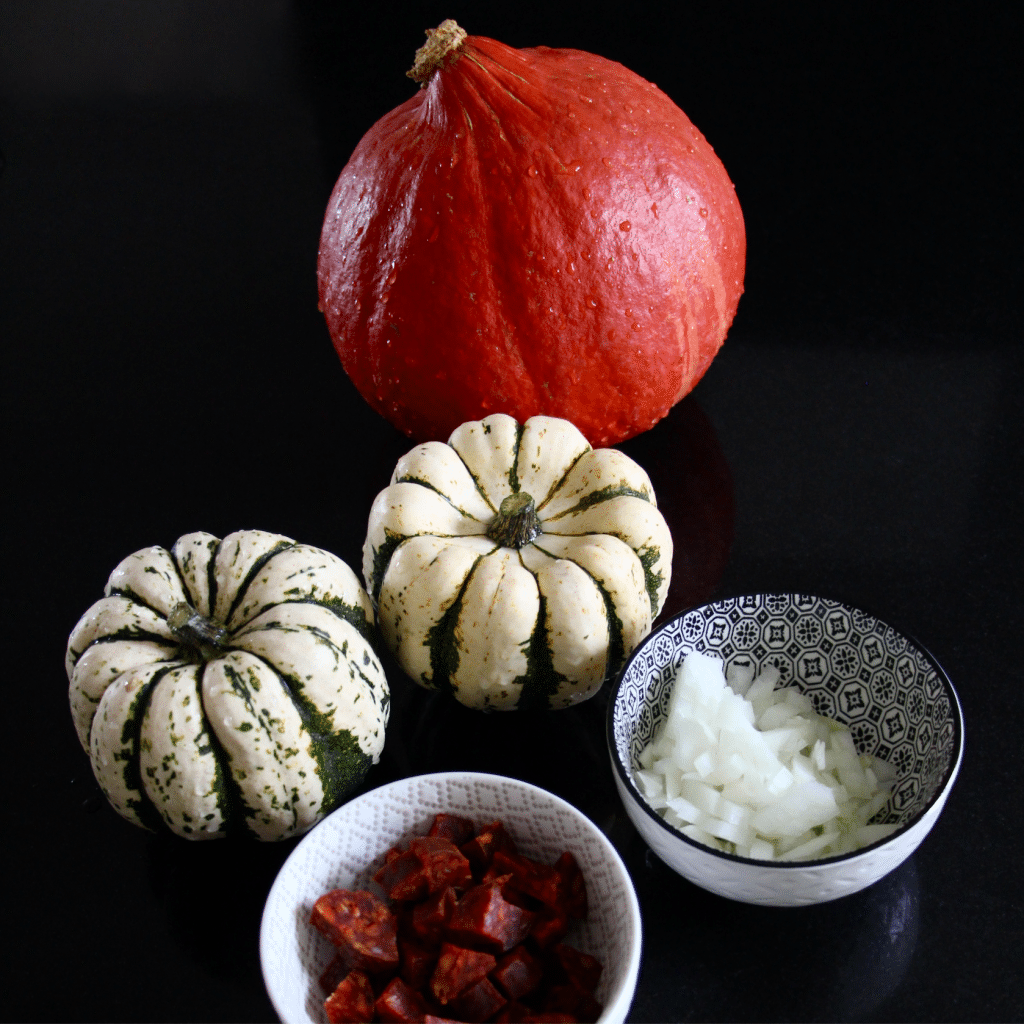 So this dish has 3 main benefits:
– first it's absolutely delicious!
– then, it's made with local and seasonal products. You know I'm very sensitive to that!
– and finally, it doesn't take much time of preparation (10-15 minutes) and then you put it in the oven… And this is it!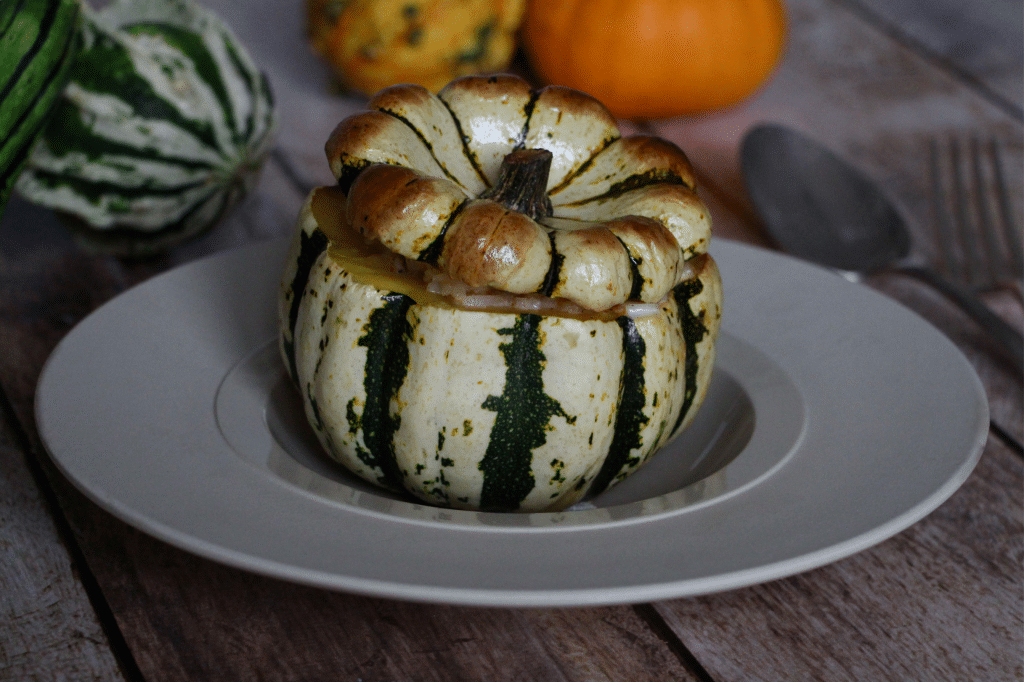 (Presentation: Gourmet Bahia plate by Degrenne)
If you're not convinced at this point, I'm speechless! 😉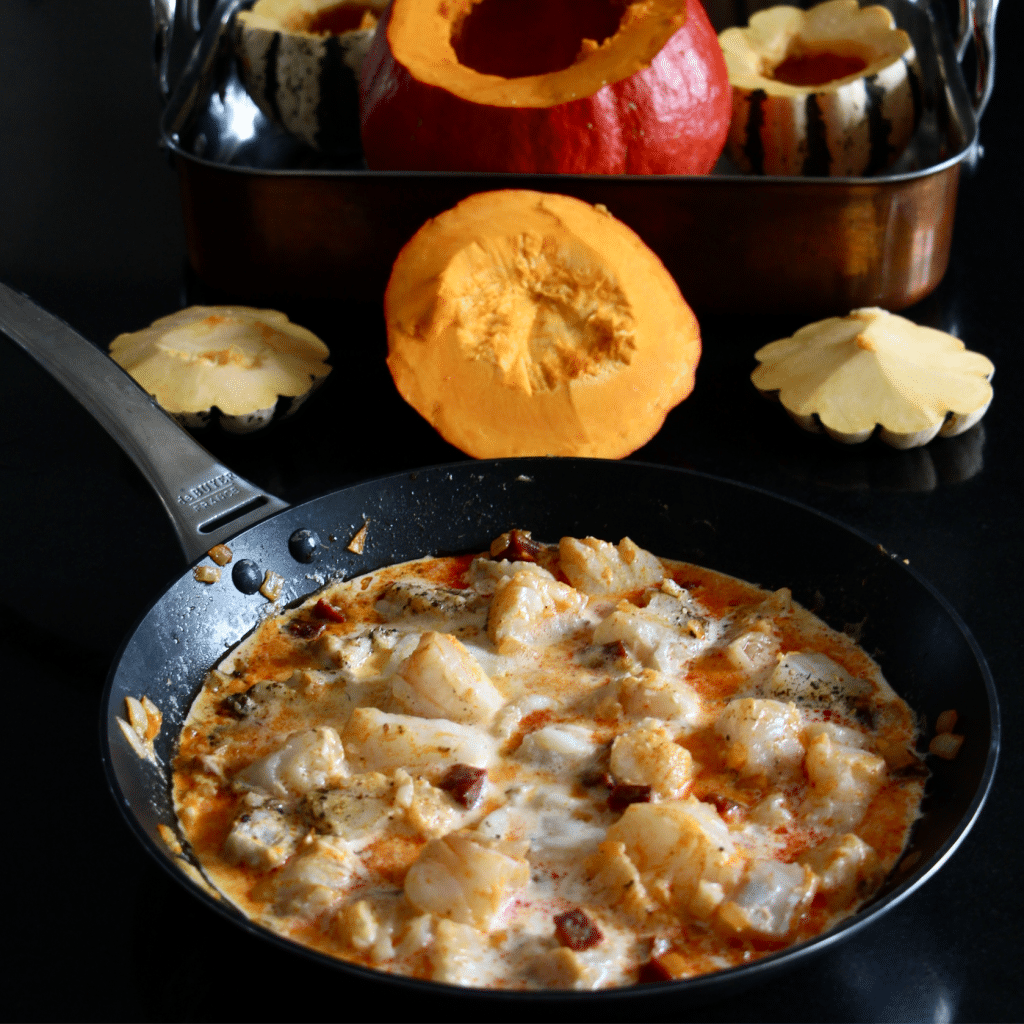 So to make it a little fun and tasty, to make it out of the ordinary, I cooked my pumpkins with fish and chorizo. It lead right to my roasted pumpkins with cod and chorizo ! And the baby pumpkins were perfect for a service by the plate: each guest had its own pumpkin, it's the right quantity for a nice meal!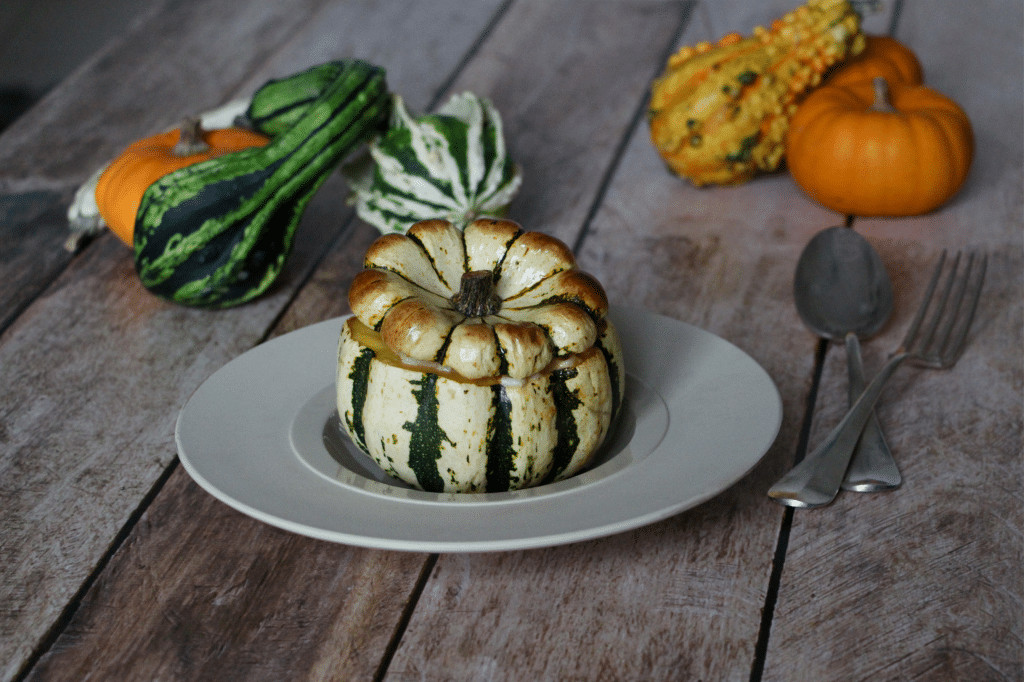 It's a well balanced meal too since you will have vegetables, rice, fish…Isn't it fantastic?
My extra ingredient to make it more special: spices. You know me so well… 😉 I added a large tablespoon of Zathar to spice up my cod. It's so good! If you don't have zathar, just put ground ginger or ground coriander or sumac.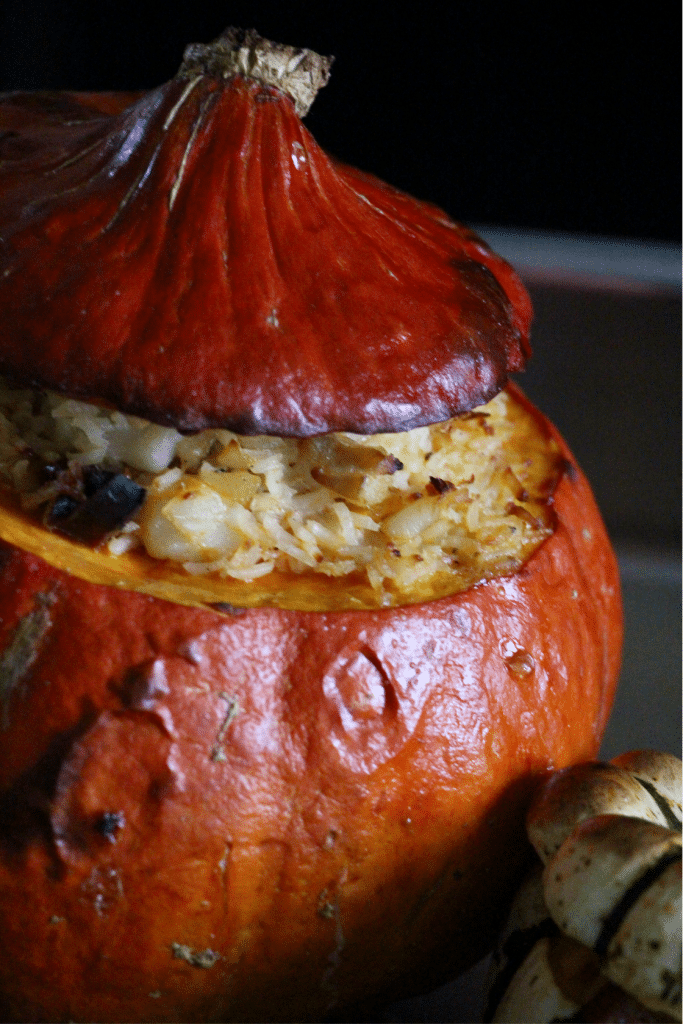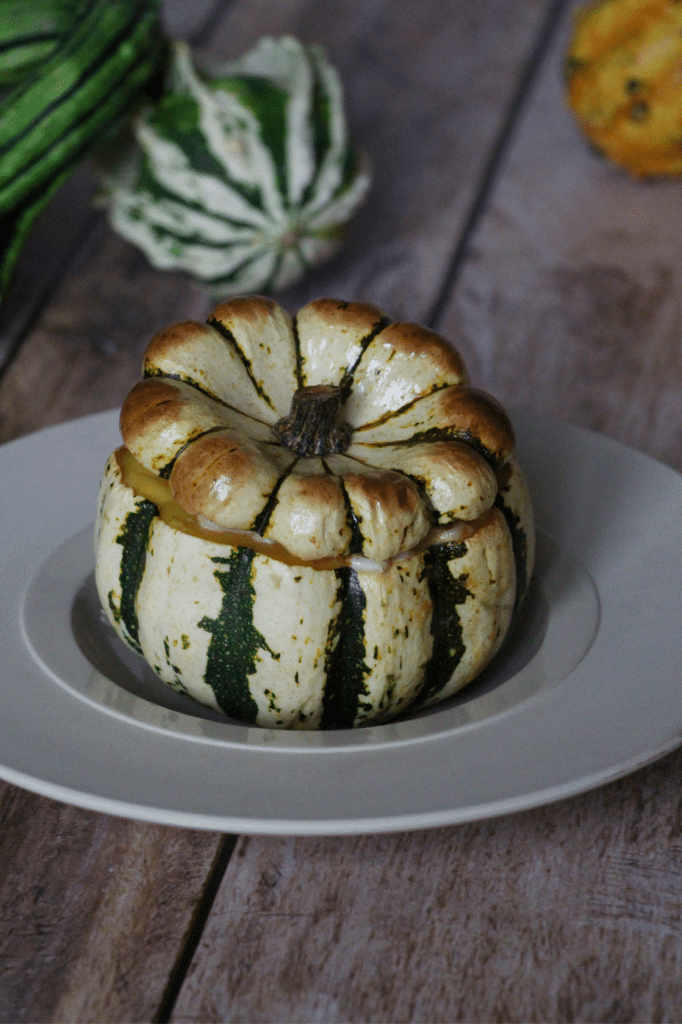 The utensils:
A sharp knife to cut the pumpkins and hollow them (be carefull at this point!!),
A large frying pan,
A sauce pan
And a roasting dish (like my Inocuivre by De Buyer).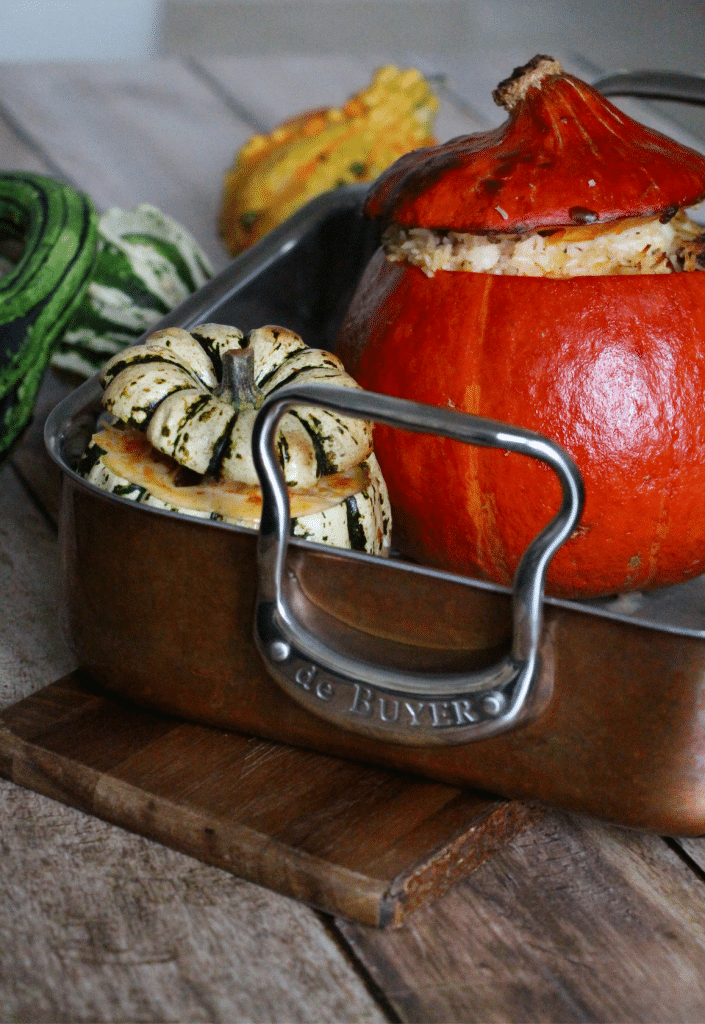 Are you ready? Let's cook!
The recipe, Chef!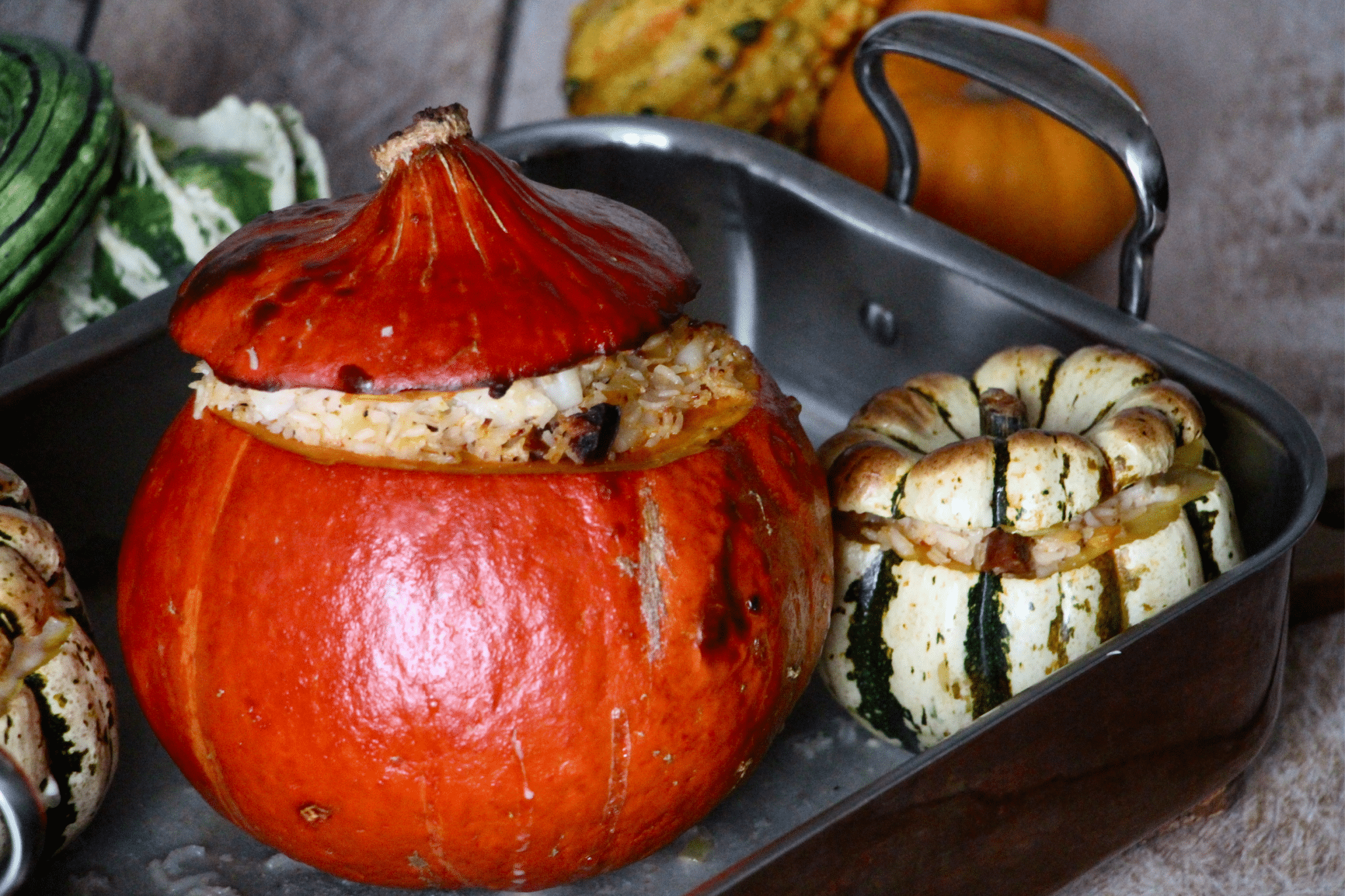 Print Recipe
Roasted Pumpkins with Cod and Chorizo
Ingredients
1 pumpkin

100 g chorizo

350 - 400 g cod fillet

1/2 onion

100 g rice

120 g cream

1 tablespoon Zathar

Salt

Pepper
Instructions
1
Cook the rice according to the instructions on the package. Set aside.
2
Preheat your oven at 180 degrees.
3
Stir fry the chorizo cut in pieces with the minced onion in a large frying pan.
4
Add the cod cut in pieces and zathar.
5
After 5-6 minutes, pour the cream, add salt and pepper.
6
Leave in the heating pan for 1 minute.
7
Cut the top of the pumpkin, hollow out the centres and remove the seeds.
8
Add the rice in the frying pan and fill in the pumpkin.
9
Place the top of the pumpkin back and put in the roasting pan. Pour 1/2 glass of water in the dish.
11
After 20 minutes, increase to 200 degrees and cook another 30 minutes.
12
Your pumpkin is cooked when you can stick a knife easily in the skin.