Hello hello!
Here is a perfect evening meal recipe. A nice pie (or quiche), that will change from your usual and that is rather healthy.
Let me introduce the chicken, fennel and sage pie.
I wanted to give fennel for dinner to my childern but they don't want it so much… So I decided to be smart!! 😉
And it worked!! Not that they didn't see the fennel in the pie… But they loved it!!
The grilled chicken gives a very yummy taste, and a bit of proteins by the way, and the sage adds a delicious subtle flavor. Huge success!!
I made my express savory shortcrust pastry to make this quiche. 3-4 minutes only are needed to prepare it, and a few more to rest in your fridge (I had no more than 30 minutes ahead of me and it was enough!).
This pie can be served as a starter, as a main dish with a nice lettuce for instance or as an appetizer if you have leftovers. I cut them in small pieces, serves them on a platter and there you go!
The utensils:
A frying pan to grill the chicken and the fennel, I used my Steaklover Mineral B frying pan by De Buyer (I use it all the time!!),
A food processor for the pastry,
A perforated pastry ring by De Buyer too,
A baking mat
And a rolling pin.
You know everything, you can do this!
The recipe, Chef!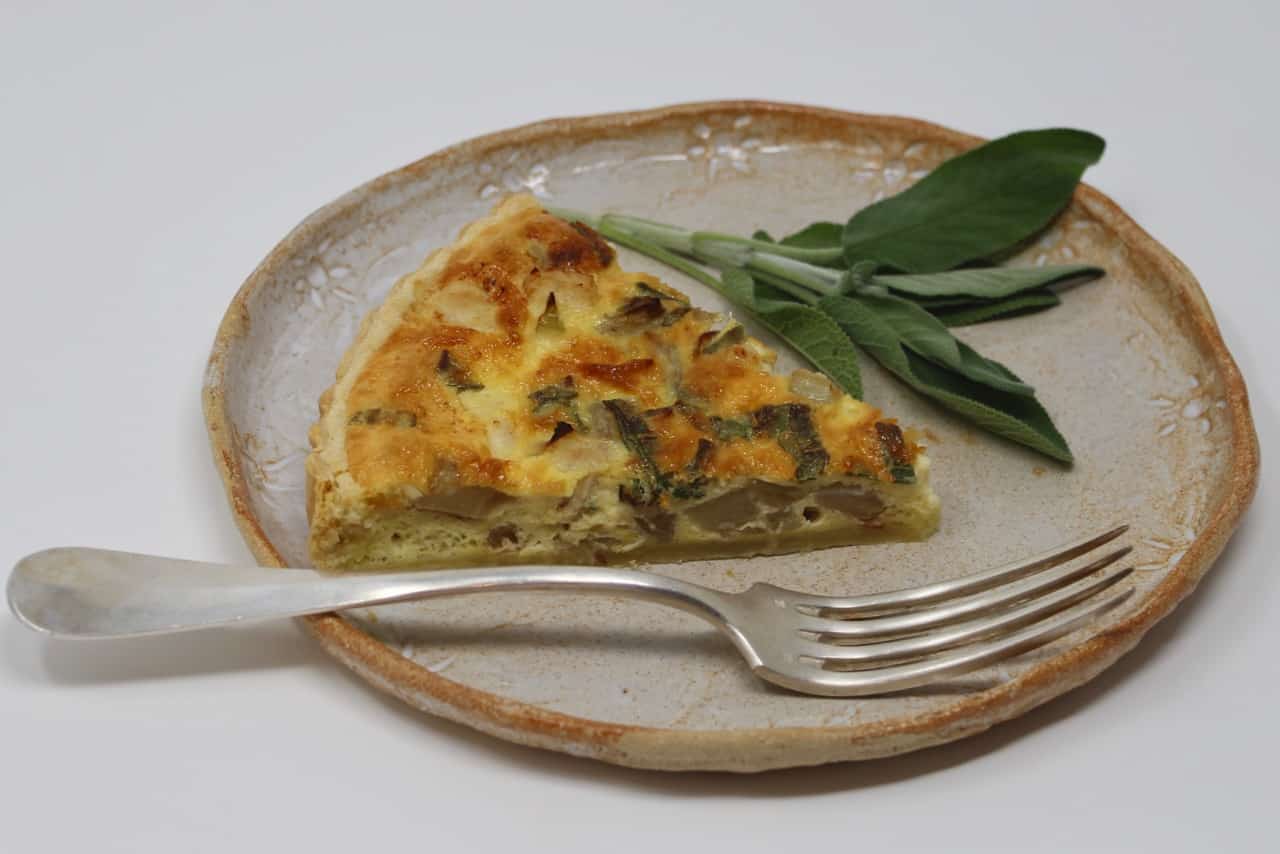 Print Recipe
Chicken, Fennel and Sage Pie
Ingredients
1 savory shortcrust pastry (recipe on the blog)
3 eggs
1 egg white
200 g chicken fillet
1 fennel
10 leaves of sage
15 cl milk
10 cl cream
15 g butter
Salt
Pepper
Instructions
1
Roll your pastry and put it in your mold that you'll have already buttered. Set aside in your fridge.
2
Pre-heat your oven at 200 degrees.
3
Cut your chicken filet in pieces. Stir fry them in a frying pan with the butter and salt. Set aside.
4
In the same frying pan, stir fry fennel cut in pieces. Add 1/2 glass of water and cook with lid for 7-8 minutes. Set aside.
5
Whisk the eggs and egg white, add the milk, the cream, salt and pepper, and chopped sage. Mix.
6
Place the chicken and fennel on the pastry.
7
Pour the egg+milk+cream mixture.
8
Cook in the oven for 30 minutes.
Notes
I chose to put an egg white to have a lighter batter but you can put a whole egg if you wish.