Hello food lovers!
We are enjoying salad season now! We want to eat cold meals but keep a healthy food, balanced and  fulfilling…
My zucchini, chicken and pasta salad checks all those criterias…
Indeed, you will find pasta, white meat and green vegetables. Not bad, hey?
As far as seasoning is concerned, you will put a bit of olive oil and soy marinade. Pretty healthy as well, don't you agree?
I strongly recommend the Nice zucchini (Nice, as the city in the South-East of France). They are very specific and if you can find some, do not hesitate! They taste wonderful, they are thin so you won't have to remove the center part, which has no value at all, let's be honest…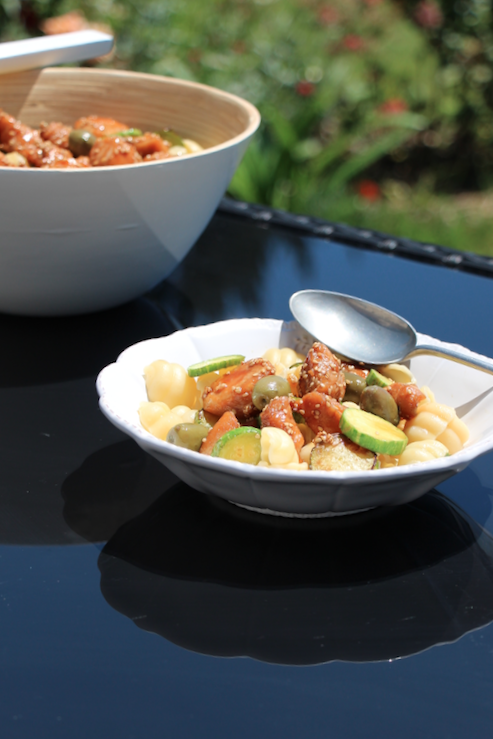 If you don't have this kind of zucchini at your regular grocery store, just go for thin zucchinis (the white and yellow ones are delicious too).
Regarding pasta, I usually take Gnocchi or Pipe Rigate by Barilla. Their shape and size suits well this kind of salad I think…
I won't say more.
Let's make pasta salad!
The recipe, Chef!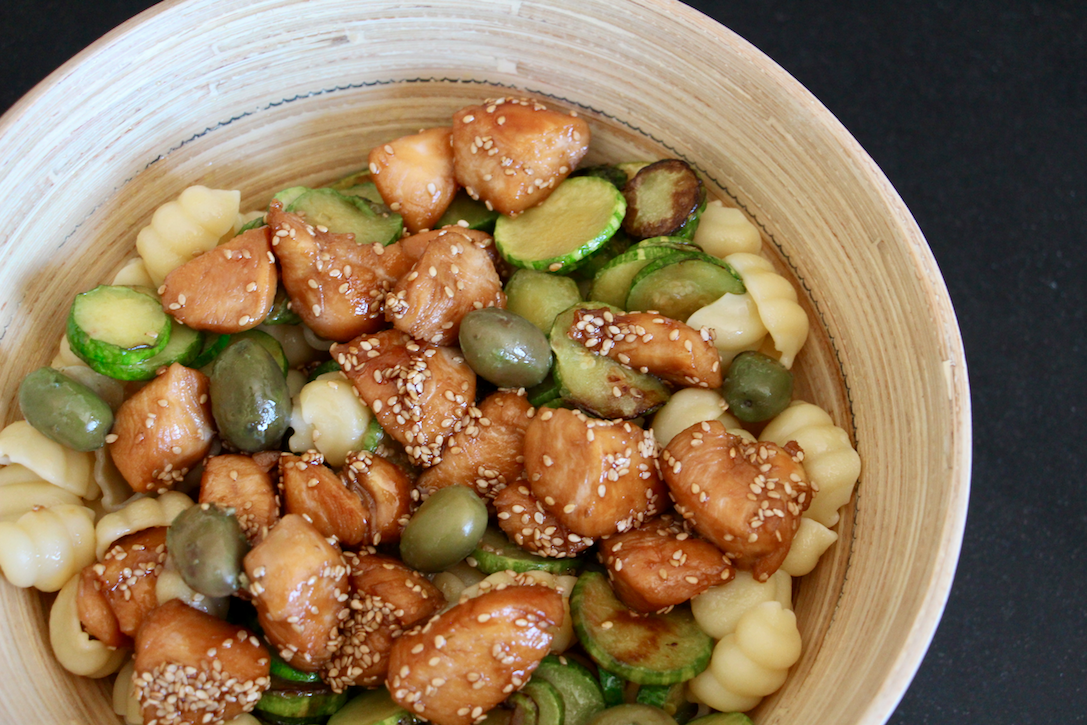 Print Recipe
Zucchini, Chicken and Pasta Salad
Ingredients
2 chicken fillets
6 cl (60 g) savory soy sauce
1 tablespoon vegetal oil
1 tablespoon water
2 tablespoons sugar
1 tablespoon gold sesame seeds
200 g pasta (Gnocchi or Pipe Rigate)
3 zucchinis
6 basil leaves
1 tablespoon olive oil
Green olives
Salt
Pepper
Instructions
1
Cut the chicken in cubes.
2
In a bowl, mix the soy sauce, vegetal oil, water and sugar.
3
Add the chicken cubes and set aside in your fridge for at least one hour.
4
After that time, boil a large volume of salted water and cook the pasta according to the instructions on the package.
5
Stir fry the chicken cubes with a bit of marinade, mix regularly.
6
When your chicken cubes are golden, add the sesame seeds, then set aside.
7
Drain the pasts, rinse with cold water to stop cooking.
8
Stir fry the zucchinis cut in slices with 1 tablespoon of olive oil, a bit of salt and basil.
9
Pour the pasta in a large bowl. Add the zucchinis, the chicken and the juice from the pan, the green olives and a bit of olive oil.
10
Add salt and pepper. Serve!