Seasonal recipe my friend! As always… 😉
If you're looking for a great dessert, I just happen to have what you need…
Here's my raspberry tart, but not like any average one. Take a look!
Let's see the recipe, Chef!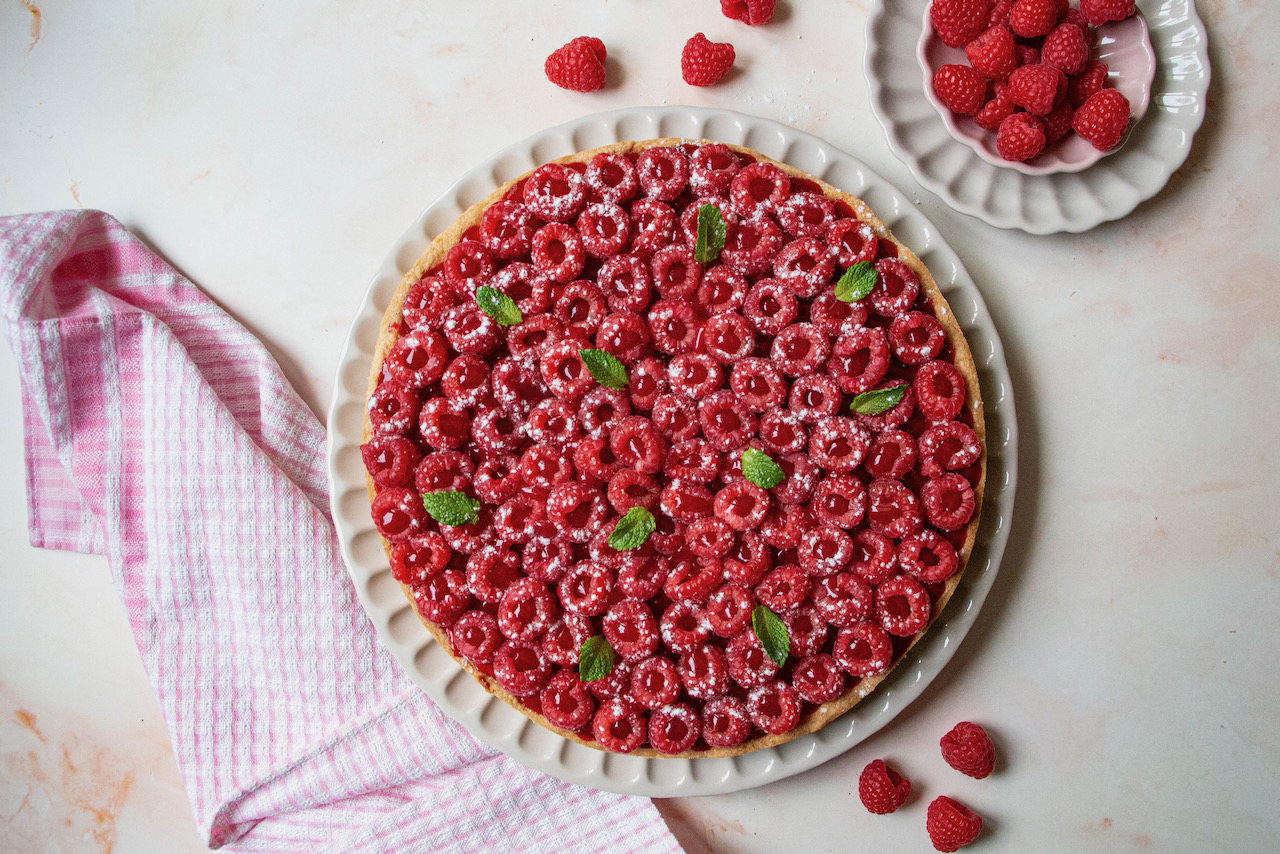 Print Recipe
Ingredients
Ganache

50 g white chocolate

50 g + 50 g liquid cream 30% fat

1/2 tsp honey

Raspberry sauce

250 g raspberries

25 g sugar

1/2 lime

2 g gelatine

Almond pastry

120 g flour

25 g ground almond

1 pinch of salt

65 g icing sugar

65 g butter at room temperature

1 egg yolk

1 tbsp milk

Almond cream

35 g butter at room temperature

35 g icing sugar

35 g ground almond

40 g egg white

Finish

500 g raspberries

A few mint leaves (optional)
Instructions
1
Pour 50 g of cream in a saucepan. Add the honey.
2
Heat until it boils. Stop heating immediately.
4
When the chocolate is melted, combine.
5
Add the remaining 50 g of cream, combine.
6
Place a clingfilm directly on the ganache and set aside in your fridge for at least 2 hours.
7
Place the raspberries in a sauce pan with the lime zests and juice. Add the sugar.
8
Leave to rest 15 minutes.
9
Place the gelatine sheet in cold water to make it soft.
10
Cook them at medium heat for 10 minutes.
11
Drain them (put pressure on the fruits).
12
Pour the juice you've obtained in the saucepan and cook for 2 more minutes.
13
Remove from the heat and add the gelatine sheet. Combine.
14
Set aside at room temperature, if possible in a flexible squeeze bottle.
15
Combine the flour, salt, almond powder and sugar.
16
Cube the butter and mix medium speed until it resembles breadcrumbs.
17
Add the egg yolk and milk until it comes together.
18
Wrap it in clingfilm and set aside in your fridge for at least one hour.
19
Preheat your oven at 180 C / 355 F degrees.
20
Spread the pastry and place it in your tart ring. Cook for 15 minutes.
21
Combine the butter, icing sugar and ground almond until homogeneous.
22
Add the egg white, combine.
23
Pipe the almond cream on the pastry.
24
Cook at 180 C / 355 F degrees for 10 minutes, until golden brown.
26
Place a bowl in your freezer for a few minutes.
27
When the bowl is cold, pour the ganache inside and whisk until firm and compact.
28
Garnish your pastry and flatten the surface.
29
Place your raspberries upside down.
30
Pour the raspberry sauce between the raspberries until you can't see the ganache anymore, pour the sauce inside the raspberries too.
31
Set aside in your fridge for at least one hour.
32
Before serving, you can add mint leaves on top.