Hello my lovelies!
Here's a recipe I found on Tik Tok. I made some adjustments according to my tastes, and I'm pretty sure you're going to love it! Quick, easy to make and so yummy!
I present my apple, pine nuts and pistachio tartlets!
Let's see the recipe, Chef!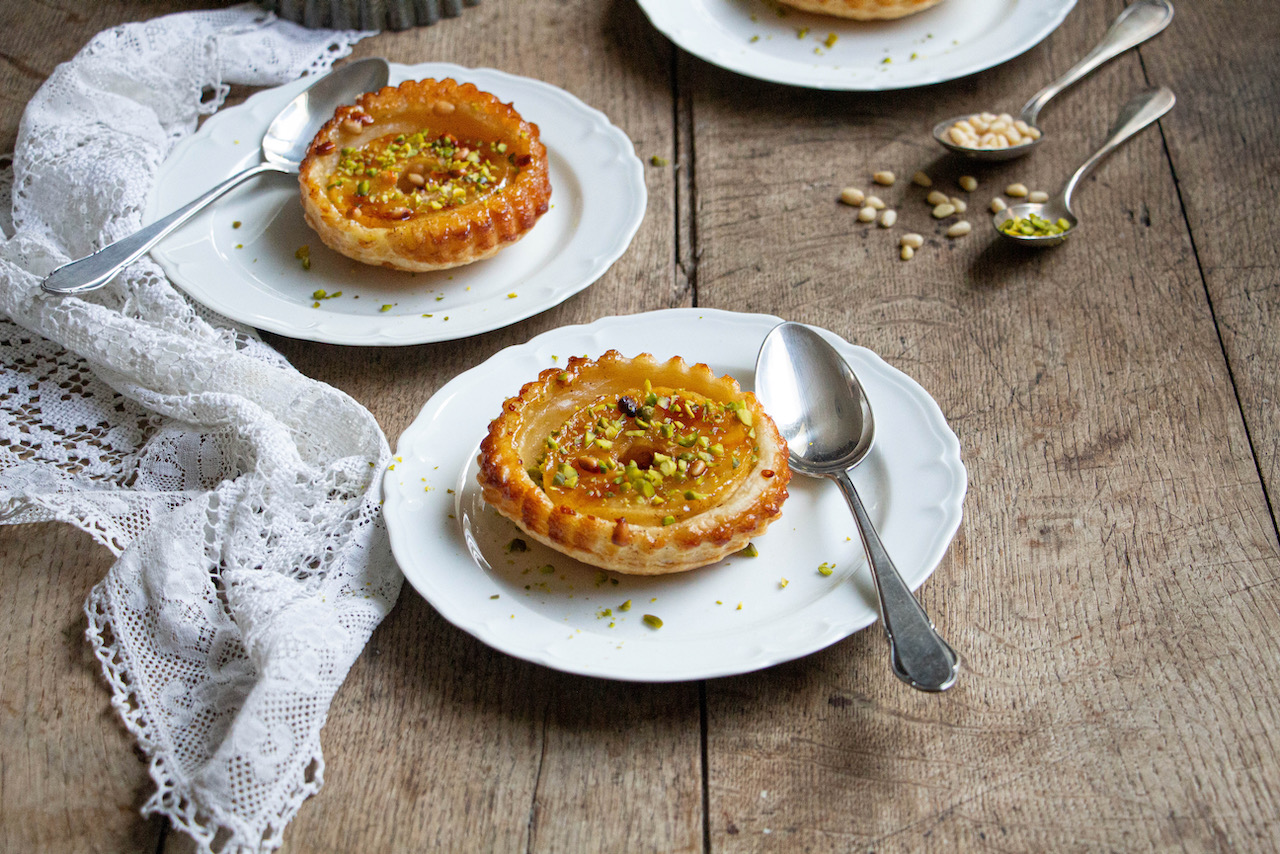 Print Recipe
Apple, Pine Nuts and Pistachio Tartlets
Ingredients
Puff pastry

200 g flour

200 g very cold butter

2 g salt (1/2 tsp)

100 g very cold water

Garnish

2 apples

6 tbsp maple syrup

1 tsp ground cinnamon

2 tsp pine nuts

1 tbsp unsalted pistachios
Instructions
1
Place the flour, butter cut in cubes and salt in your food processor bowl.
2
Start whisking at low speed (2 on a scale from 1 to 6) and pour the water.
3
Keep on whisking until the flour is combined with water, you still need to have large cubes of butter.
4
Place the pastry on a floured work plan.
5
Spread the pastry with your rolling pin and make a rectangle (15 cm by 45 cm).
6
Fold the right third of the pastry, then the left third. You should have a square.
7
Make a quarter turn. Make a rectangle (15 cm by 45 cm). Fold the right third of the pastry, then the left third.
9
Set aside in your fridge.
10
Preheat your oven at 200 C / 390 F degrees.
11
Peel the apples and cut them each in 6 slices. Remove the center.
12
Pour 3 tbsp of maple syrup on a parchment paper, leaving space between them. Start again with the remaining 3 tbsp on a second paper.
13
Place two slices of apples on each maple syrup tbsp.
14
Spread ground cinnamon and pine nuts.
15
Spread your pastry and cut 6 12-13 cm diameter discs.
16
Place the pastries on top of the apple slices.
18
When out of the oven, turn the tartlets upside down and spread the chopped pistachios.
19
Serve lukewarm or at room temperature.