Hello my lovelies!
Do you ever wonder how to make a pretty good-looking cake when you don't have much time or much pastry experience? Maybe you do and this is where I come to your rescue!
Have a look at my strawberry bavarois cake and trust me when I say: you can make it, as beautiful and yummy as mine!!
Let's see the recipe, Chef!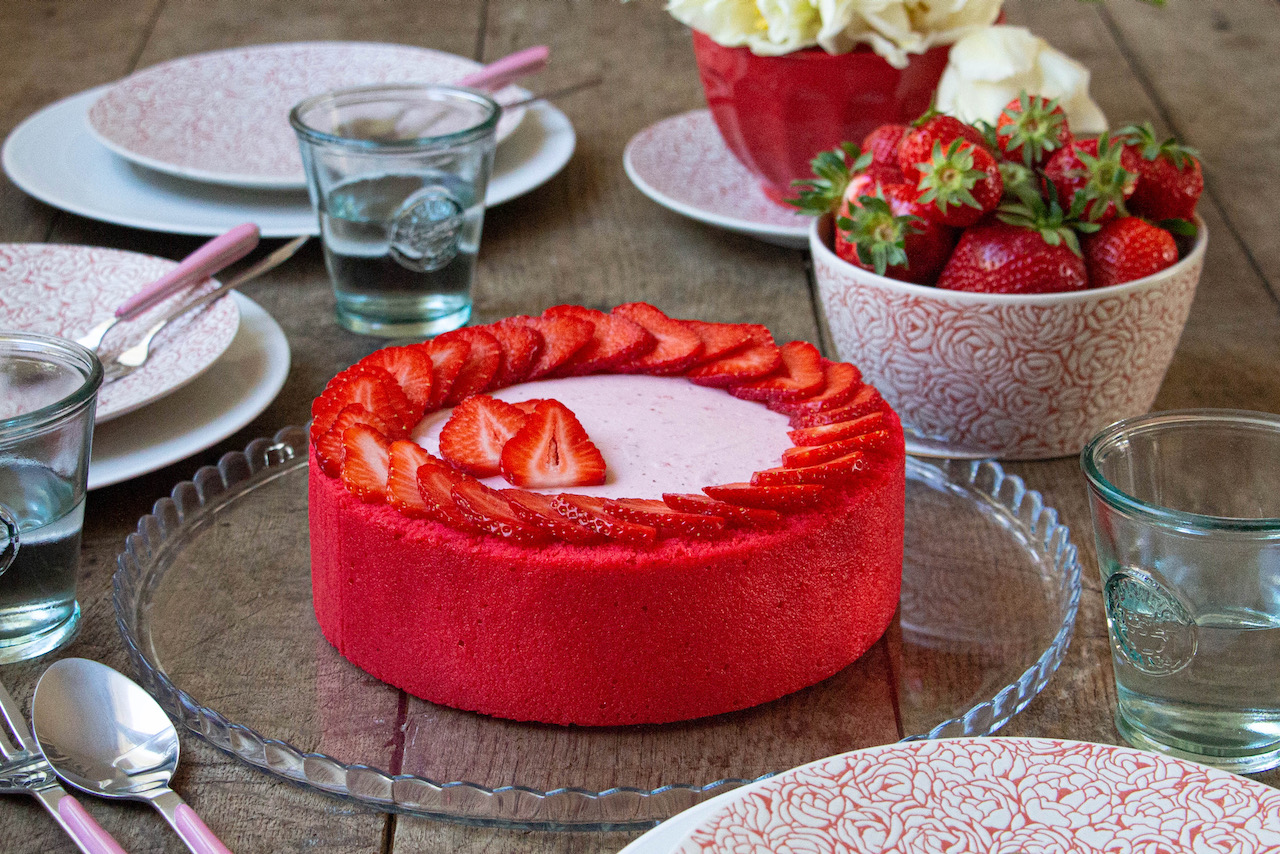 Print Recipe
Ingredients
Financier

105 g salted butter

170 g icing sugar

105 g ground almonds

50 g flour

145 g egg whites

Red food coloring

Mousse

450 g strawberries

90 g sugar

8 g gelatine

190 g liquid cream 30% fat

80 g mascarpone

Finish

8 strawberries
Instructions
1
Preheat your oven at 170 C / 340 F degrees.
2
Melt the butter in a sauce pan at low heat. Set aside.
3
Pour the powders (sugar, almond, flour) in a bowl.
4
Start whisking and add, little by little, the egg whites.
5
When you get an homogeneous mixture, add the butter. Whisk.
6
Bake 1/3 of the batter in a 18 cm mold for 15 minutes (your financier should be golden).
7
Let cool down before unmolding.
8
Add the red food coloring to the remaining batter until you get a nice "raspberry" color.
9
Spread on a parchment paper in the shape of a 28x10 cm rectangle.
11
Soak the gelatine into cold water.
12
Cut the strawberries in quarters.
13
Place them in a sauce pan and add the sugar.
14
Cook at medium heat for 10 minutes.
15
Remove from the stove and mix with a hand mixer.
16
Sift to remove all the strawberry seeds.
17
Add the drained gelatine, combine.
18
Place a cling film on top and set aside in your fridge until completely cold.
19
Whisk the cream into chantilly.
20
When the cream thickens, add the mascarpone and whisk some more until firm.
21
Add the strawberry sauce and combine.
22
Set aside in your fridge.
23
Place a 20 cm pastry ring on your serving plate. Add clingfilm on the boarders.
24
Cut two 5 x 31 cm rectangles into your red financier.
25
Place them against the boarders of your pastry ring.
26
Pour one centimeter of strawberry mousse. Flatten the surface with a spatula.
27
Place the round financier on top.
28
Pour the remaining mousse. Flatten the surface with a spatula.
29
Set aside in your fridge for at least one hour.
30
Just before serving, cut the 8 strawberries and place them on your bavarois cake.