Hello my friends!
To be honest, I'm not 100% sure about the way I translated the name of this brioche… But you get it! My puff pastry brioche is made a the traditional puff pastry but with a brioche dough. The result: just stunning! Please try it and let me know…
Let's see the recipe, Chef!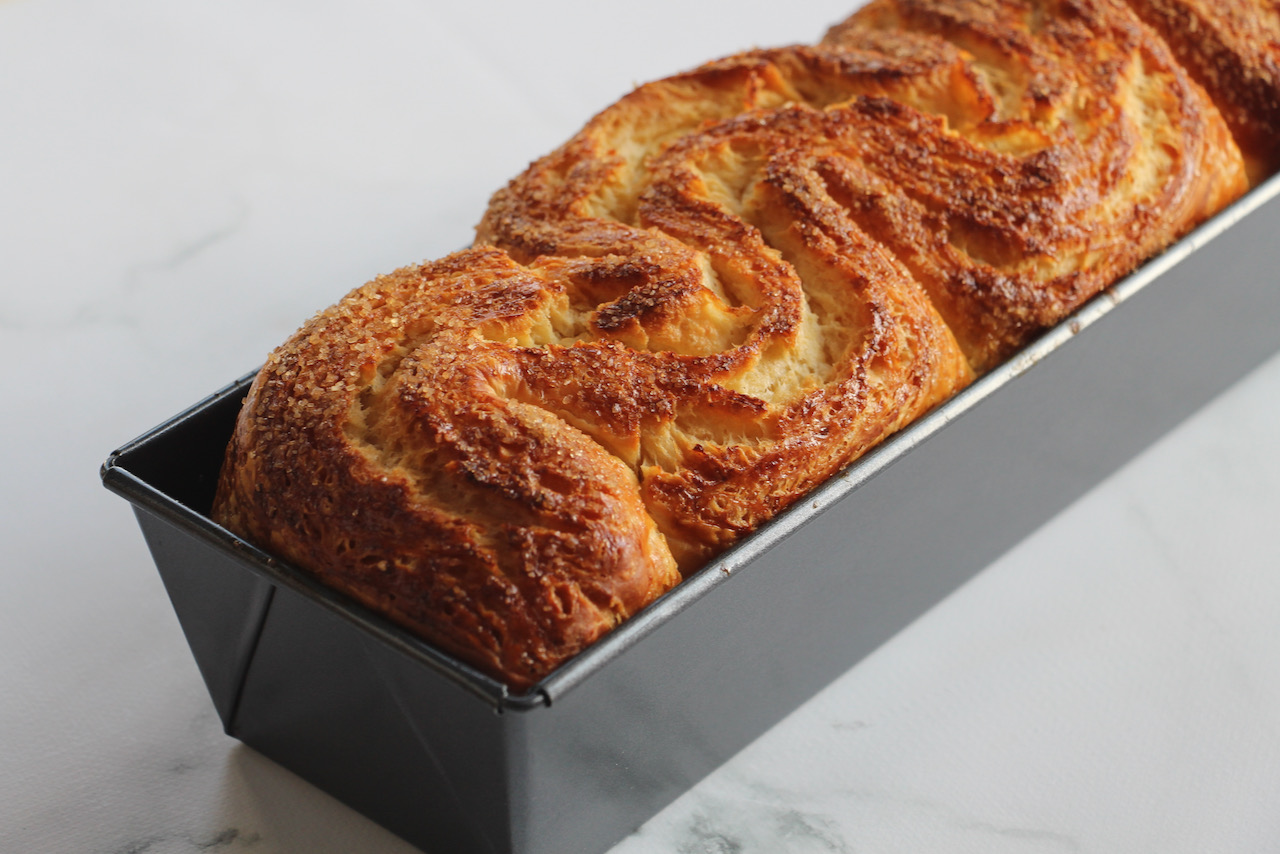 Print Recipe
Ingredients
10 g dehydrated yeast (or 20 g fresh)

150 g lukewarm milk

510 g flour

40 g sugar

5 g salt

3 eggs

50 g butter at room temperature

300 g cold butter

1 egg

2 tbsp brown sugar
Instructions
1
Combine yeast and milk until homogeneous.
2
Pour the flour, sugar and salt in your food processor bowl.
3
Start kneading while pouring the milk/yeast little by little.
4
Beat the 3 eggs and add them to the dough, keep on kneading at low speed.
5
Add the 50 g soft butter and knead some more for 3-4 minutes.
6
Switch to medium speed and knead for 7 to 8 minutes.
7
Cover the dough with a cling film and let rise for 30 minutes.
8
Reshape the dough in a ball, place it on a parchment paper. Cover with the cling film and place in your freezer for 30 minutes.
9
Spread the 300 g butter between 2 parchment papers, make a 20x25 cm rectangle. Set aside.
10
Spread the dough and shape it as a 45x25 cm rectangle. Cover with cling film and set aside in your freezer for 30 minutes.
11
Place the butter rectangle in the center of the dough, fold both sides on top without overlap.
12
Spread a 70 cm strand with your rolling pin, fold with 3 layers (right part on the center then left part on top) and turn the dough by 90 degrees (1/4 turn).
13
Spread again 70 cm, fold again the same way.
14
Cover with cling film, set aside in the freezer for 20 minutes.
15
Make a turn by 90 degrees. Spread one last time 70 cm, fold in 3 and set aside in your fridge for 1 hour.
16
Spread the dough as a 20x50 cm rectangle. Cut it in half lengthwise with a sharp blade.
17
Place both doughs in 2 buttered molds and cover with cling film.
19
Preheat your oven at 170 C / 340 F degrees.
20
Brush the brioches with the beaten egg and spread brown sugar.
21
Cook for 25 to 30 minutes.
22
Leave to cool down on a cooling rack.