Hello my sweet friends!!
Today I will share a basic pastry recipe, Casserole&Chocolat(e) style.
In the curd family I already introduced the lemon curd, then my creamy chocolate, now it's time for the passion fruit curd!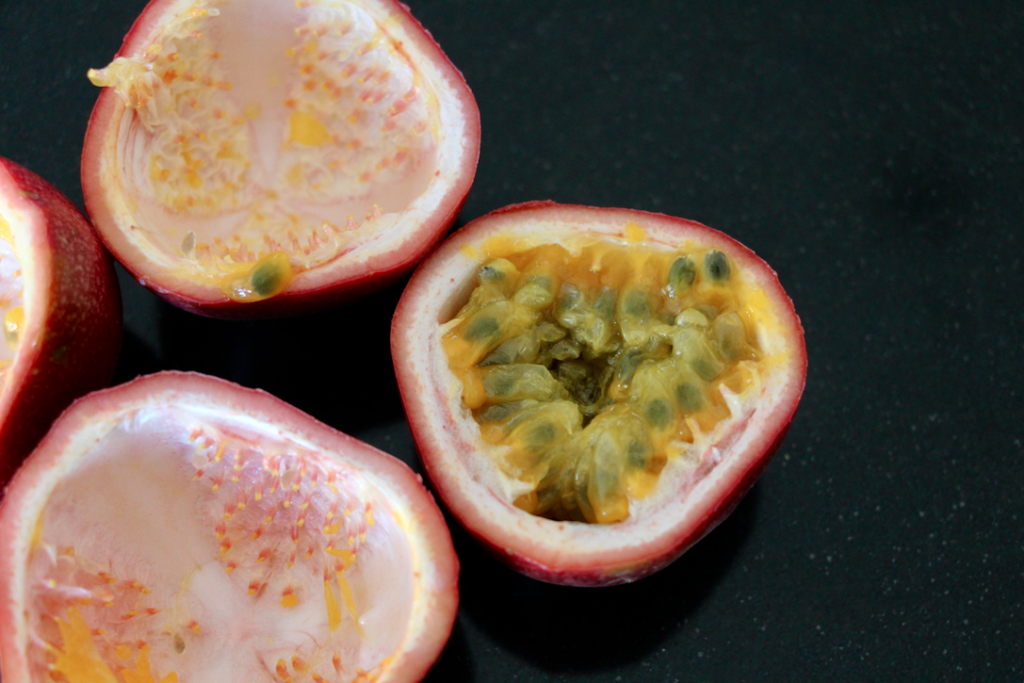 You're looking for a delicious smooth curd, with a slight acidulous taste? The passion fruit curd is what you need!
You can use in many ways: in a tart (here the quantities are perfect for a 20-22 cm diameter tart), in a jar for instance with crushed shortbread cookies, with a pannacotta, on a pavlova or even with a no bake cheesecake.
You see, you can do whatever you want with it!!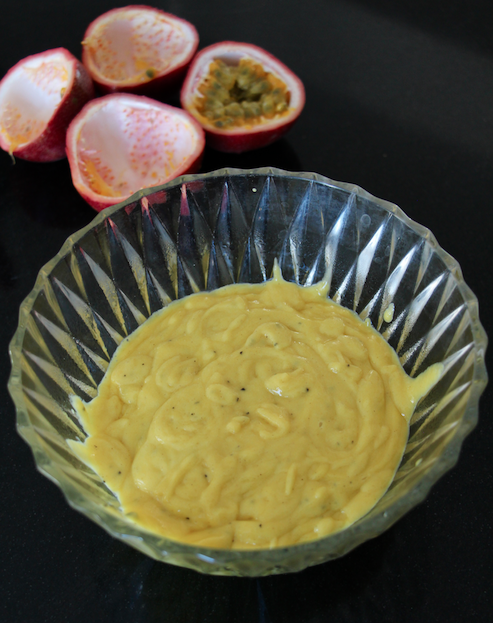 Super easy recipe, ready in less than 10 minutes with your Thermomix or in a sauce pan (with thick bottom if possible).
Before rushing to the recipe, here are a few informations about passion fruit…
This little exotic fruit has a fantastic flavour, both sweeth and acidulous, and numerous virtues that make it really worth putting on your table. (source Sante Magazine)
The passion fruits brings phosphore, good for bones and teeth.
It is a light fruit (84 calories per 100 g, so for a 60 g fruit, around 70 calories).
It brings iron and helps with fatigue and anemia.
It is also a source of potassium, fibers, it is antioxidant and full of vitamins C, this fruit is a true asset in your plate.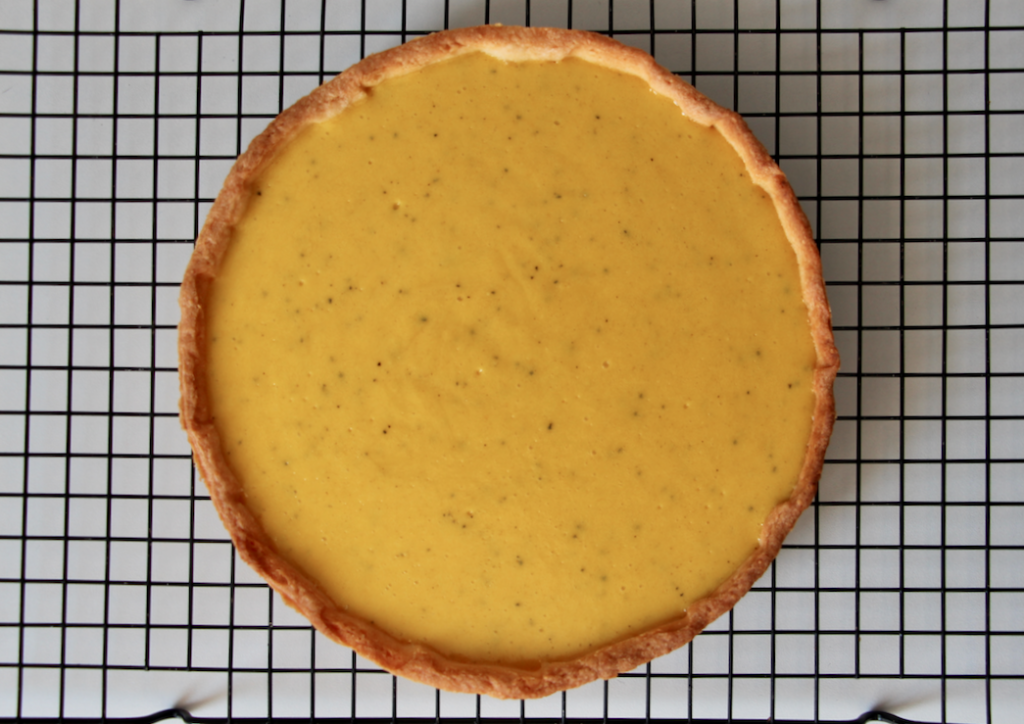 No more waiting…
The recipe, Chef!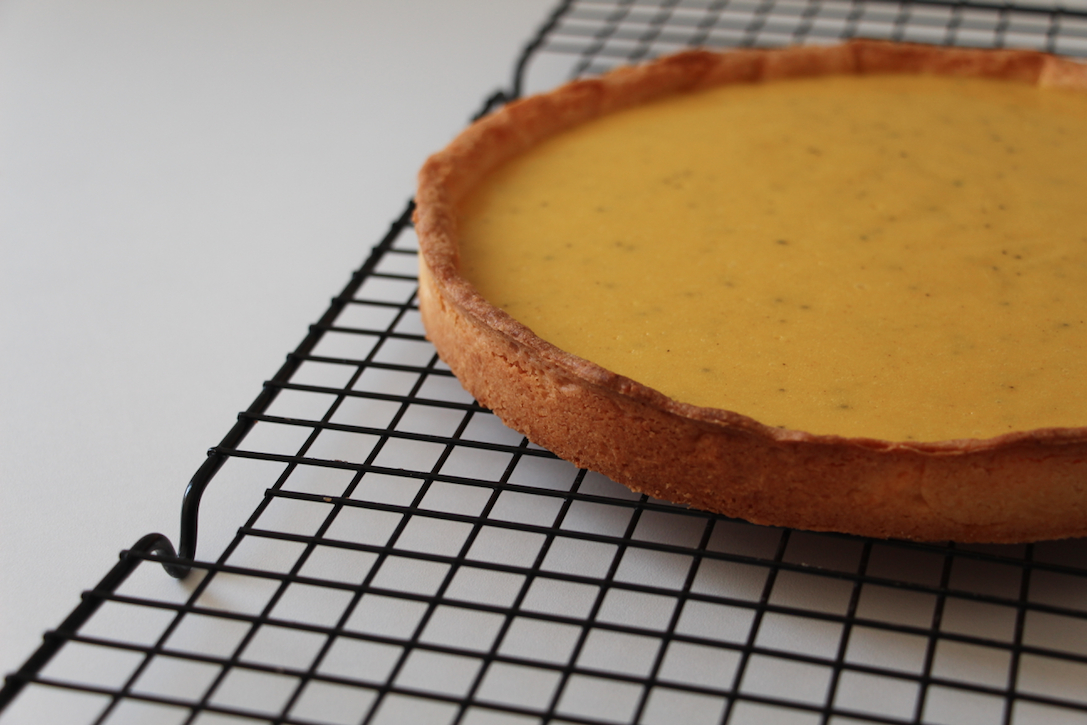 Print Recipe
Ingredients
4 passion fruits (160 g of fruit pulp)

45 g butter

2 eggs

70 g sugar
Instructions
1
Remove the pulp from the passion fruits.
2
If you have a Thermomix, go to bullet point 6.
3
In your sauce pan, put the pulp, the sugar and butter. Cook 3 minutes at medium heat (3 on a scale of 1 to 6) and whip gently.
4
Add the 2 eggs and cook at higher heat (4 on a scale of 1 to 6) and whip more vigorously for 2 minutes. Your passion fruit curd should get thicker.
5
Remove form the heat once your whisk makes furrows. Go to bullet point 8.
6
In the bowl of your Thermomix, put the pulp, the sugar and butter. Set 2 minutes at 60°C speed 4.
7
Add the 2 eggs and the egg yolk. Set 1 minute 30 sec at 80°C speed 5.
8
Pour the curd through a strainer to remove the solid parts.
9
Let your passion fruit curd cool down.