Hello my friends!
Still looking for a great dessert for Christmas or New Years's Eve? There you go ! My vanilla, hazelnut and caramel entremet is just what you need.
Let's see the recipe, Chef!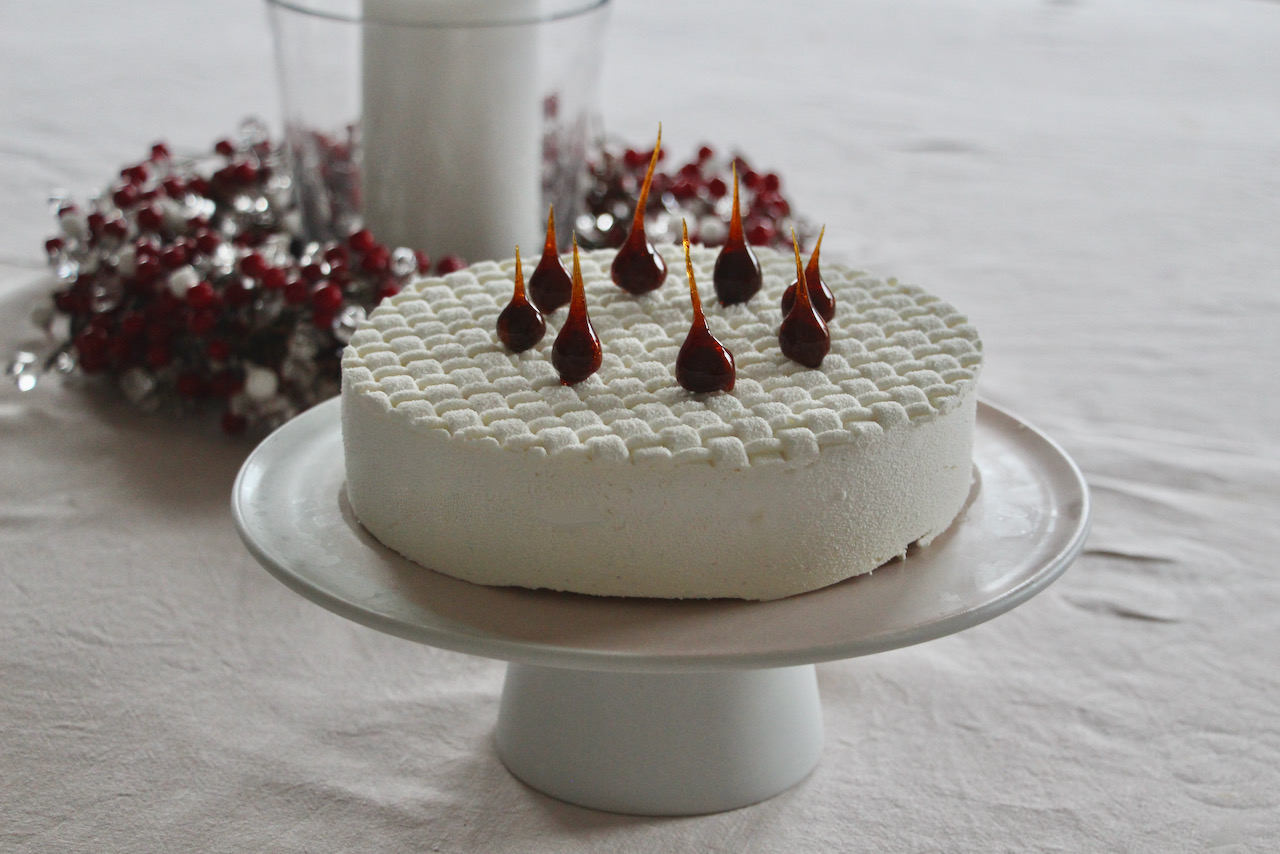 Print Recipe
Vanilla, Hazelnut and Caramel Entremet
Ingredients
Ganache

200 g white chocolate

100 g + 300 g cream

2 tsp honey (10 g)

2 vanilla pods

2 gelatine sheets (4 g)

Caramel

125 g caster sugar

100 g glucose

190 g liquid cream (30% fat)

20 g butter

65 g white chocolate

1 tsp flower salt

25 g milk chocolate

Dacquoise

90 g egg whites

25 g caster sugar

80 g icing sugar

90 g ground hazelnut

Streusel

20 g crushed hazelnuts

20 g brown sugar

20 g cold butter

20 g flour

Decoration

40 g caster sugar

A few hazelnuts
Instructions
1
Soak the gelatine in cold water.
2
Cut the vanilla pods in two pieces in its length. Scrape the seeds.
3
Pour 100 g of cream in a saucepan. Add the drained gelatine, the honey, vanilla seeds and vanilla pods.
4
Heat to a boil. Stop heating immediately.
5
Leave to rest 10 to 15 minutes.
6
Remove the pods from the cream (try to extract as many seeds as possible).
7
Melt slowly the white chocolate.
8
When the chocolate is melted, heat again for a few seconds the cream.
9
Add it to the chocolate 1/3 after the other.
10
Add the 300 g of cream, mix.
11
Place a clingfilm directly on the mixture so that there's no air remaining.
12
Set aside in your fridge for at least 4 hours.
13
Pour the sugar and glucose in a sauce pan. Start heating at medium heat.
14
In the meantime heat the cream and butter in another sauce pan. (do not boil)
15
Place the sugar sauce pan at higher heat until you get a brown caramel.
16
Pour, little by little, the butter/cream mixture while whisking. (be careful, there will be a lot of steam)
17
Keep on heating anf whisking for 30-40 seconds.
18
Remove from the stove, add the white chocolate, flower salt and milk chocolate. Combine until homogeneous.
19
Pour 1/2 cm of caramel in a 18 cm diameter pastry ring, set aside in your freezer.
20
Preheat your oven at 180 C / 355 F degrees.
21
Combine icing sugar and ground hazelnut in a bowl.
23
When foamy, add the caster sugar, little by little.
24
When firm, add to the bowl with powders using a spatula.
25
Pipe two discs of dacquoise on a baking paper and cook for 16 minutes.
27
Preheat your oven at 150 C / 300 F degrees.
28
Combine all ingredients in a bowl with your hands.
29
Spread the streusel on a baking paper for 25 to 30 minutes. Set aside.
30
Place the bowl and whisk in your freezer for a few minutes.
31
When the bowl is cold, pour the cream inside and whisk for a few minutes. You should get a firm and compact ganache.
32
Place your pastry ring on a cling film.
33
Pipe a generous layer of ganache.
34
Place the frozen caramel in the center. Cover with more ganache.
35
Spread streusel on the insert.
36
Add a 1st dacquoise (cut it in order to keep 1 cm free from the pastry ring).
37
Pipe the remaining ganache.
38
Place the 2nd dacquoise ((cut it in order to keep 1/2 cm free from the pastry ring).
39
Press gently to have ganache coming up on the dacquoise boarders, flatten with a spatula.
40
Set aside in your freezer for at least 4 hours.
41
Heat the sugar in a sauce pan.
42
Pe the hazelnuts on wooden sticks.
43
When the sugar gets caramel, soak the hazelnuts, one after the other, and cover then with caramel.
44
Let them cool down upside down.
45
Remove the wooden stick and place on the entremet before serving.