Hello everyone!!
So today it's a winner recipe we've got here!! Simple, delicious, quite cheap and healthy. Interested or interested?
Here it comes! The savory pumpkin waffles!! Tadaaaa!!!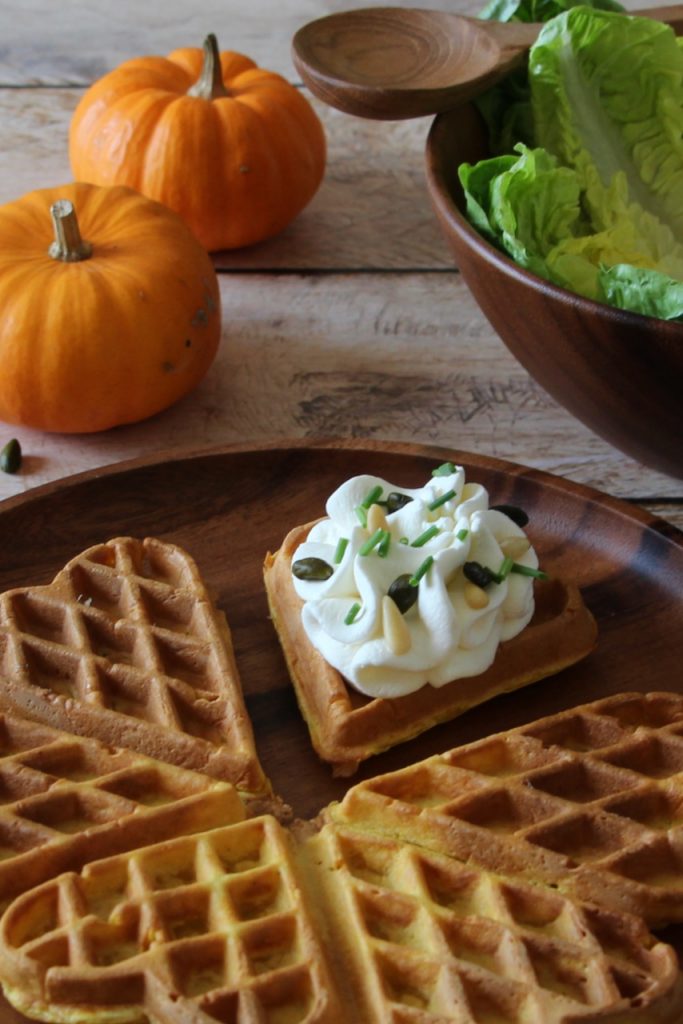 I'm always in a pumpkin kind of mood when fall comes I must say… 😉 And my son isn't quite happy about it, he's not a huge fan… (big failure for mummy here…) You get it, my challenge is to make a pumpkin based dish and get an A minus or even an A plus from my son. Let's make savory pumpkin waffles!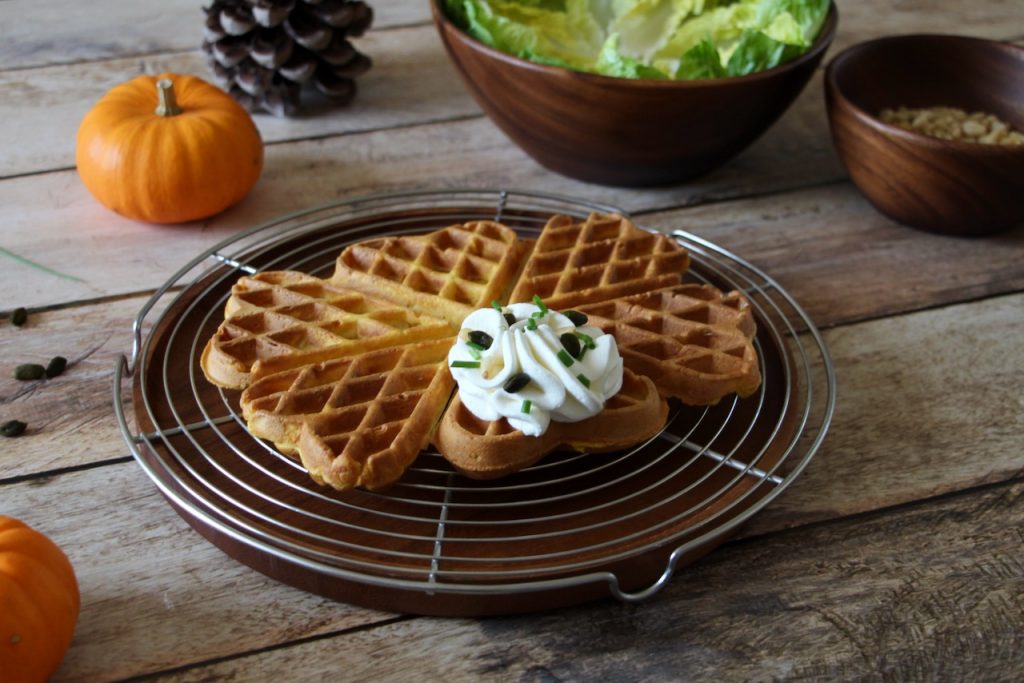 As I mentionned and as many of you, who've been following my foodie adventures so far, already know, I love pumpkin, butternut (my favorite) and all sorts of squash. I add them to meat stews or even in my brioches: pumpkin and chocolate chip brioche, chocolate and pumpkin babka brioche or my savory Halloween pumpkin brioche with bacon.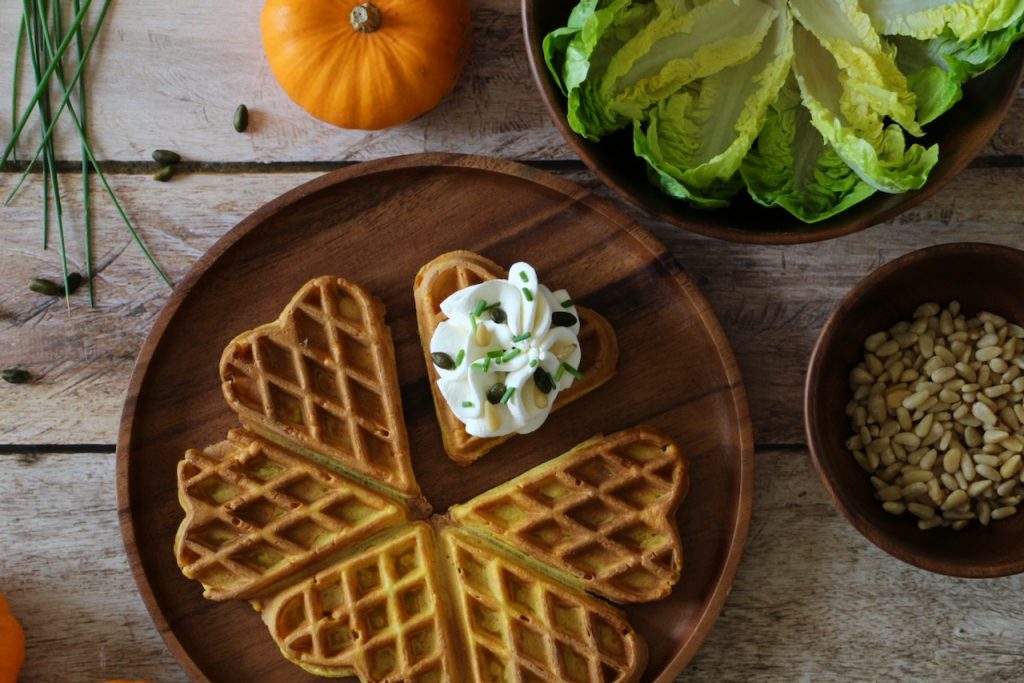 The idea remains the same here with my savory pumpkin waffles: we will make mashed pumpkin and this will happily replace the butter. You will get a very smooth and moist texture with the delicate and yummy taste of pumpkin. I add of course some spices, I leave the batter to rest for 20 minutes and that's it!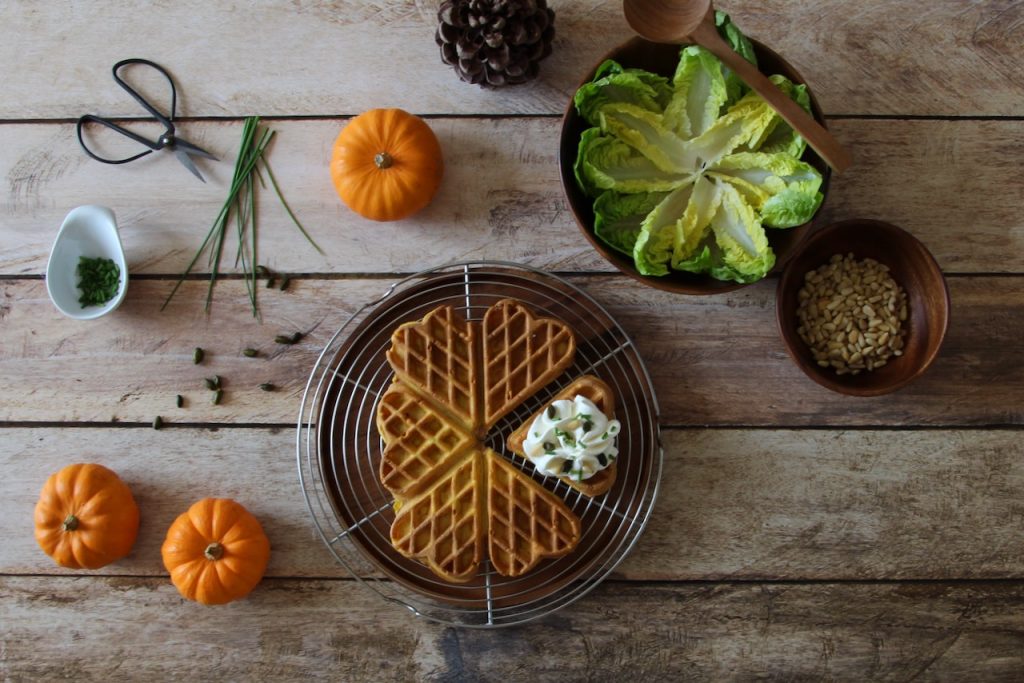 I serve my savory pumpkin waffles for dinner with a non sweet chantilly, chopped chive, pine pinions and small Middle East pistachios, or with my prepared cream cheese or even with my tahini white sauce that you will find in my lamb stuffed zucchini recipe. The lettuce will bring the final touch to a healthy meal that brought my son to admit : "wow so good! I love this dish mummy!" (remember the initial challenge I gave myself?? 😉 ).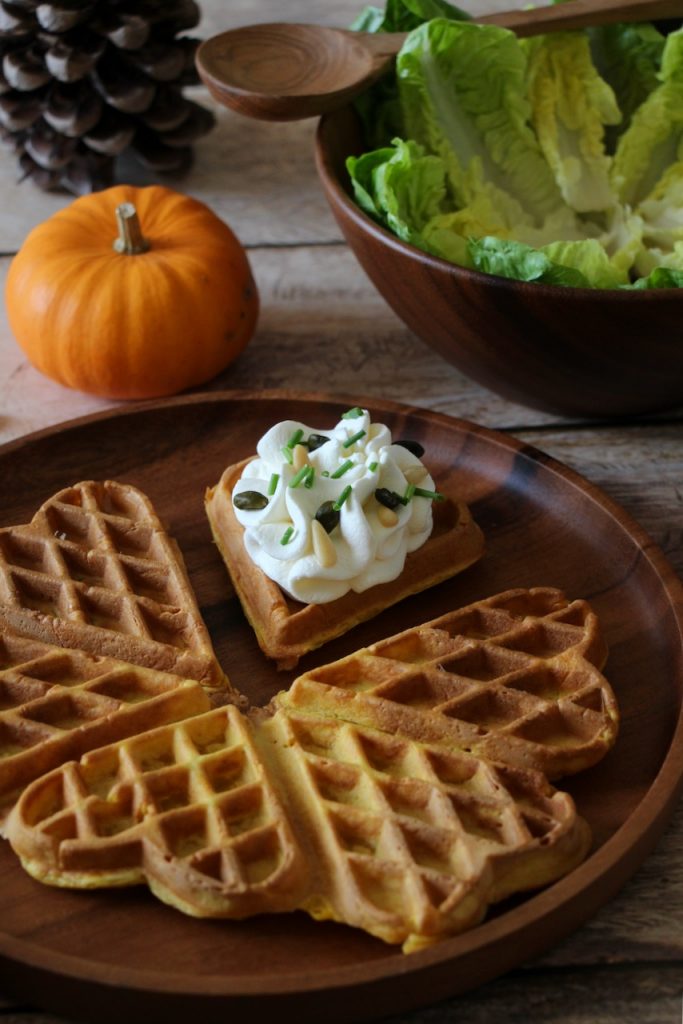 You can also serve those savory pumpkin waffles as appetizers if you cook them in small shapes as I did here.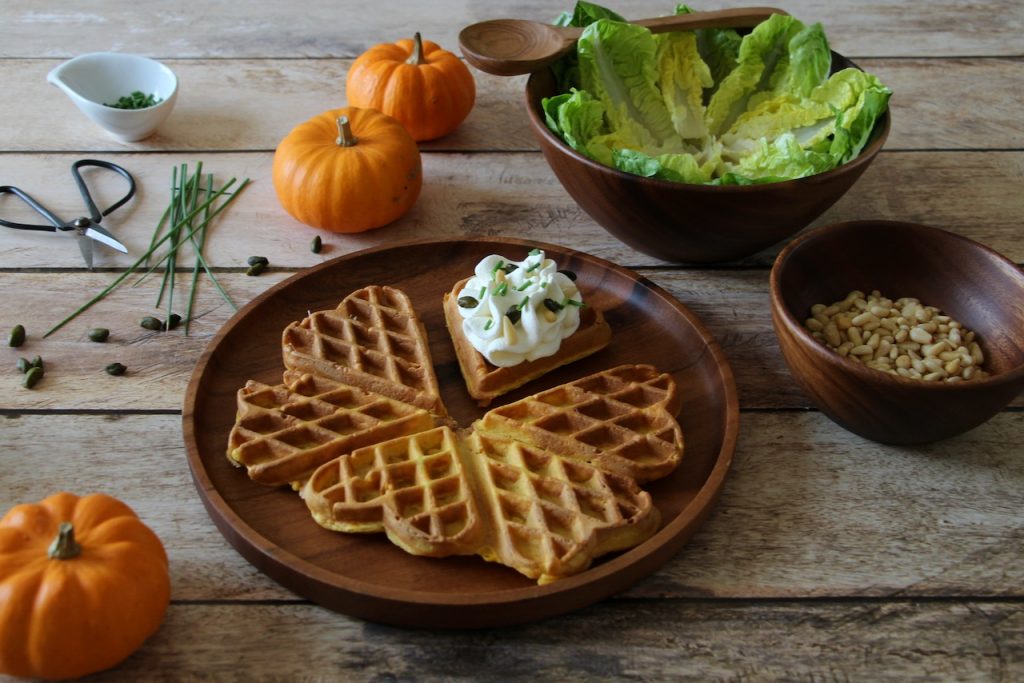 The utensils you will need:
A small frying pan,
A hand mixer (or a blender),
A large bowl,
A good whisk (or an electrical one)
And a waffle maker.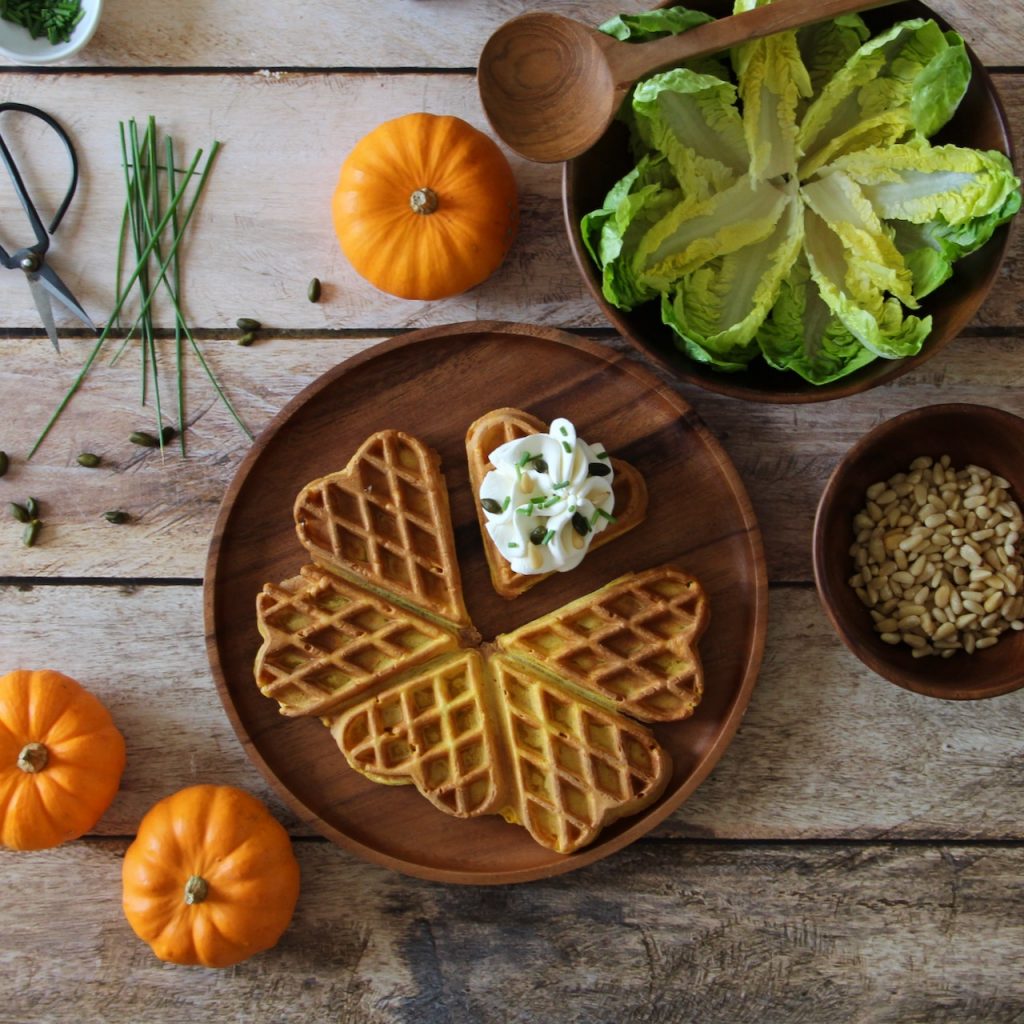 Now let's make savory waffles!!
The recipe, Chef!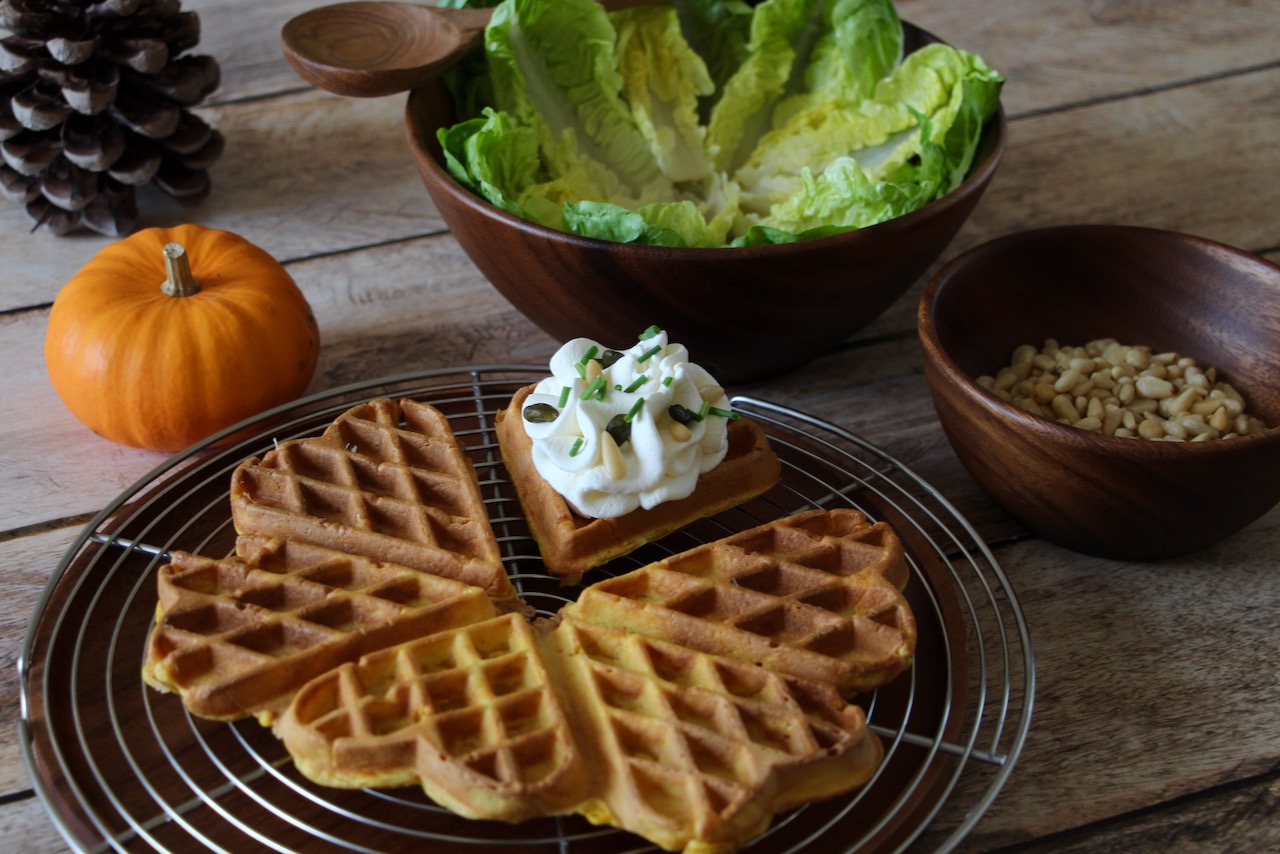 Print Recipe
Ingredients
250 g peeled pumpkin (butternut)

1 tablespoon oil

200 g flour

1 teaspoon baking soda

1 teaspoon salt

3 large eggs

70 g milk

1/2 teaspoon ground ginger

1/2 teaspoon ground cumin

1/4 teaspoon curcuma
Instructions
1
Cut the pimpkin in cubes and stir fry with the oil, at low heat and with lid for 30 minutes.
2
Pour in a bowl and mix with your hand mixer. You should get around 150 g mashed pumpkin. Leave to cool down a bit.
3
Add flour, baking soda and salt, mix well until you get an homogeneous mixture.
4
Add the eggs, one after the other, and whisk.
5
Add the milk and spices. Whisk some more.
6
Leave to rest for 20 to 30 minutes.
7
Preheat your waffle machine, oil the waffle iron plates and make waffles!