Helly my friends!
What if we dove into freshness, into taste?
Here is my tuna and grapefruit tartare!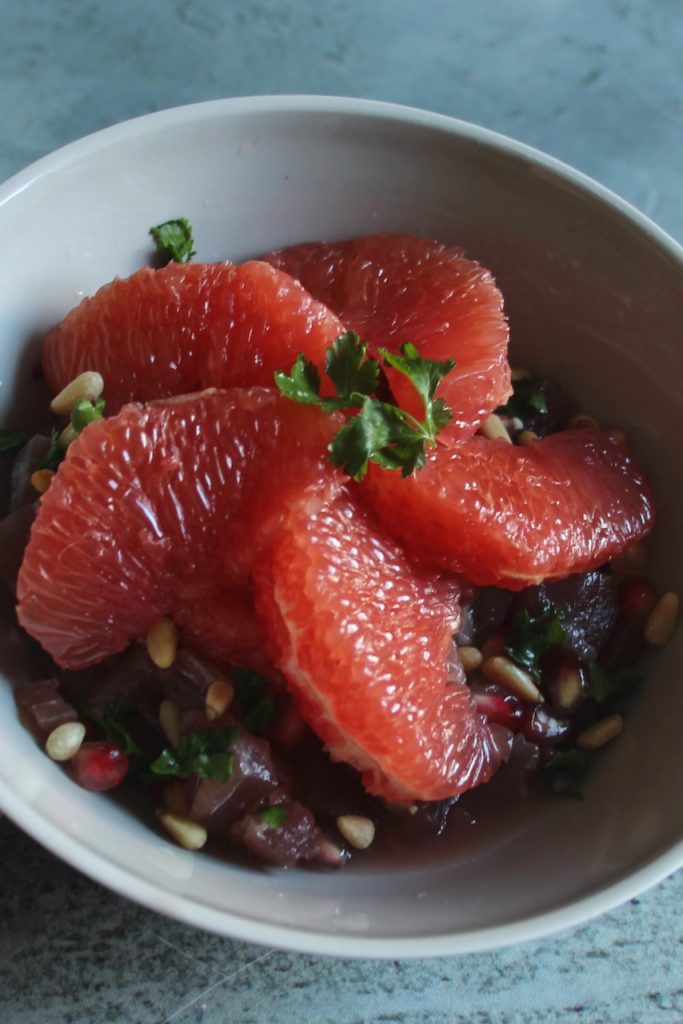 I just love tartares! I made them very often as starters or in little jars for my yummy appetizer buffets!
Here are those already available on the blog:
– the salmon, mango and avocado tartare
– the tuna and roasted pistachio tartare
– the avocado, pomegranate and salmon tartare.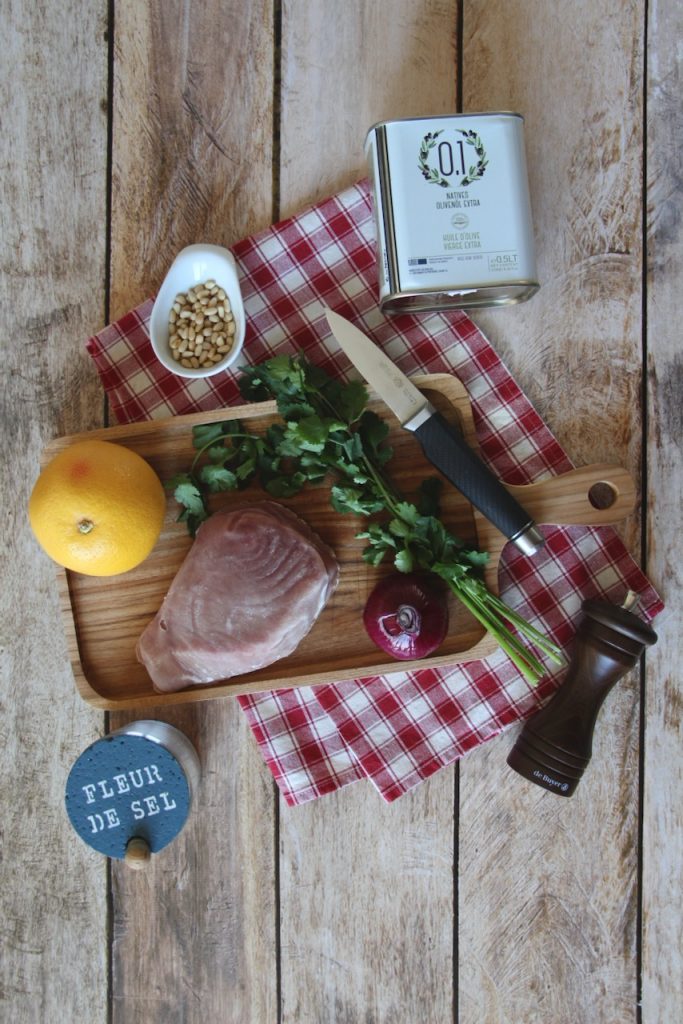 So I will not make a long speech about tartares, you already know everything. My only recommendation for this tuna and grapefruit tartare is to have super fresh tuna (mention you're making a tartare to your fish monger when grocery shopping, you don't want to get sick!!). If you have a doubt, freeze your tuna for a few hours and then defrost it.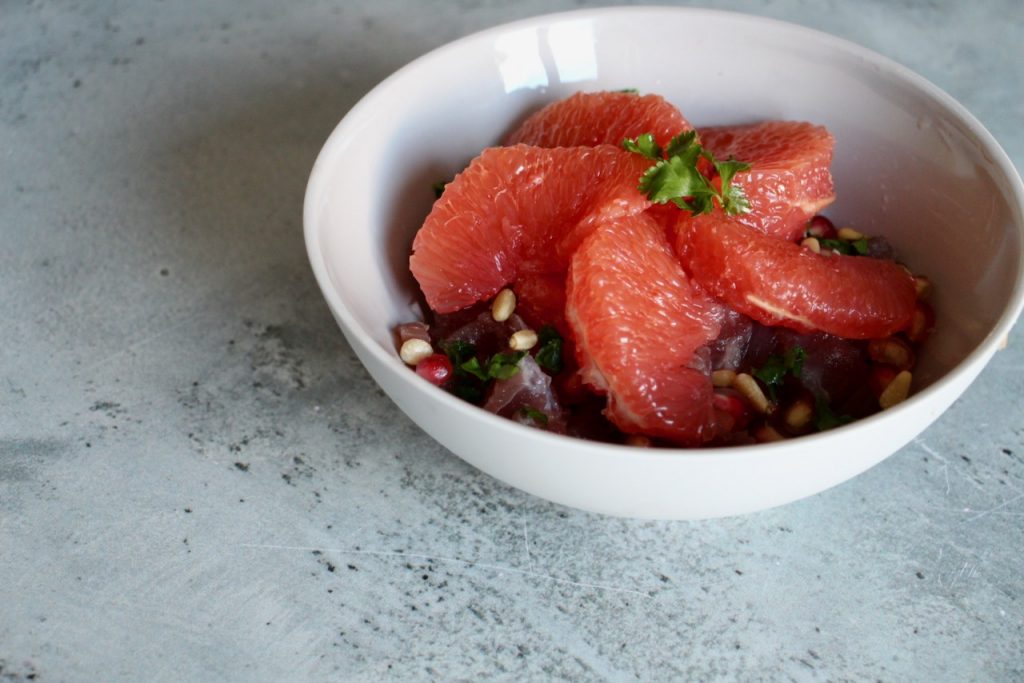 That being said, you'll see that adding grapefruit in your tartare is kind of a revelation. I always try to buy red grapefruit, or pink, which is less acid than the white ones.
You can add pistachios, sesame seeds, pumpkin seeds or poppy seeds. All versions of this tuna and grapefruit tartare will be delicious.
I wrote here that the recipe serves 3 people, as a starter. If you go for appetizer jars, you'll get 6. Served on toasts is also a great idea.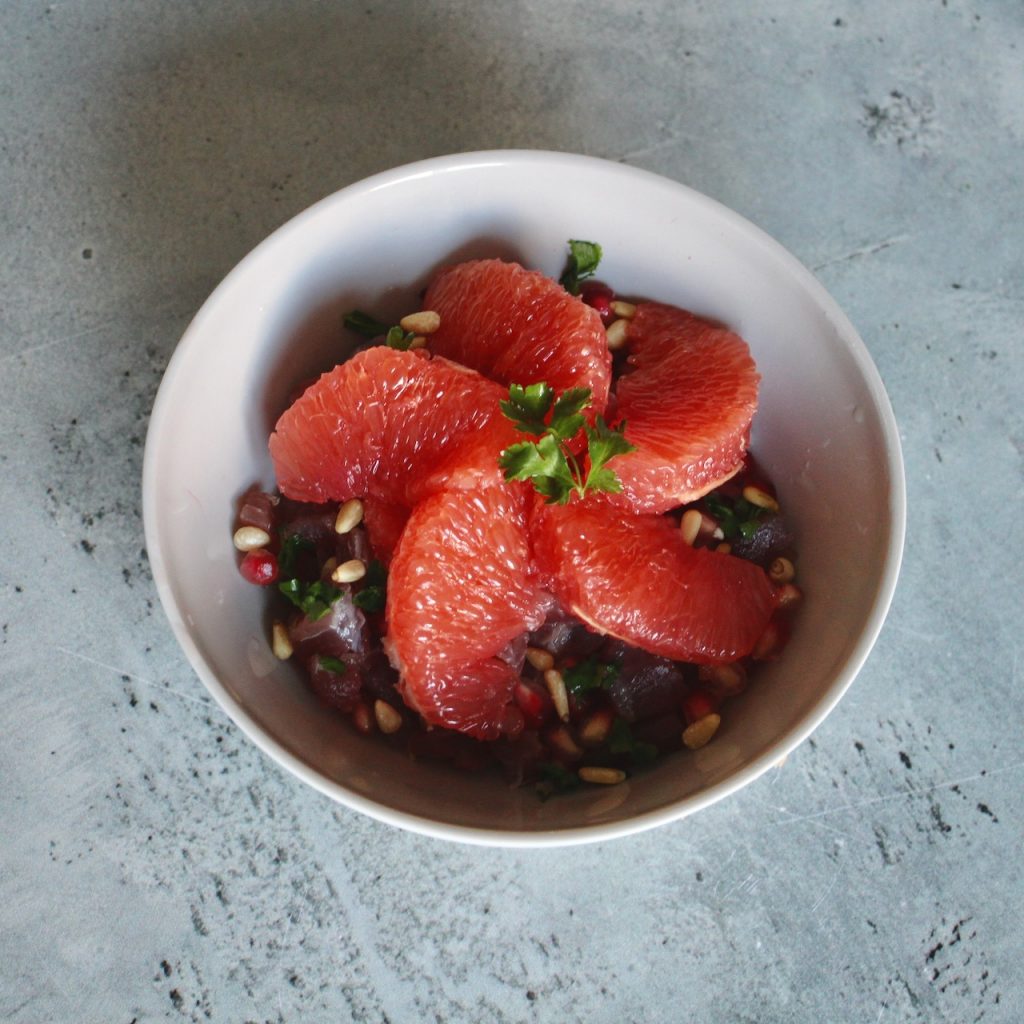 The utensils:
Nothing more than a cutting board and a sharp knife!!
There we go! Let's make tartare!
The recipe, Chef!
Print Recipe
Tuna and Grapefruit Tartare
Ingredients
250 g fresh tuna

1 red onion

1/2 red grapefruit

2-3 tablespoons olive oil

A few pomegranate seeds (optional)

12 coriander leaves

1/2 teaspoon ginger powder

1 tablespoon pine pinions

Salt

Pepper
Instructions
1
Cut the tuna in small cubes.
2
Add the onion and coriander leaves finely chopped.
3
Add the peeled grapefruit (cut or not).
4
Spread ground ginger, salt, pepper.
5
Add the pomegranate seeds and pine pinions.
6
Mix gently and set aside in your fridge until serving.