Yes it's Fat Tuesday soon!! And we are going to enjoy it!!
Finally on the blog, for your greatest pleasure, the donuts from Lyon!!
So I already suggested a few recipes of donuts among which Philippe Conticini's sugar donuts  and the donuts by Alain Ducasse, and today you will get the traditional recipe of the donuts from Lyon (the city 😉 )!! The must-have on Fat Tuesday in France.
Let's have a look first at the origin of Fat Tuesday…
I checked with a friend: Wikipedia…
Fat Tuesday is a festive period that ends « the week of the 7 fat days ». Fat Tuesday is followed by Ash Wednesday and Lenten season, a time during which Christians are supposed to eat very light, and mostly to avoid any kind of meat.
This Fat Tuesday is just before a penitential time and it is the opportunity to let go and enjoy a lot of food and the Carnival celebrations.
What about our donuts from Lyon? In the first edition of Pantagruel, published in Lyon in 1532, François Rabelais mentions those donuts as a major part of the Lyon cuisine. But those donuts are actually much more ancient: it was already a dish at the time of the ancient Rome!!
Now that we are well aware of this historical part, let's focus on the recipe.
You are going to make a rather simple dough. You will let it rise for just an hour, its volume won't double, it will during the frying time.
Then you will spread the dough, shape the donuts and fry them. You get it, it's rather simple.
The utensils:
A food processor for kneading,
A rolling pin,
A knife or a ravioli cutter
And a frying pan (I took my sauté pan by De Buyer which was perfect!).
(Presentation : collection l'Économe by Starck by Degrenne)
Now, let's put our aprons on!
The recipe, Chef!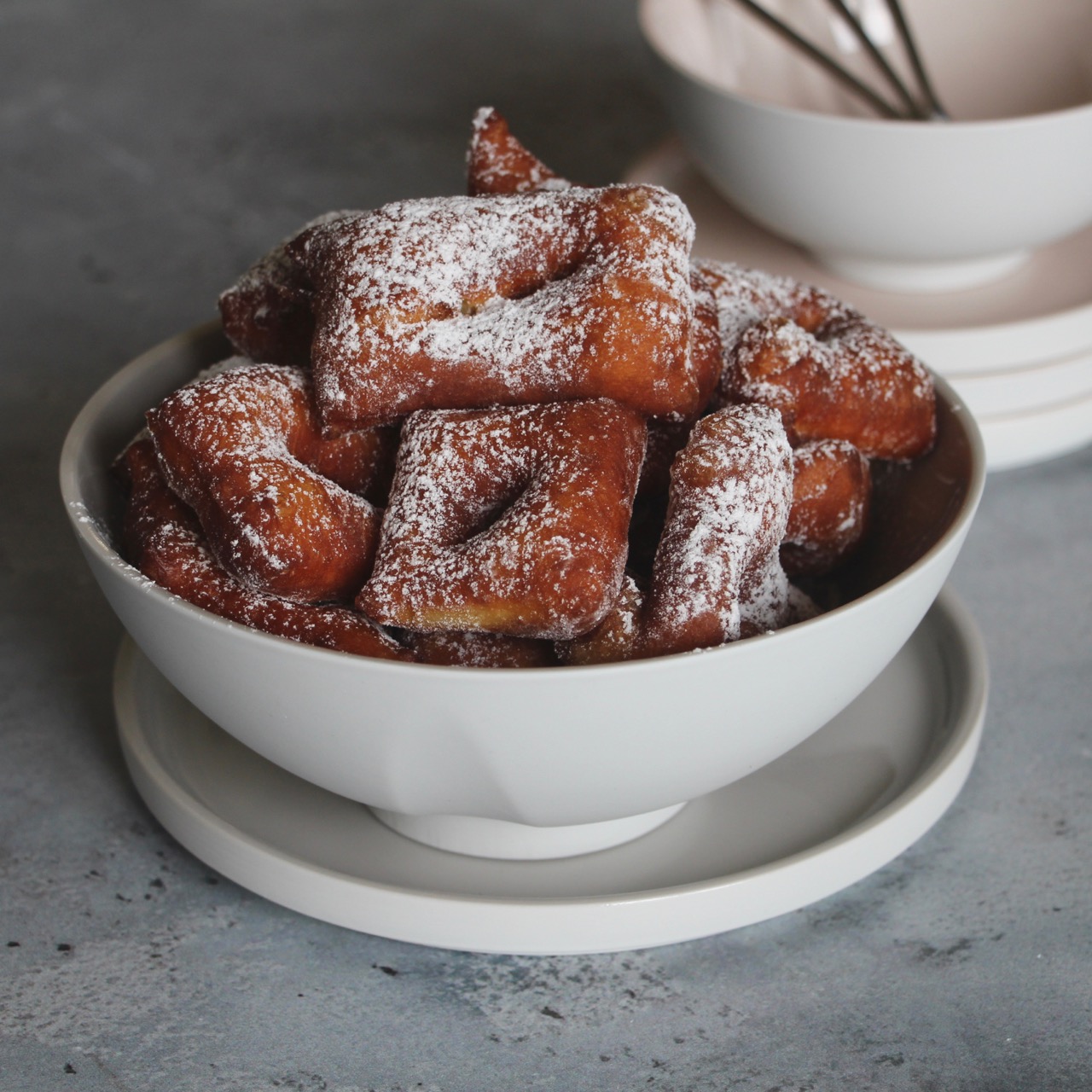 Print Recipe
Ingredients
360 g flour
3 eggs
100 g butter at room temperature
10 g dehydrated yeast or 20 g fresh one
50 g sugar
6 tablespoons milk
1/2 tablespoon rhum
Oil for frying
Icing sugar
Instructions
1
Heat the milk 20 seconds in your micro-wave oven. Add the yeast.
2
Pour the flour and sugar in your food processor bowl. Add the milk and yeast.
3
Start kneading at low speed (2 on a scale from 1 to 6).
4
Add the butter cut in pieces, the rhum and the 3 eggs.
5
Knead until you get an homogeneous dough (help with a spatula from time to time). You can increase the speed to 4 on a scale from 1 to 6.
6
Let rise one hour at room temperature, covered with a clean and humid linen.
7
Preheat the oil at 170 degrees.
8
Spread the dough on your floured working plan.
9
Cut diamonds (4-5 cm), make a cut in the center. Place the diamonds on the linen.
10
Start over until you use the whole dough.
11
Fry the diamonds a few minutes until golden on each side.
12
Place on absorbing paper then spread icing sugar.