Hello my lovelies!
Are you ready to go diving today?? I mean diving real deep into pure food pleasure … Are you ready to enjoy my chocolate and poached pears charlotte?
This recipe is, I have to be honest with you, super delicious!!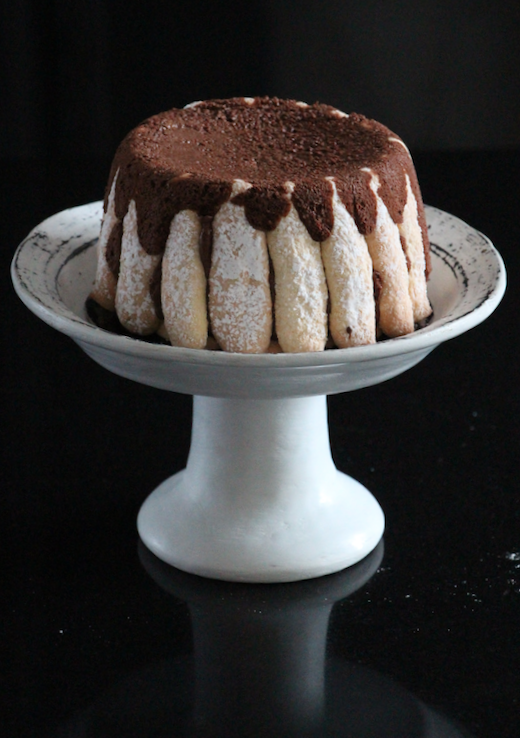 So I won't tell you again that the chocolate and pear combo is probably the best ever… I already introduced quite a few recipes with those two ingredients… The chocolate and pear pound cake for instance, the Marie-Christine tart, or simply the chocolate and pear cake.
Still, admit it, chocolate and pear is the best!!!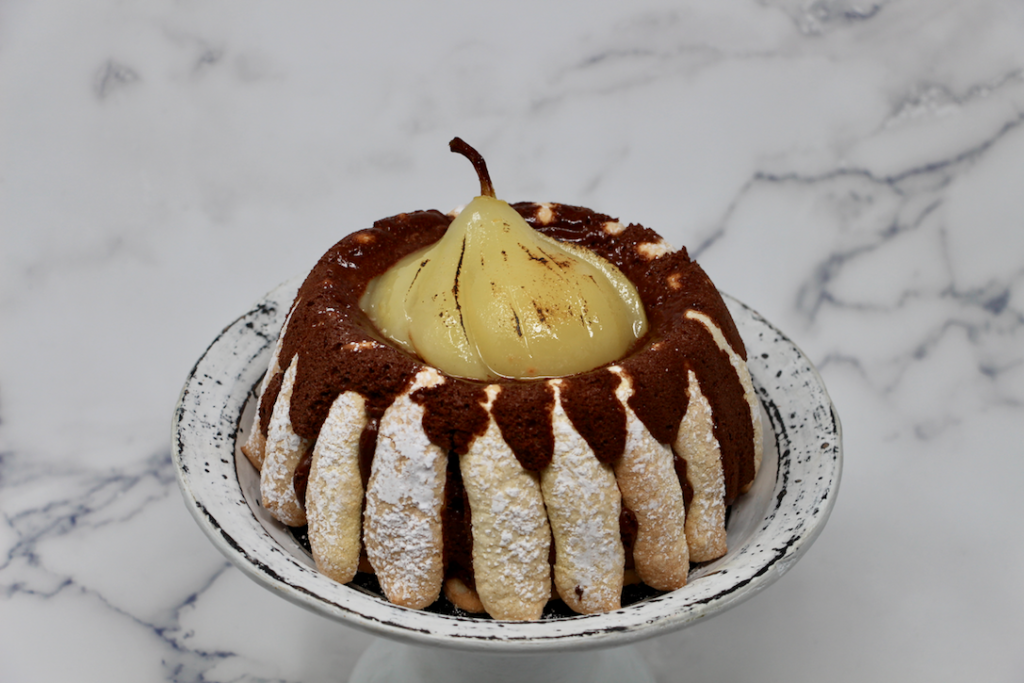 This recipe is the combination of several chefs' recipes, that I mixed together for your own happiness (well okay, for mine too!!! 😉 ).
You will start with baking lady fingers (click for the recipe). You will use approximately half of them. I trust you to find a good way to deal with the other half!!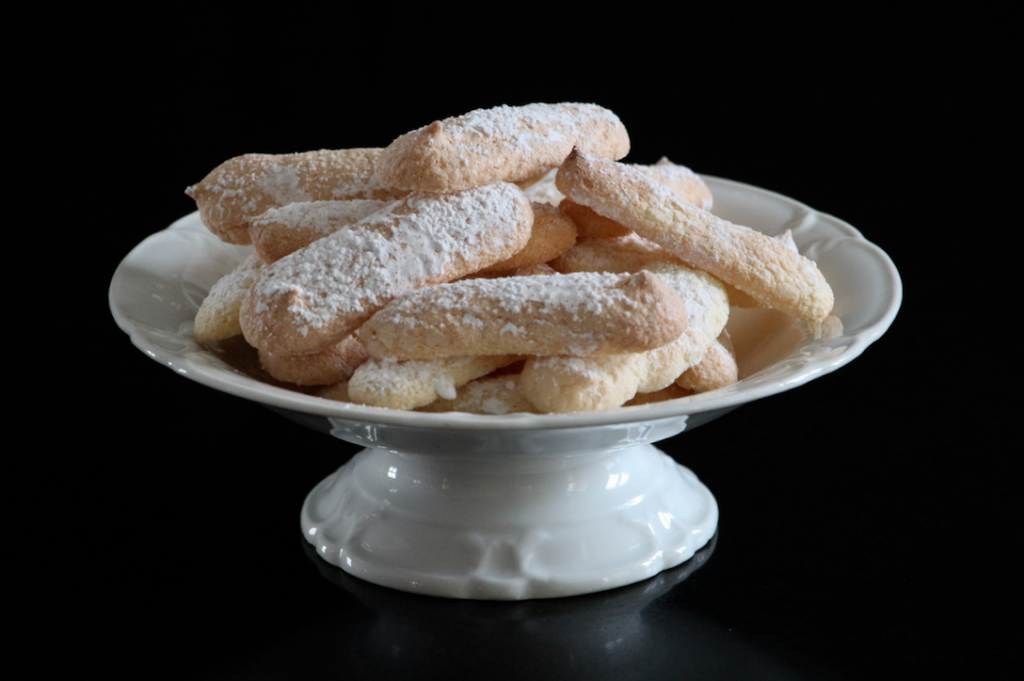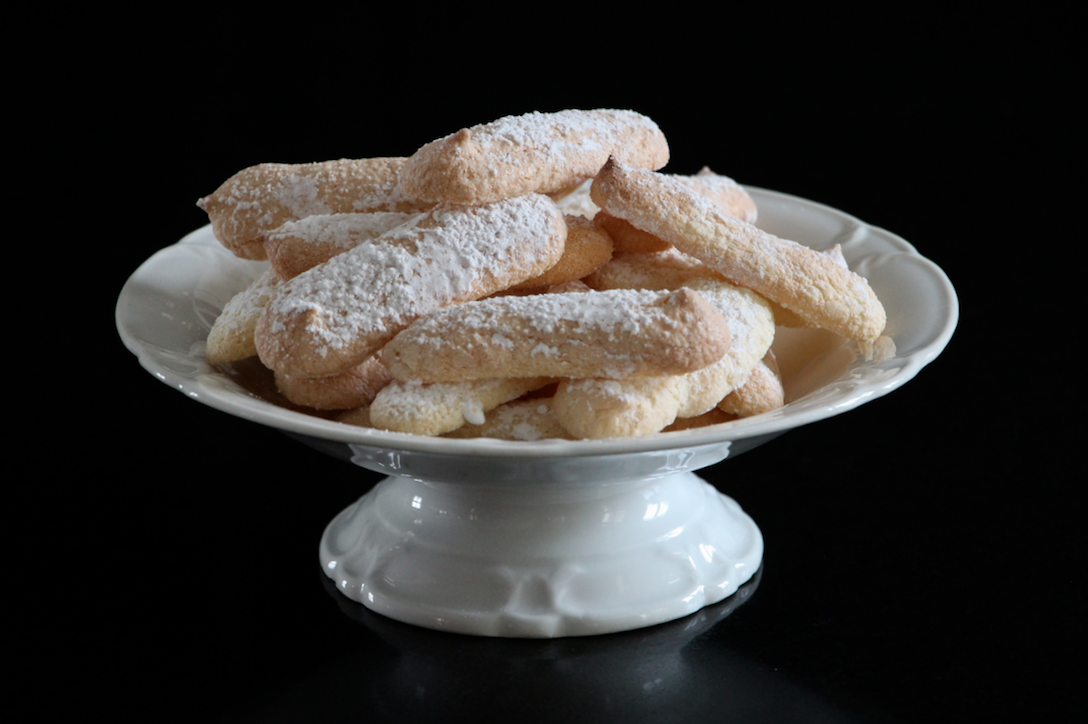 Then you will prepare a chocolate mousse in which you will add gelatine in order to get a very firm texture.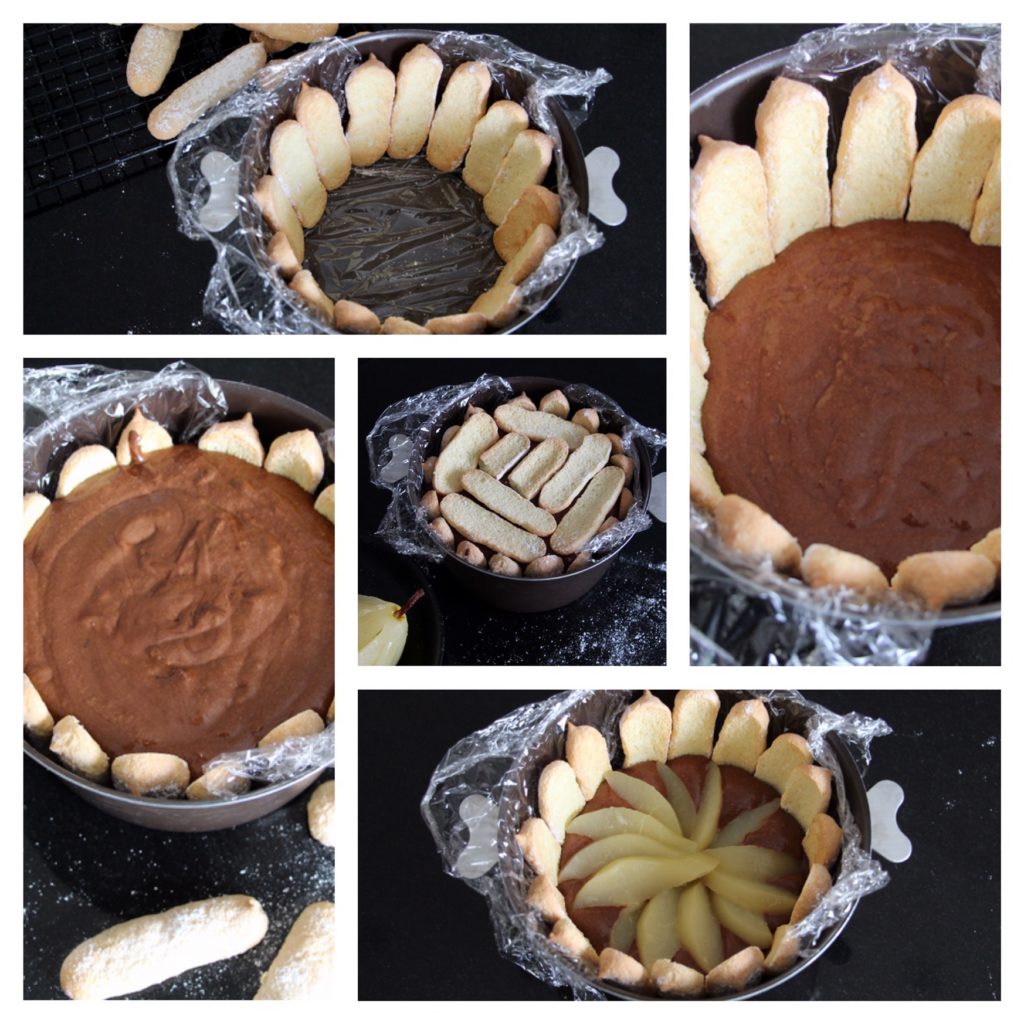 And finally, you will make a vanilla and lime syrup to poach the pears and give them a subtle taste.
Easy don't you think??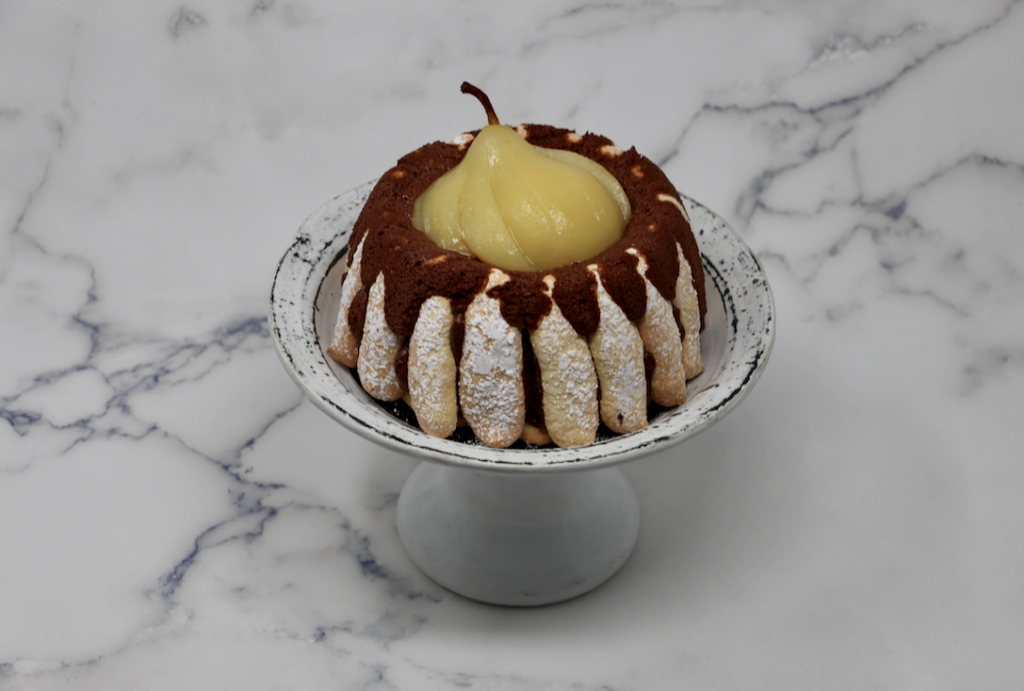 Obviously it is mandatory to prepare this chocolate and poached pears the day before. Otherwise you might have some serious trouble when unmolding it or when cutting it into slices…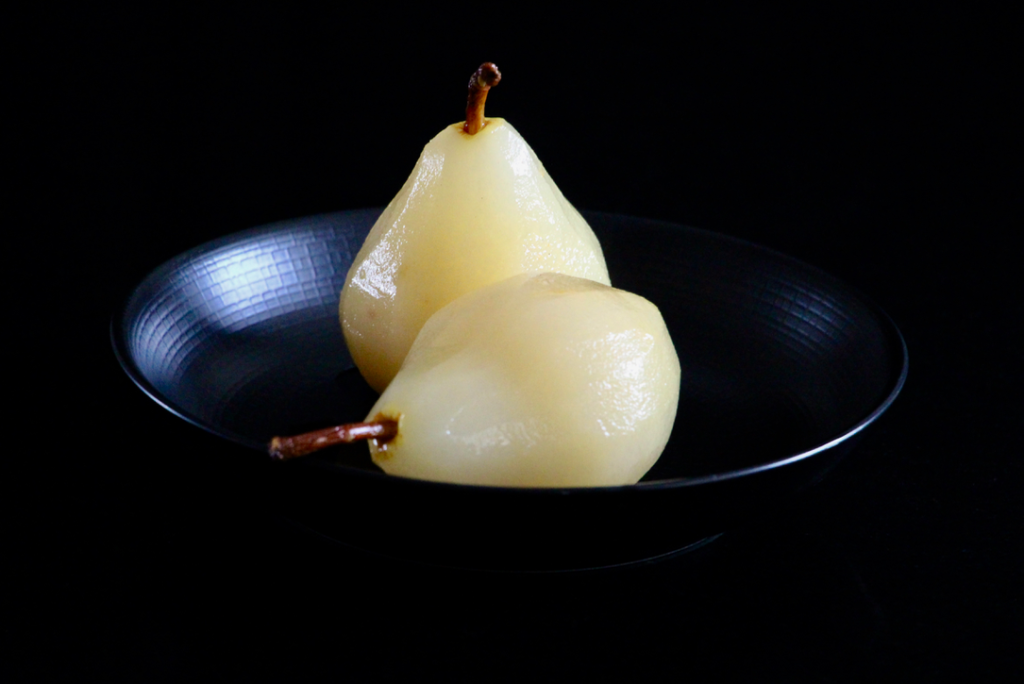 The utensils:
My 18 cm diameter charlotte mold by Tefal
M Affinity sauce pan by De Buyer
My kMix by Kenwood
Cling film in order to unmold the charlotte easily.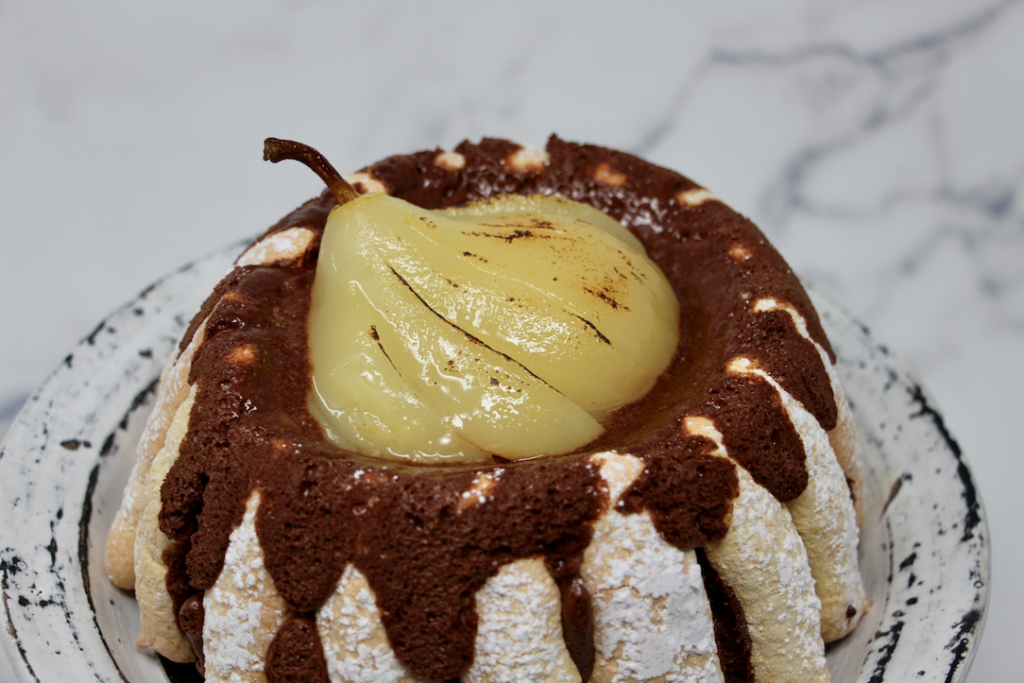 Well I think you know everything now.
The recipe, Chef!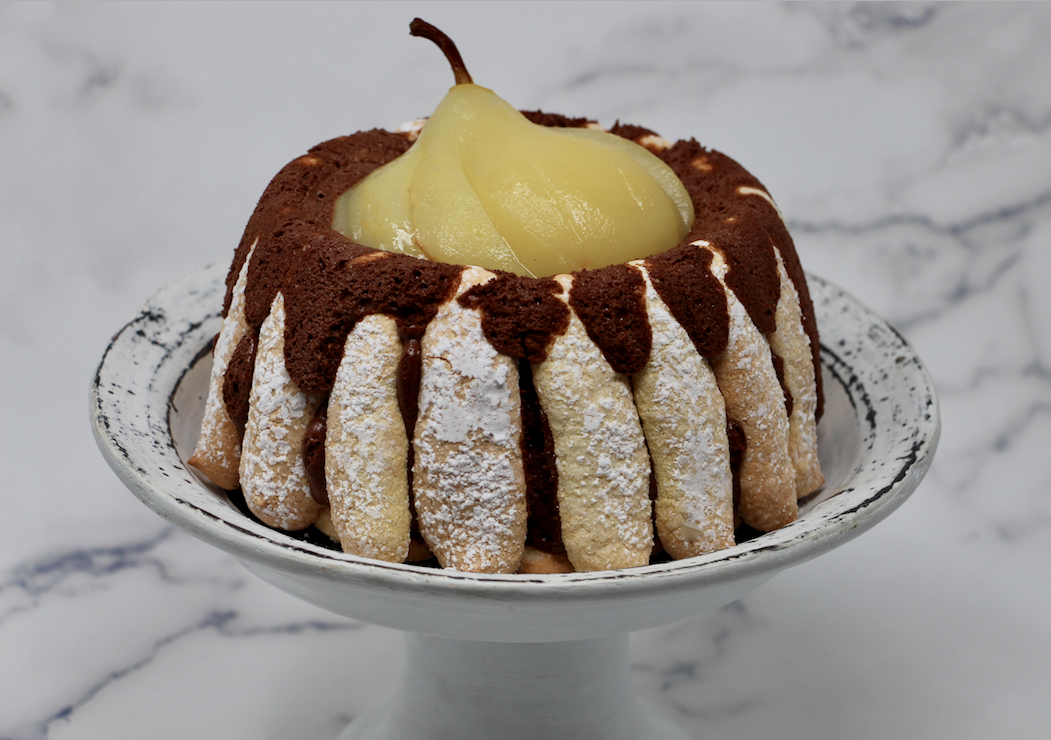 Print Recipe
Chocolate and Poached Pears Charlotte
Ingredients
200 g dark chocolate

80 g butter

50 g sugar

2 sheets of gelatine (4g)

8 egg whites (approx 240 g)

2 egg yolks (approx 40 g)

2 pears

60 g water

1 pinch vanilla powder

One lime zest (one lemon, one orange, or half grapefruit)

1/2 lemon juice
Instructions
1
Soak the gelatine sheets into cold water.
2
Whip the egg whites with the sugar until you get a foamy mixture.
3
Melt gently the chocolate and butter in a double boiler. Add the drained gelatine sheets and mix.
4
Then put the egg yolks in a large bowl. Add 1/4 of the chocolate/butter slightly cooled down. Blend.
5
Repeat with the second quarter of chocolate/butter. Then with the third.
6
Gently add 2 tablespoons of whisked egg whites and whip until you have an homogeneous mixture.
7
Add the last quarter of chocolate/butter.
8
With a spatula, mix the rest of the whisked white eggs (add 1/3 and mix, then 1/3 and 1/3).
9
Set aside in your fridge.
10
Make a syrup: boil in a small saucepan the water, sugar, vanilla powder, the lime zest and lemon juice.
12
Let cook at low heat with cover for 40 minutes.
13
At the end of the cooking time, let the pears cool down on a plate.
14
Proceed with final mounting: place the lady fingers against the mold borders, previously covered with cling film.
15
Fill with chocolate mousse half full.
16
Cut one of the pears in slices and place them on the mousse.
17
Fill with the rest of chocolate mousse. Cover with lady fingers.
18
Set aside in your fridge for one night.
19
The next day, cut the second pear in slices or cubes, depending on how you want to decorate your charlotte.
20
Place your charlotte on your presentation plate. Place the pear slices or cubes on top and set aside in your fridge until serving.
Notes
Keep the pear syrup and you can make my Marie-Christine tart (link for the recipe at the beginning of this post) or my pear and graham crackers jars (recipe soon on the blog). You can caramelize your slices of pear if you spread brown sugar on them and then torch them briefly.