Hello my friends!
There we are! Let's do this again! I officialy declare the ice cream and sorbet season open!!
Here is the raspberry sorbet!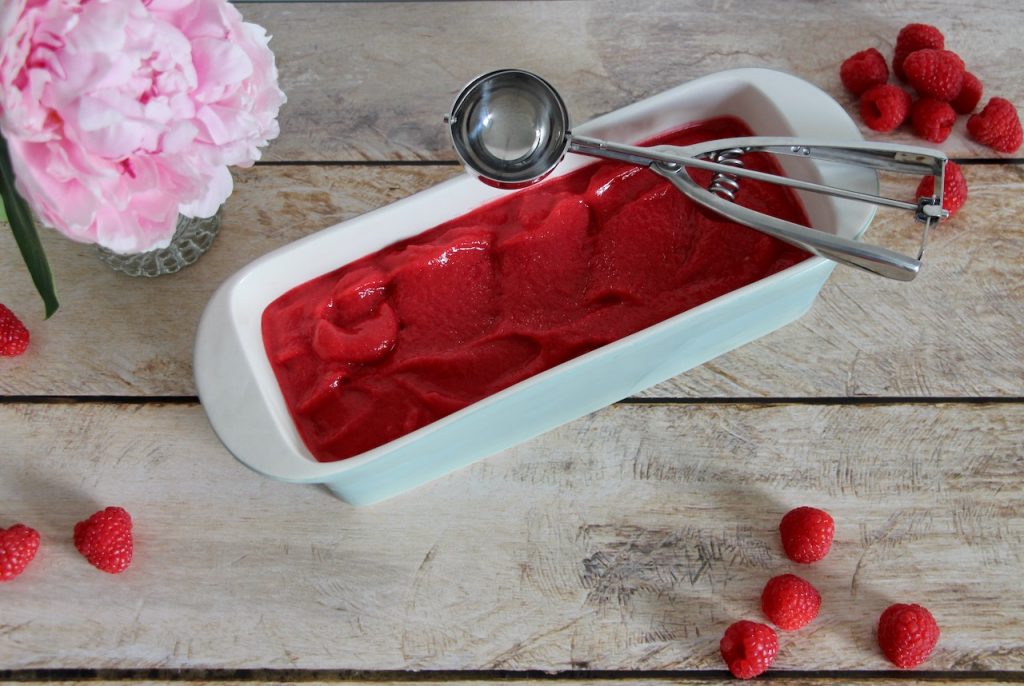 This recipe is based on the sorbet recipes already on the blog, but with a slight change here: I used lime to enhance the delicious taste of raspberry!
If you're looking for other sorbet recipes, let me share the list with you:
Berries were under represented, it was high time to react!!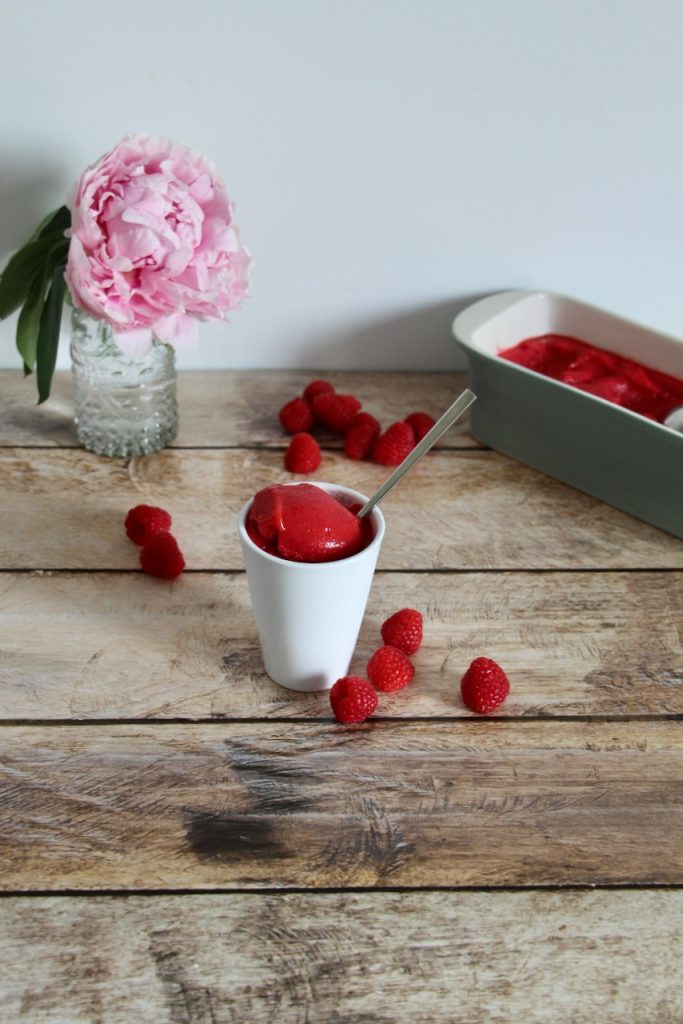 So I often get questions about ice cream makers… The purpose of it is to get a foamy texture, not compact, for your sorbet or ice cream. I found mine in a supermarket for quite a cheap price. It's not like a professional one but it does the job.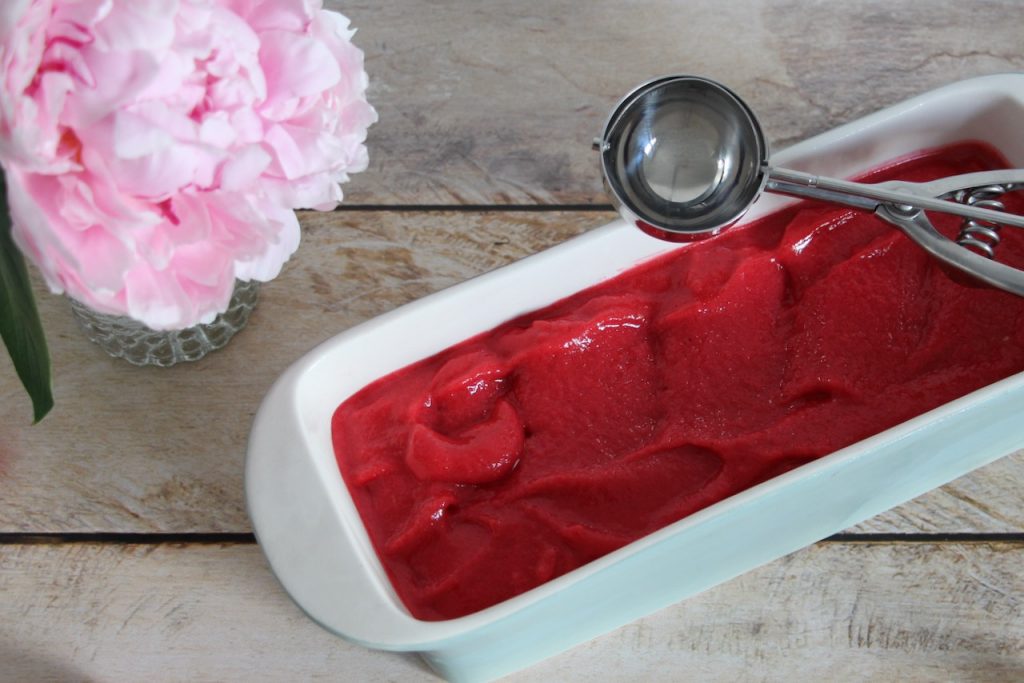 If you don't have an ice cream maker, I have an alternative solution for you. Freeze the sorbet in a rather large dish, so that to have a rather thin layer of sorbet (1 to 2 cm).  Once the sorbet starts to harden, cut cubes with a good knife and mix with a blender, a Thermomix or equivalent. It works too if you freeze the sorbet in ice cubes trays.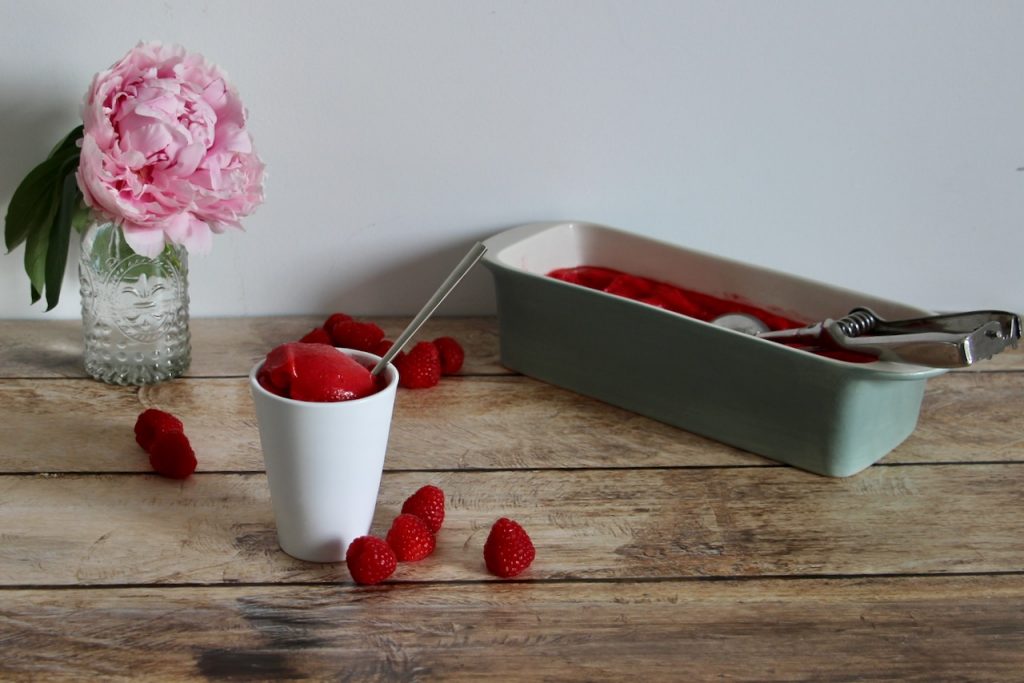 And if you don't have any of this equipment, you can still make the sorbet and freeze it like this. The texture won't be smooth, but taste will be there.
Another recurring question: the glucose syrup. Is it that important? I often feel like answering "yes otherwise I wouldn't put it in the ingredient list…". 😉 Actually the glucose syrup will prevent the crystallization of your sorbet (or ice cream). If you don't have any, remplace it with sugar or honey, taste wise it will be the same. Texture won't be as smooth though.
You know everything…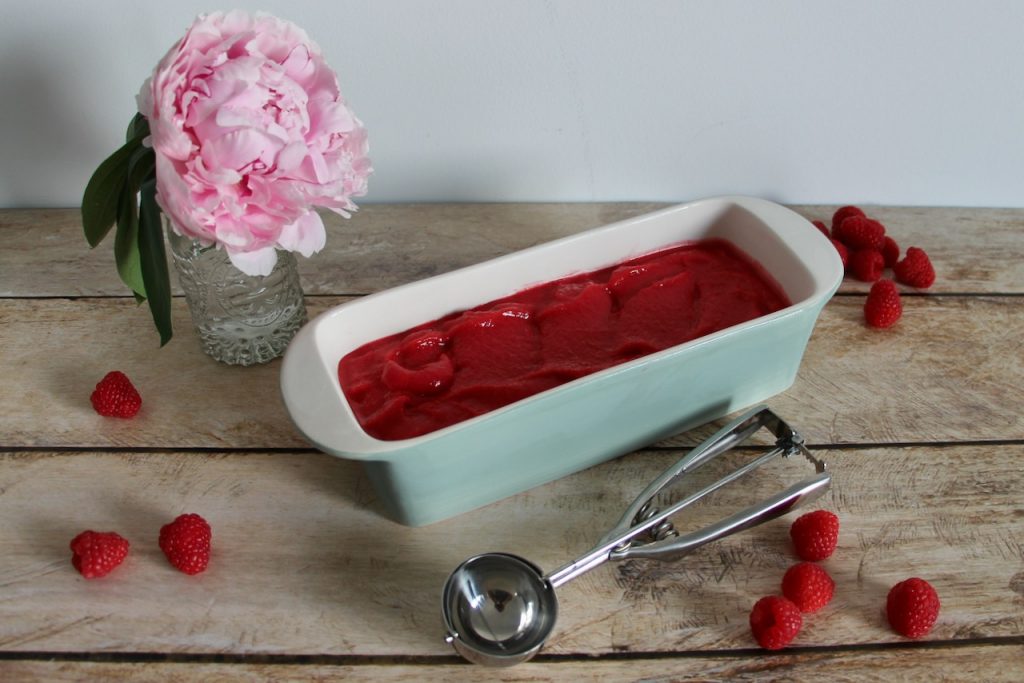 The utensils:
A small sauce pan,
A bowl,
A hand mixer
And an ice cream maker.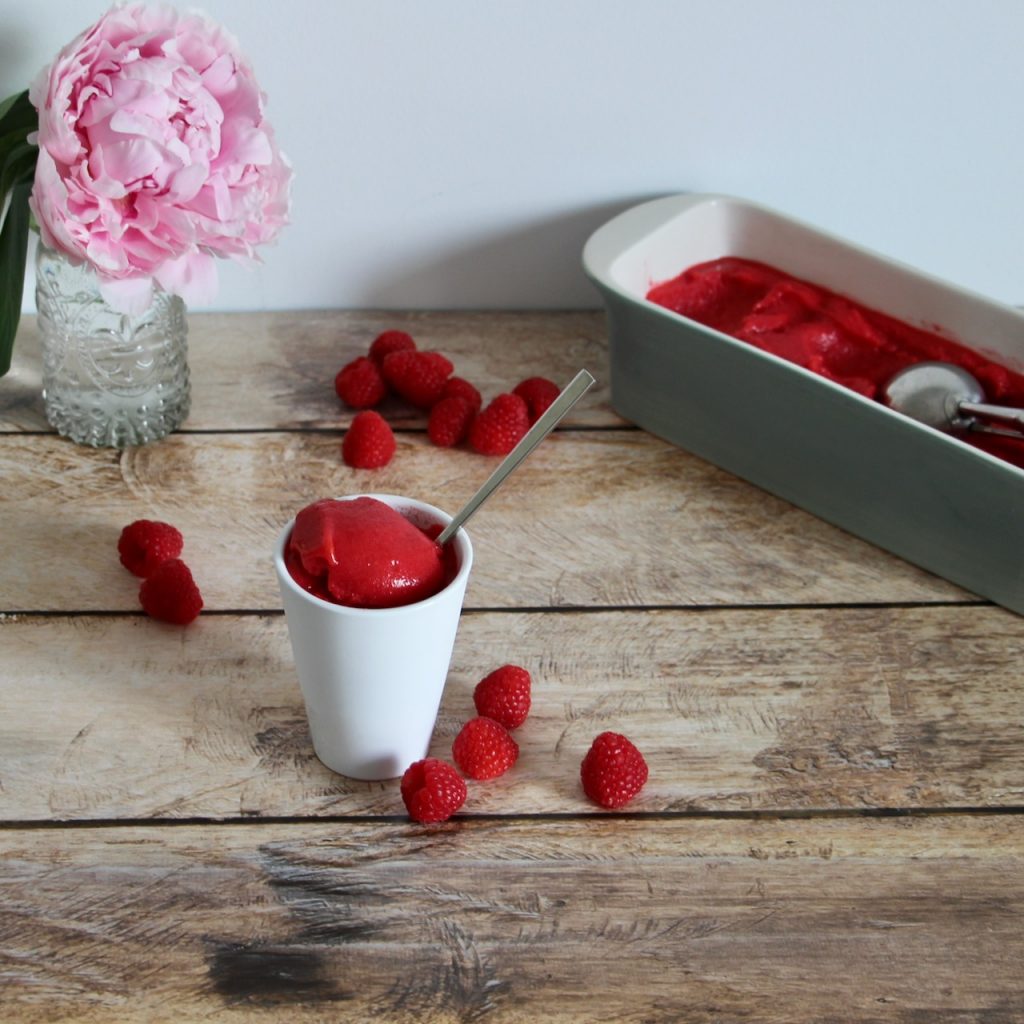 Shall we now?
The recipe, Chef!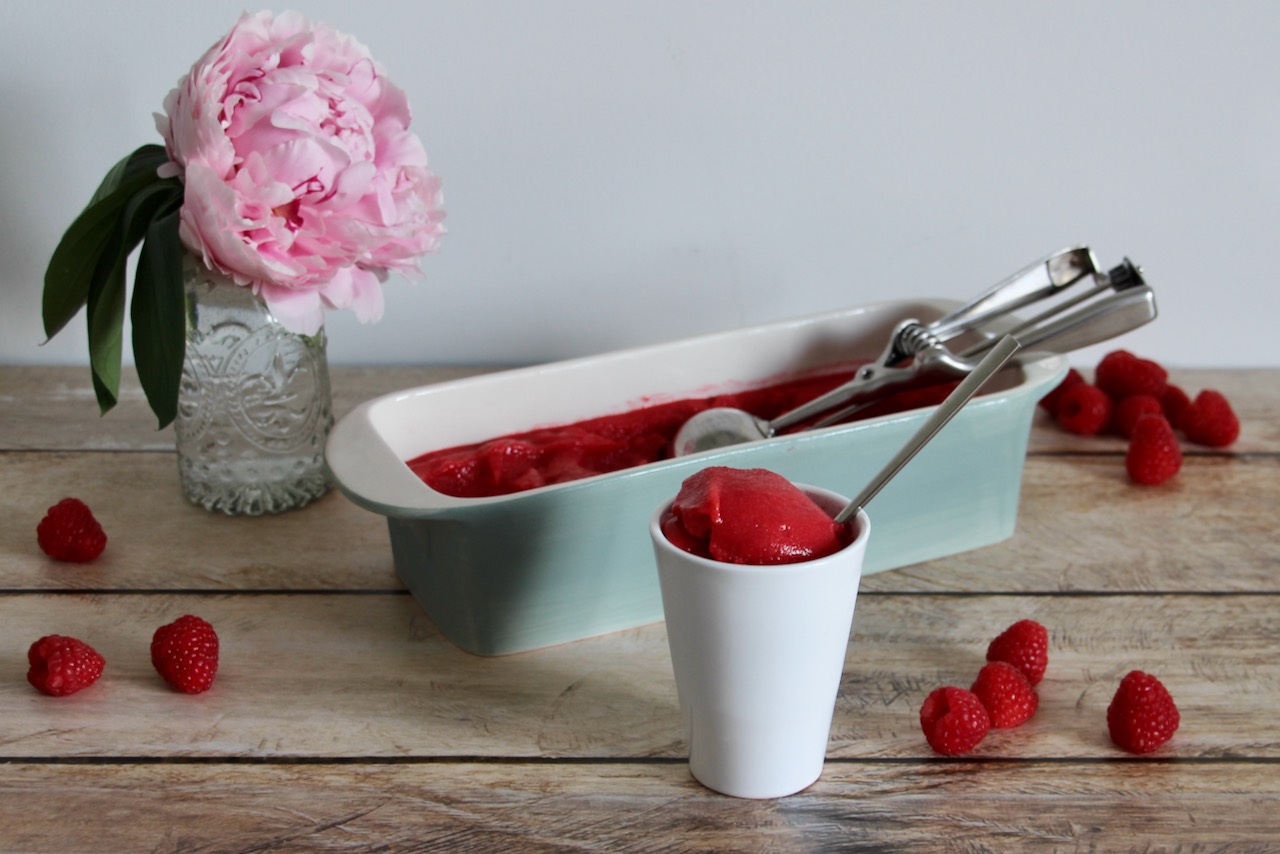 Print Recipe
Ingredients
500 g raspberries
120 g water
90 g caster sugar
90 g glucose syrup
2 tablespoons lime juice
Instructions
1
Place the raspberries in a large bowl.
2
Heat the water at 45 degrees.
3
Mix the water, sugar and glucose syrup.
5
Pour on the raspberries, add the lime juice and mix.
6
When the texture is smooth, pour through a drainer to remove the seeds and set aside in the fridge.
7
When it's cold, place in the ice cream machine.