If you have Pink Lady apples, then this recipe is for you…
Crunchy and smooth at the same time, this dessert is perfect for a classy celebration meal.
Let's make apple jars !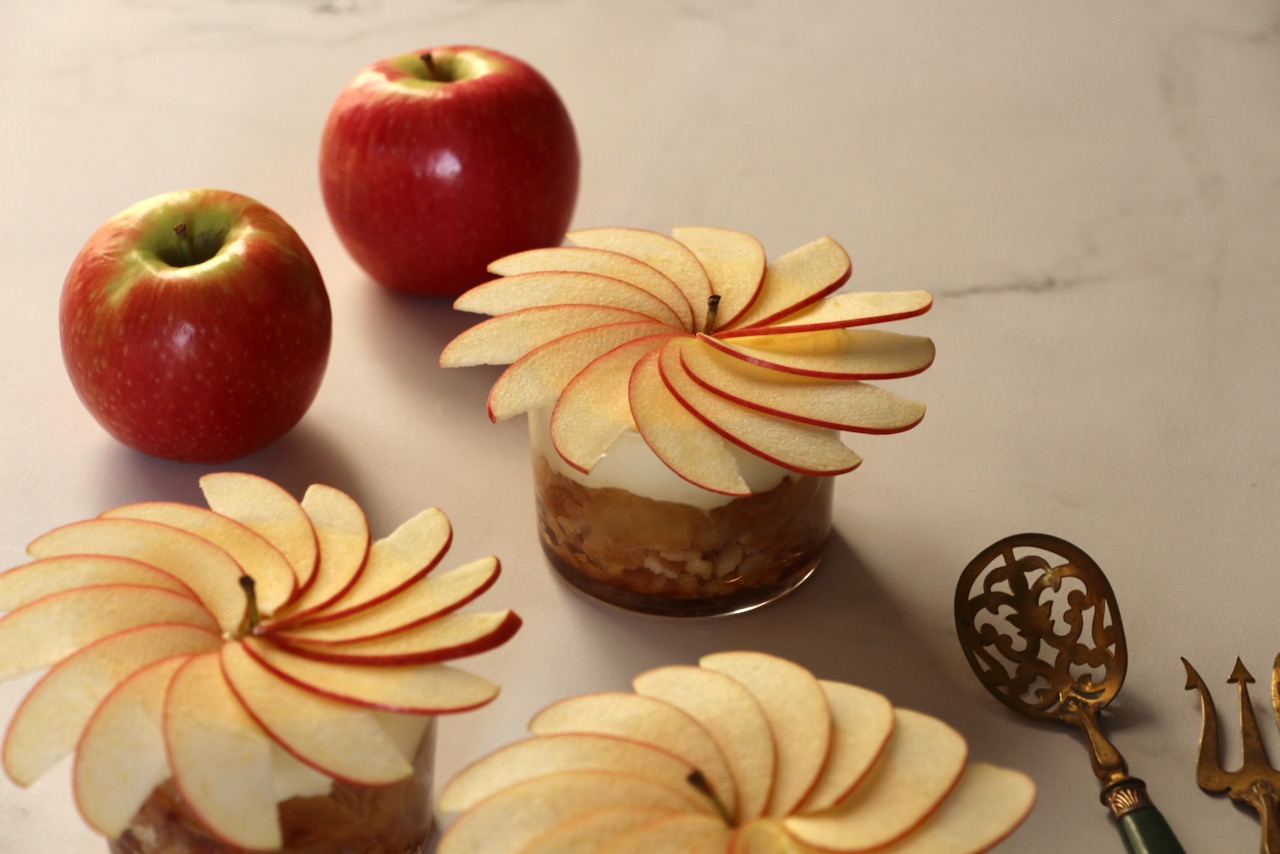 Print Recipe
Ingredients
100 g graham crackers

50 g butter

4 apples

2 tablespoons sugar

2 egg yolks (40g)

60 g sugar

17 g water

125 g cold mascarpone

100 g cream

1/2 tablespoon iced sugar
Instructions
1
Melt 25 g butter with 2 tablespoons sugar in a frying pan.
2
Peel 3 apples and cut them in cubes. Add to the frying pan and stir fry for 10 min at medium heat. Set aside.
3
Take a large bowl and put the mascarpone in. Set aside in your fridge.
4
In a pan, put the water and sugar. Heat until you get a syrup making little bubbles (2 minutes should be enough).
5
Add the syrup to the egg yolks in a bowl and whisk with your electric mixer for 5 to 6 minutes. The mixture should cool down. Put in your freezer for 2-3 minutes.
6
Add the syrup and eggs to the mascarpone and mix with a spatula until you get a creamy and homogeneous mixture.
7
Set aside in your fridge.
8
Make a firm chantilly cream with the cream and iced sugar.
9
Add the chantilly cream to the mascarpone mixture (use a spatula).
10
Set aside in your fridge.
11
Melt the remaining 25 g butter in a sauce pan.
12
Crush the crackers, mix with the melted butter and pour in your jars.
13
Add the apple cubes and cover with the mascarpone mixture. Set aside in your fridge.
14
Cut the last apple in very thin slices with a mandoline. Place on each jar.
15
Set aside in the fridge until serving.