Give me something good…
Give me something with chocolate…
Give me something with caramel…
Give me something tasty and beautiful… Here comes my chocolate and caramel layer cake!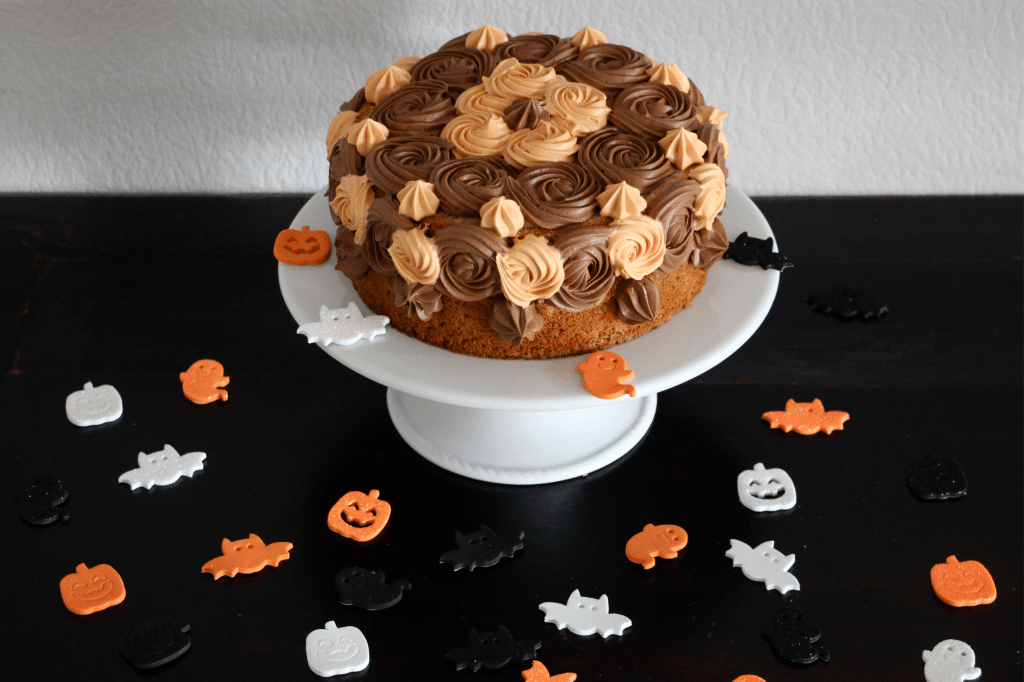 I'm always interested by layer cakes, that you can see here and there on Pinterest for instance or on Instagram. Does beautiful also stand for tasty?
Today I'm making both. Well at least, I hope you will share my point of view here… 😉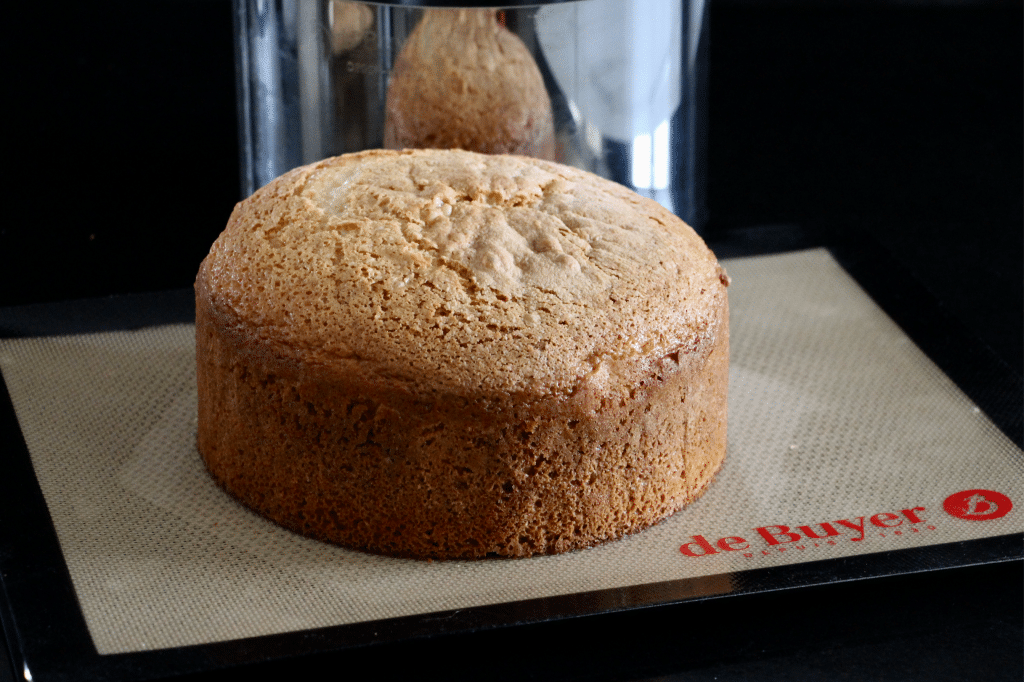 I made a very good cake, light, smooth and moist. The two whipped ganaches (chocolate and caramel) will add a very sweet touch. And with a bit of piping experience, I got a pretty nice thing! It could be a good idea for a birthday for instance.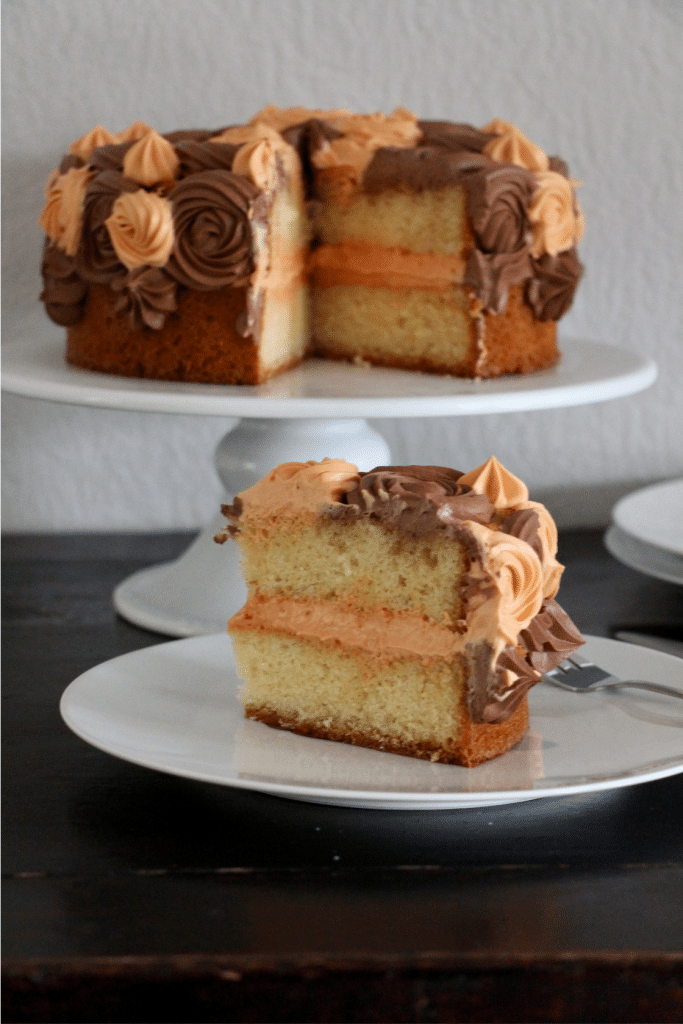 The three mandatory recipes aren't very complicated, you will just need to be precise with your piping skills.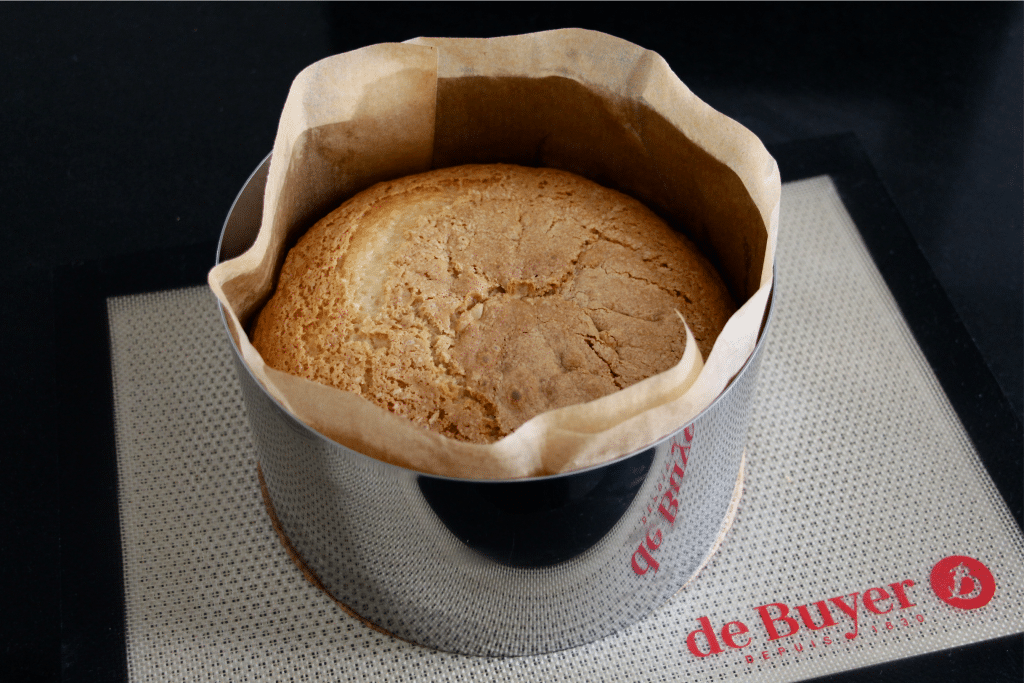 My recommendations for success:
use the appropriate mold for the cake: here I used my "surprise" bread ring by De Buyer, diameter 20 cm
make the ganaches the day before
whip the ganaches very cold and very firm on D day just before piping, you should be able to put your bowl with the ganache upside down without watching the ganache fall …
think ahead about the resting times required for the ganaches and the cooling down of the cake.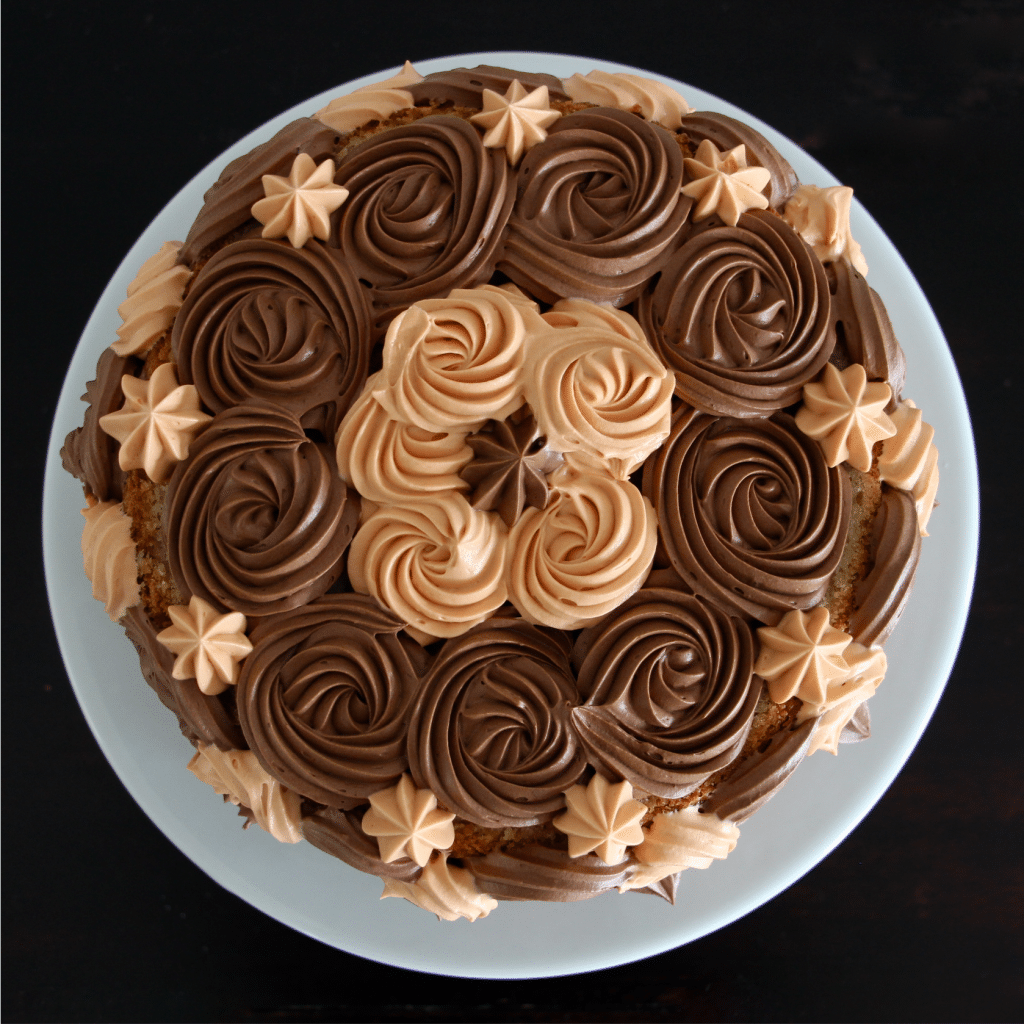 As far as quantities are concerned, I took 1.3 times the ingredient quantities of the dark chocolate whipped ganache and 1.3 times the ingredient quantities of the caramel whipped ganache.
You can also make a different version with vanilla whipped ganache.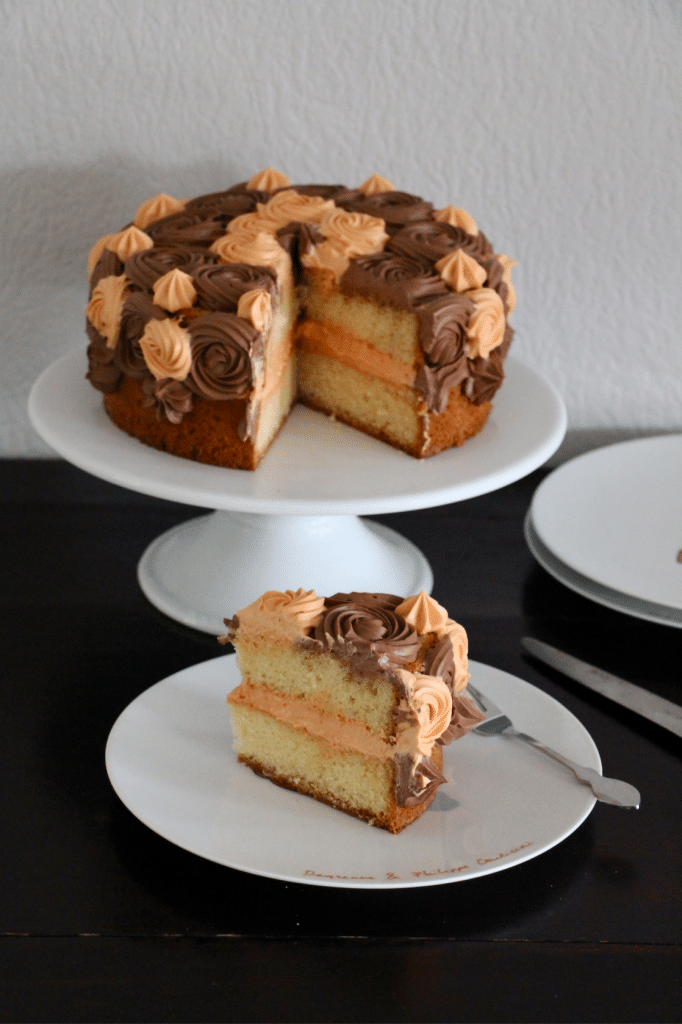 The utensils:
A 20 cm diameter high mold,
A knife with a long blade (a bread knife will work or a genoise cutter),
A spatula to spread the ganaches,
A food processor with whisk
And a piping bag with star nozzle.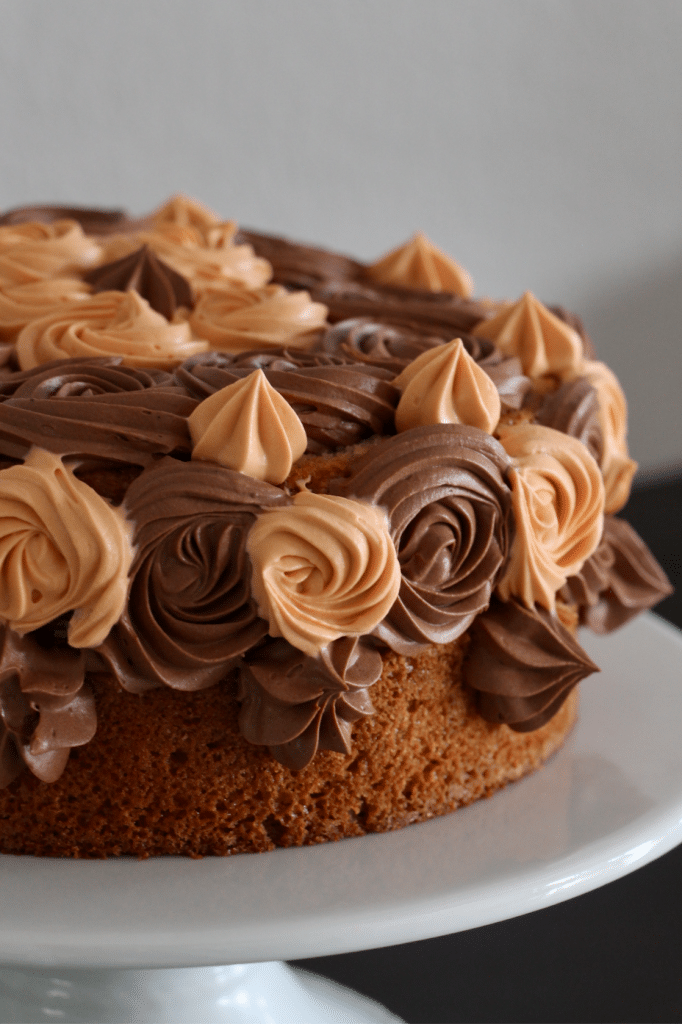 Shall we make some pastry?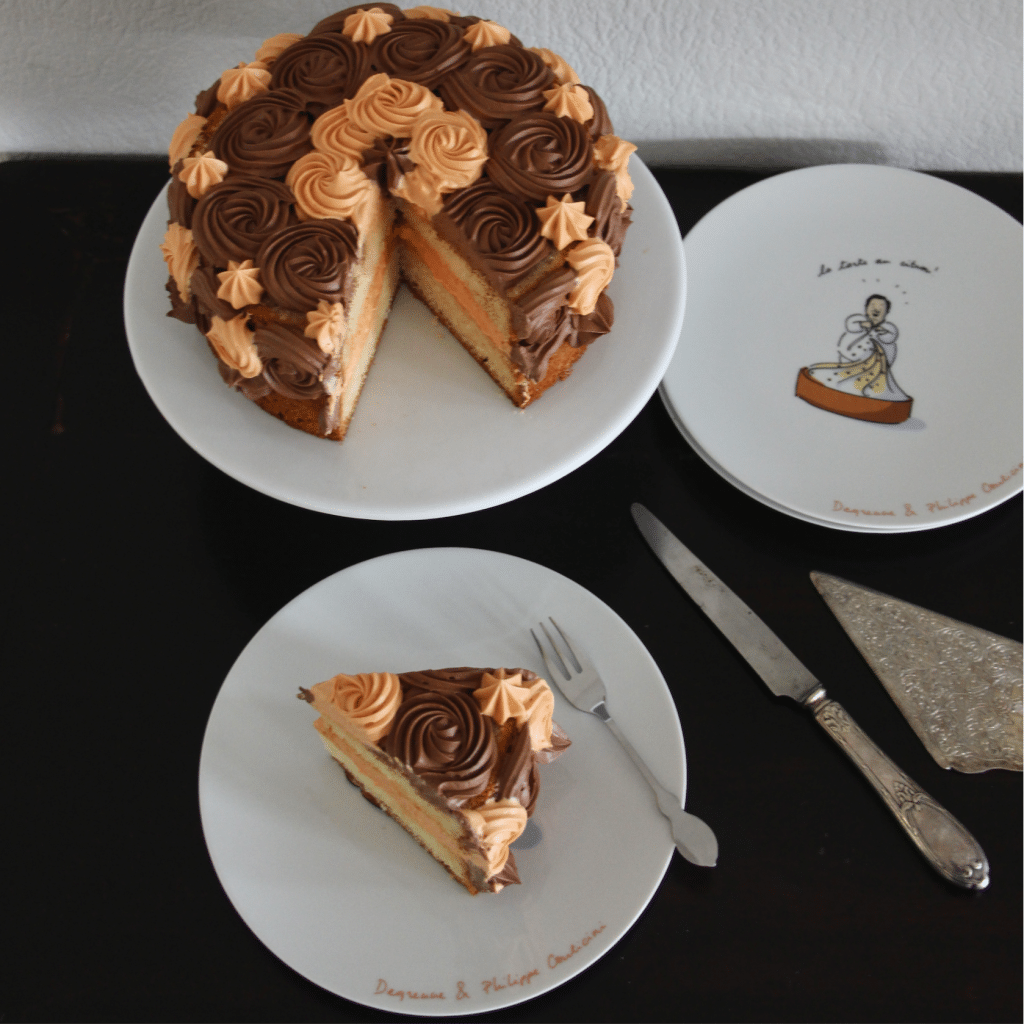 (Presentation : dessert plates  Degrenne x Conticini)
The recipe, Chef!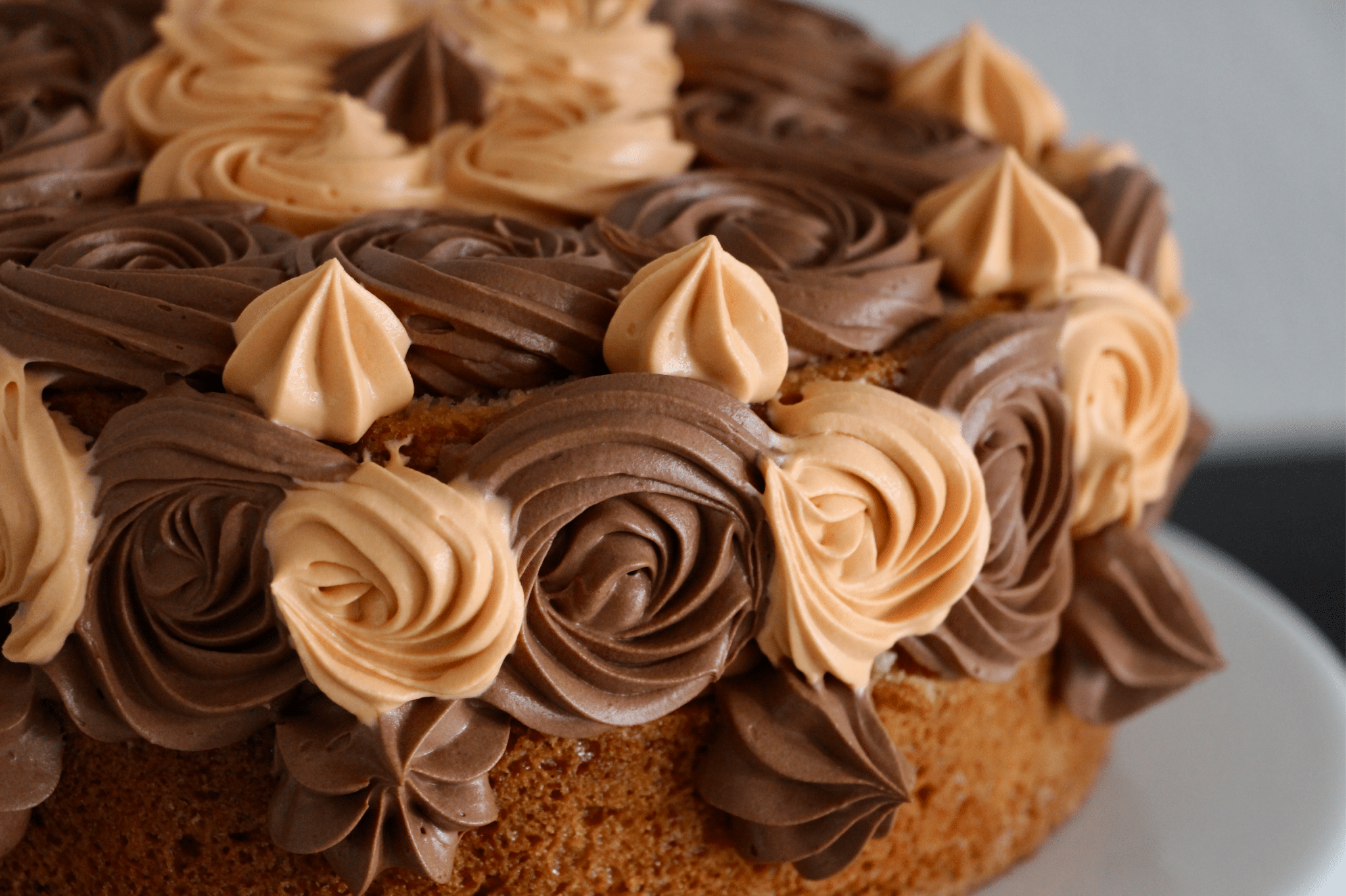 Print Recipe
Chocolate and Caramel Layer Cake
Ingredients
150 g Greek yoghurt

130 g sunflower oil

300 g sugar

330 g flour

13 g baking powder

3 large eggs

1,3 whipped dark chocolate ganache

1,3 whipped caramel ganache
Instructions
1
The day before, prepare the two ganaches.
2
On D day, preheat your oven at 160 degrees.
3
If you have a food processor (KitchenAid, Thermomix, ...), put all the ingredients in the bowl and mix at medium speed for 30 secondes.
4
If you don't have a food processor, mix the Greek yoghurt with the oil and sugar.
5
Add the flour and baking powder.
6
Add the eggs, one by one.
7
Pour the batter into your buttered mold.
9
At the end, check if your cake is baked enough with a knife.
10
Unmold and let cool down on a grid.
11
When the cake has fully cooled down, cut it horizontaly in 2 or 3 layers. If the top of your cake is too curved, don't use it, you can eat it like this.
12
Place a cake layer on your serving plate. Add ganache and spread with a spatula.
13
Place the two other layers and add ganache each time.
14
Finish decorating by piping the two ganaches on the top and sides of your cake.
15
Set aside in your fridge until serving.