Hello my friends,
This is my latest favorite pasta dish!! Pasta with asparagus pesto and shrimps. This pesto will be on my table quite a few times in the coming weeks, it's divine!!
Let's see the recipe, Chef!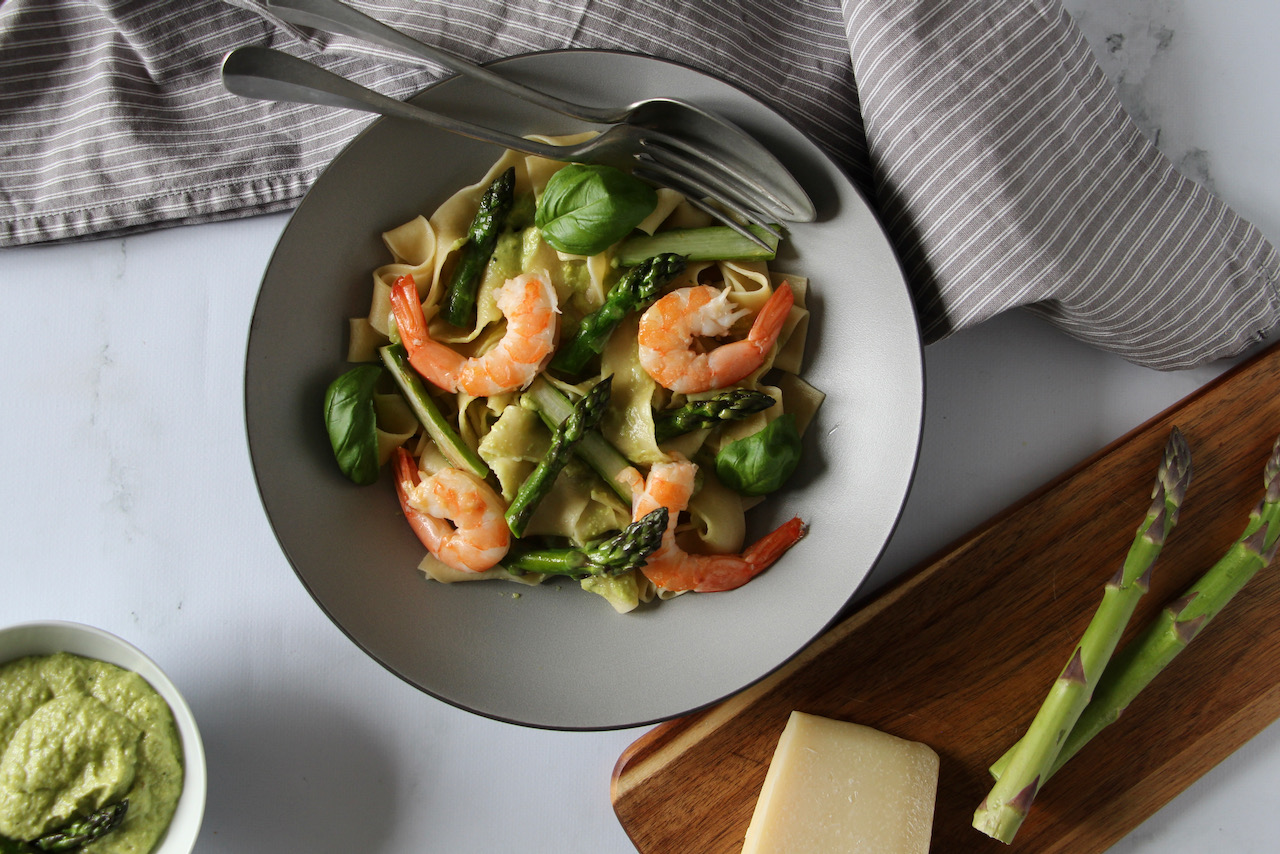 Print Recipe
Pasta with Asparagus Pesto and Shrimps
Ingredients
400-500 g green asparagus

500 g shrimps

500 g pasta

2 garlic cloves

6 basil leaves

50 g grated parmesan

30 g pine pinions

Olive oil

Salt

Pepper
Instructions
1
Cut the dry end of the asparagus.
2
Cut the asparagus in two, set the heads aside. Cut the rest in slices.
3
Heat 2 tbsp olive oil in a sauce pan, stir fry the asparagus slice for 2-3 minutes. Add salt.
4
Add the grated garlic and 1/2 glass of water. Cook at low/medium heat for 15 minutes.
5
Boil a large volume of salted water and cook the pastas according to the instructions on the package.
6
Meanwhile, cut the asparagus in two again, keep the heads as they are, cut the other part in two lengthwise.
7
Heat 1 tbsp olive oil in a sauté pan and add the asparagus. Add salt and pepper. Cook at medium heat for 5-6 minutes. Set aside.
8
In the same sauté pan, stir fry the shrimps.
9
When your asparagus slices are cooked, place them in a bowl with the remaining juice.
10
Add the basil leaves, grated parmesan and pine pinions. Pour 3 tbsp olive oil and mix with your blender. Adjust seasoning of this asparagus pesto.
11
Drain the pastas, add pesto, shrimps and fried asparagus.