Hello my friends!
Here is today a very easy and simple recipe with a little "wow" effect . Chocolate lovers be ready to melt…
These babies are my chocolate bouchees!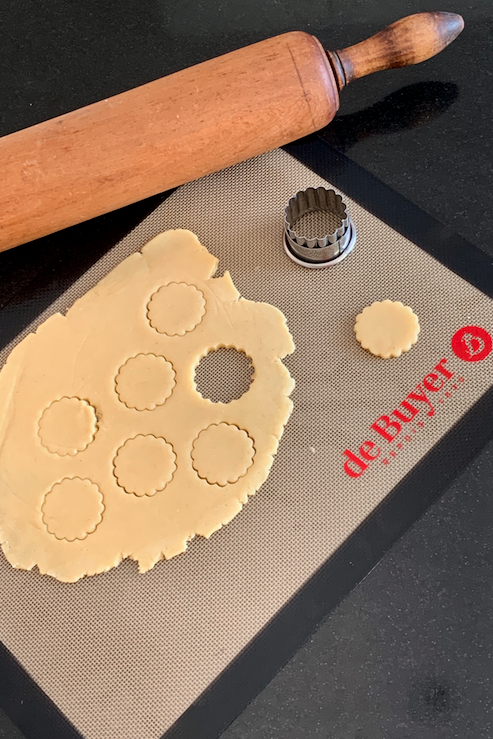 This recipe came to me as a solution to leftovers I had in my fridge. And since I hate to throw food away, as you probably do too, I imagined those chocolate bouchees!!
A bit of shortbread pastry, some chocolate ganache made when I baked chocolate macarons… what could I possibly do???
Little chocolate bouchees obviously!!
Since then, I make them over and over again as this recipe is perfect for a buffet, a sweet side bite with my coffee or tea, or as a dessert with an ice cream or sorbet scoop for example.
You can make those chocolate bouchees with my regular shortbread pastry (that's what I did here), with my hazelnut shortbread pastry or my almond one. All of them fit very well.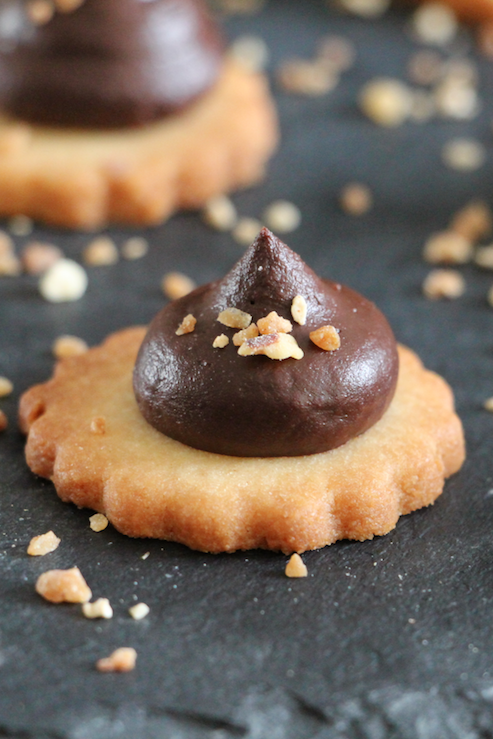 My advice: if you set aside in your fridge your chocolate bouchees, keep in mind to place them at room temperature for 5 minutes before serving so that the ganache won't be too cold and too firm.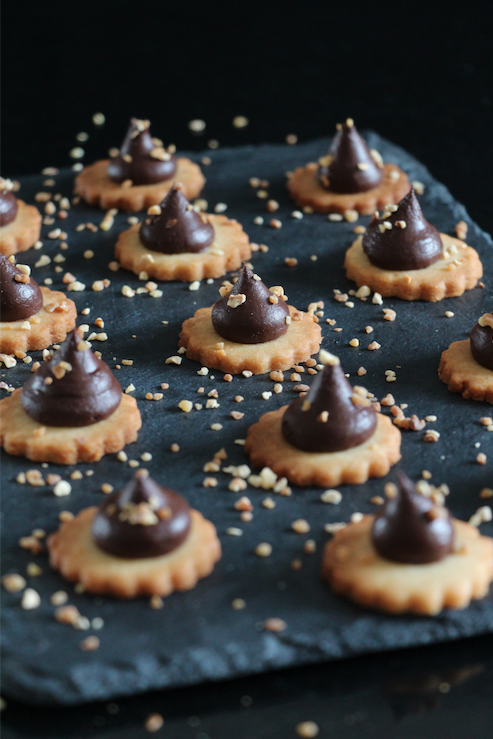 I won't keep you waiting any longer, I will just tell you what utensils you need:
A thick bottom sauce pan (Affinity by De Buyer for me as always) for the ganache,
A rolling-pin,
A cutter (if you don't have one, a small expresso cup will do the job),
A baking mat (or a baking sheet),
And my De Buyer piping bag with diameter 12 round nozzle.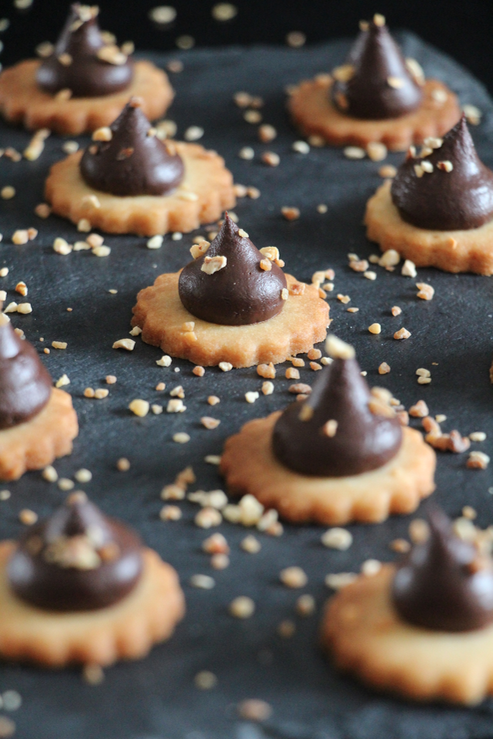 Let's make chocolate bouchees!
The recipe, Chef!
Print Recipe
Ingredients
1 shortbread pastry (regular, hazelnut or almond)
20 g finely chopped nuts
90 g chocolate (for the ganache)
10 g unsweetened cocoa (for the ganache)
35 g butter at room temperature (for the ganache)
100 g liquid cream 30% fat (for the ganache)
Instructions
2
Heat the cream and remove form the stove once it starts boiling.
3
Pour on the chocolate and cocoa. Wait 1 minute or 2, then mix.
4
Add the butter cut in pieces. Mix.
5
Place a cling film on the surface and place in your fridge.
6
Preheat your oven at 180 degrees.
7
Spread your pastry, make shapes with your cutter and place them on a baking mat or sheet.
8
Bake your biscuits for 12 minutes.
9
Set aside on a grid until they have cooled down.
10
Pour the cold ganache (yet not hard) in your piping bag and pipe on your biscuits.
12
Serve or set aside in your fridge.