Hello my lovelies!
Obvisouly I had to give you few ice cream or sorbet recipes, we are in the middle of July!!
So today, knowing that I had a good melon in my fridge, I decided to make a delicious Christophe Michalak's melon sorbet!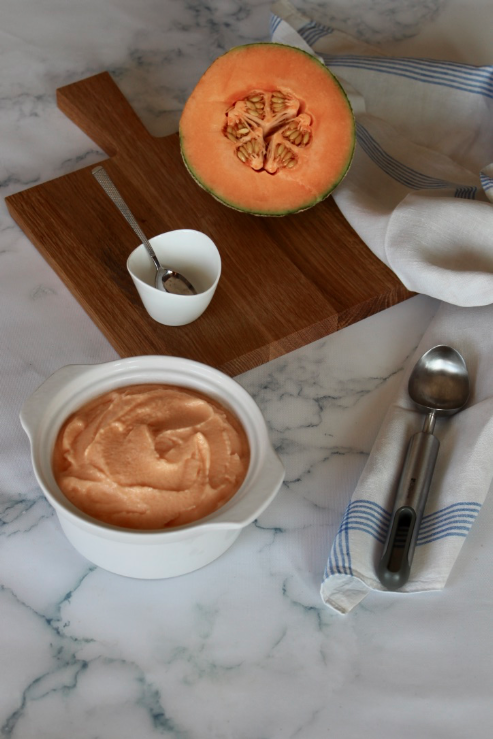 I already posted a few recipes on the blog:
– my strawberry sorbet
– my coconut milk sorbet from the French Antilles
– my strawberry ice cream
– my candied apricot and rosemary sorbet
– my pineapple sorbet
It's not bad hey ? But we can do better!!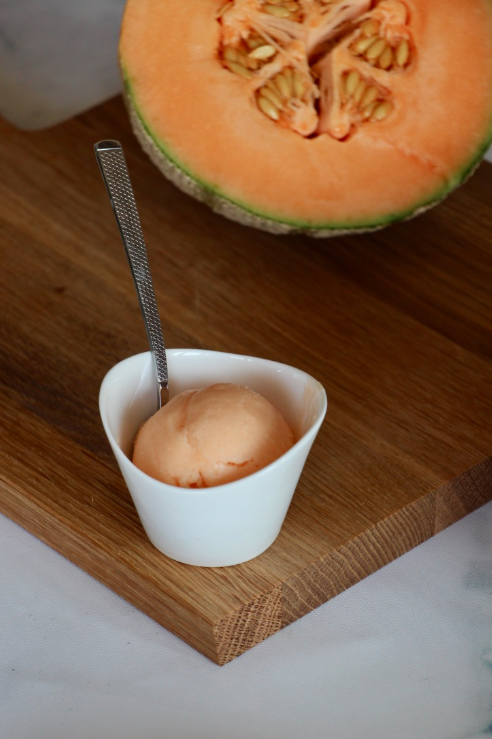 And we will do better!! So much better that I will probably take time to review all those recipes with the "lifechanging element" (I know … too much drama maybe !! 😉 ) : the glucose syrup!! It's my friend Laurence who gave me the tip! Thank you Laurence!!
You get it, it's the key element of Michalak's recipe. Why is that, you may ask…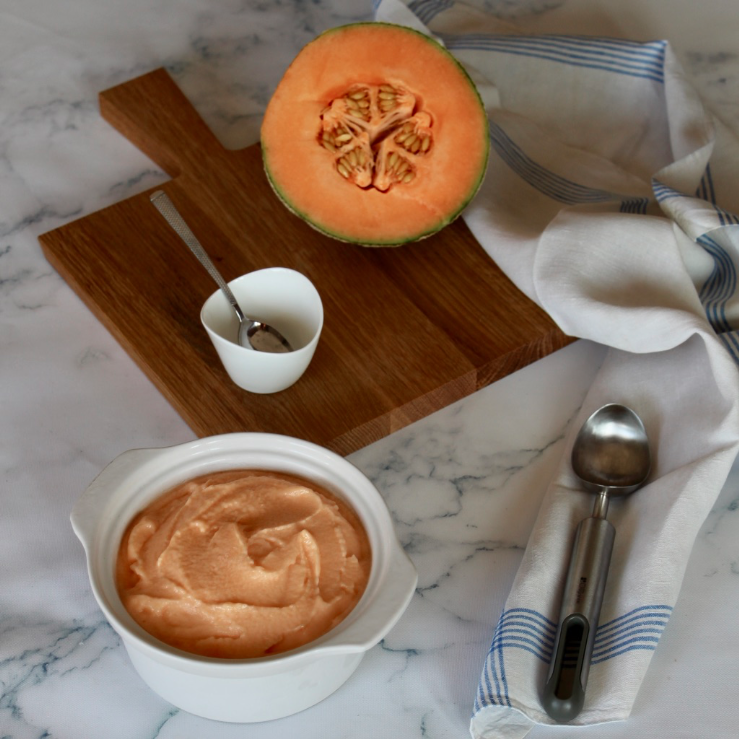 Simply because the glucose syrup will prevent the sorbet from crystallizing. Pastry chefs use stabilizer additives to get smooth textures as we love them. We, simple bakers, don't have access to this kind of products and that's why the glucose syrup will be very helpful!!
You may have some already in your kitchen, especially if you have already made my salted butter caramel. If not, you will surely find some at your regular supermarket!
Honestly, follow my advice, you will not regret it!!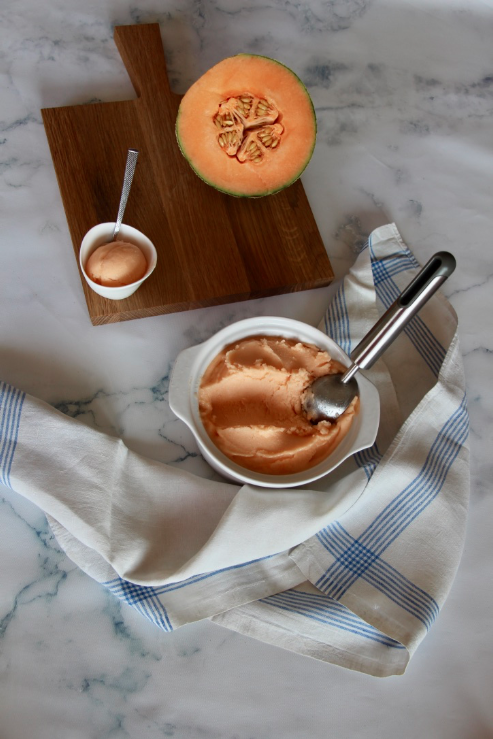 Another point, the sugar quantity. I give you here a quantity that can be modified. Just because the fruits don't always have the same sugar rate. You can decide to put only a part of the quantity I mentionned. You will then taste the preparation before freezing it and adjust if needed. It also depends on your own taste in matter of sweetness: a little sweet, very sweet, sweet addict!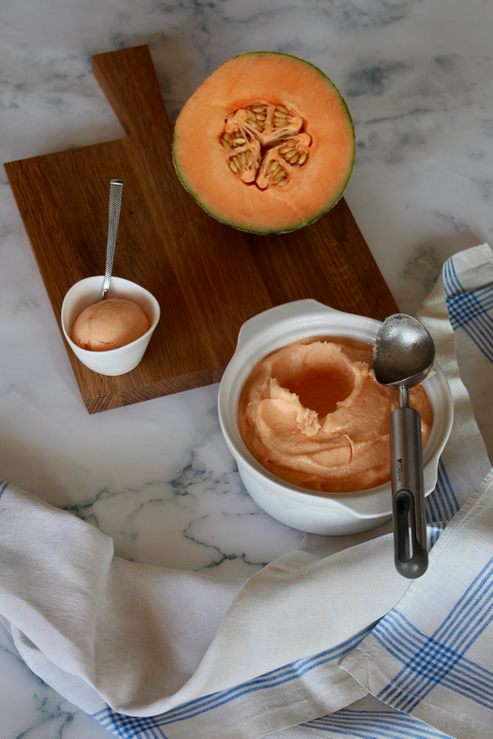 The utensils:
One ice cream maker,
A thermometer (7-8 euros in your supermarket),
And a hand mixer (or blender).
Want a scoop of sorbet?
The recipe, Chef!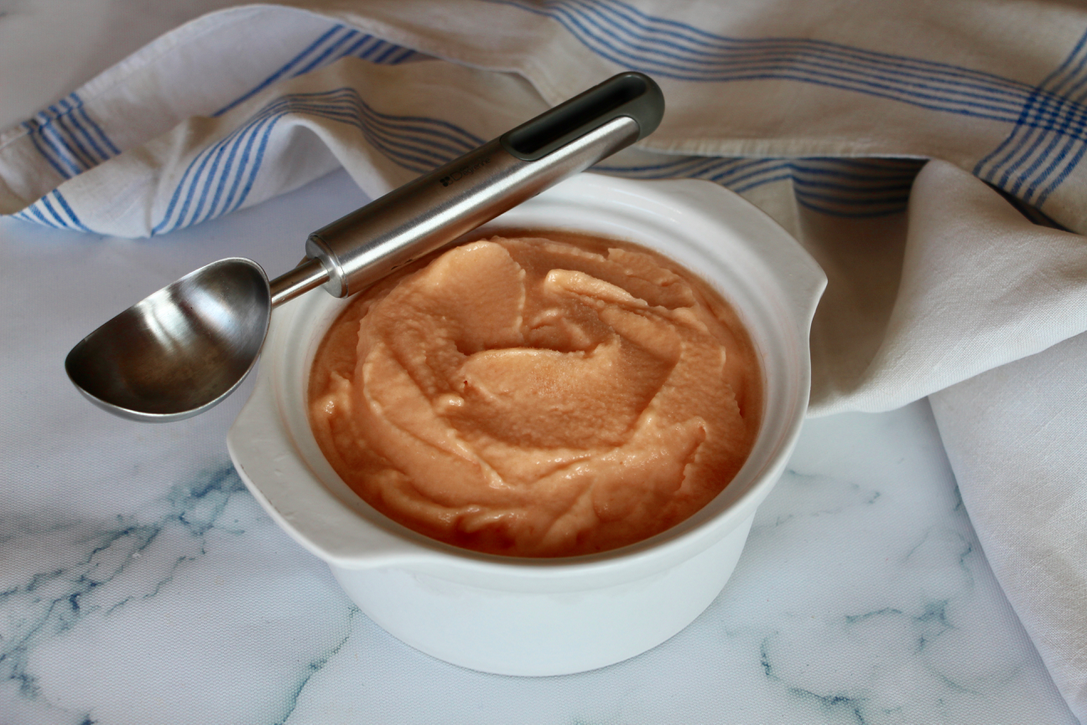 Print Recipe
Ingredients
1/2 melon (around 350/370 g of pulp)
100 g water
100 g caster sugar
75 g glucose syrup
1 tablespoon lemon juice
Instructions
1
Peel the melon, remove the seeds and cut it in pieces. Set aside in a large bowl.
2
Heat the water at 45 degrees.
3
Mix the water, sugar and glucose syrup.
5
Pour on the melon, add the lemon juice and mix.
6
When the texture is smooth, set aside in the fridge.
7
When it's cold, place in the ice cream machine.
Notes
Weigh the melon pulp and adjust the other ingredient quantities if needed.