Hello hello!!
Did anybody say typical French pastry? This recipe is based on the famous Tatin tart but with a little extra something!
Here are my Tatin tartlets, be ready to be amazed!!
Let's see the recipe, Chef!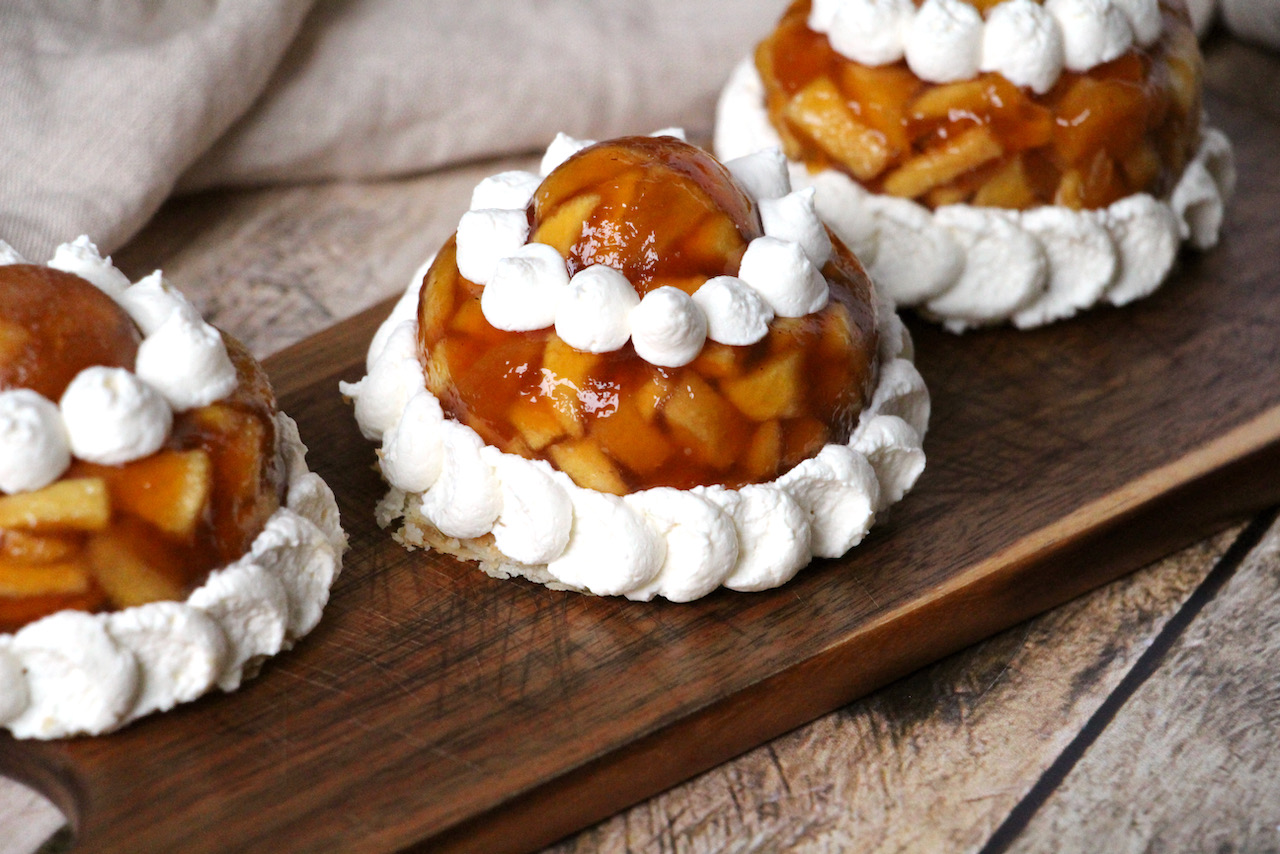 Print Recipe
Ingredients
Puff pastry

200 g flour

200 g very cold butter

2 g salt (1/2 tsp)

100 g very cold water

Caramel

30 g water

120 g sugar

35 g glucose (or sugar if you don't have any)

Syrup

30 g water

40 sugar

30 g butter

1 and 1/2 teaspoon of lemon juice

1 teaspoon ground vanilla

1 pinch of salt flower

Tatin

6 apples

2 gelatine sheets (4 g)

Decoration

100 g liquid cream

50 g mascarpone

1 tbsp icing sugar
Instructions
1
Place the flour, butter cut in cubes and salt in your food processor bowl.
2
Start whisking at low speed (2 on a scale from 1 to 6) and pour the water.
3
Keep on whisking until the flour is combined with water, you still need to have large cubes of butter.
4
Place the pastry on a floured work plan.
5
Spread the pastry with your rolling pin and make a rectangle (15 cm by 45 cm).
6
Fold the right third of the pastry, then the left third. You should have a square.
7
Make a quarter turn. Make a rectangle (15 cm by 45 cm). Fold the right third of the pastry, then the left third.
9
Set aside in your fridge.
10
Cook at medium heat 30 g of water, 120 g of sugar and 35 g of glucose until you get an orange/red color.
11
Pour immediately this caramel in a gratin dish.
12
Preheat your oven at 170 C / 340 F degrees.
13
Heat 30 g of water with 40 g of sugar. Once it starts boiling, remove from the heat.
14
Add the lemon juice, the vanilla and salt flower. Add the 30 g of butter and whip.
15
Peel and cut the apples in small cubes.
16
Place the apple pieces on the caramel.
17
Pour this syrup on top of the apples.
19
At the end of baking, leave to cool down in the dish.
20
In the meantime, spread your puff pastry and make 6 discs, 7 to 8 cm diameter.
21
Cook them for 18 to 20 minutes at 180 C / 355 F degrees.
22
When the apples are at room temperature, preheat your oven at 170 C / 340 F degrees.
23
Mix the cubes, cover the dish with aluminium foil and cook for 25 minutes.
24
Soak your gelatine sheets into cold water.
25
When removing the apples from the oven, add the drained gelatine and combine.
26
Pour into mini-savarin and half-sphere molds.
27
Set aside in your freezer for 2 hours.
28
Whisk the cream, mascarpone and icing sugar into a firm chantilly.
29
Place an apple ring on a puff pastry.
30
Pipe chantilly in the center.
31
Place a half-sphere of apple on top and pipe more chantilly for decoration.
32
Start again to make 6 Tatin tartlets.
33
Serve after 15 minutes or set aside in your fridge.